Wachusett Mountain has become my go-to resort whenever I visit the Boston area. With a 1,000 foot vertical drop and 110 skiable acres, it hits the day hill sweet spot — big enough yet not too far away. Its real selling point besides being just 80 minutes from Logan Airport, however, is its snowmaking. Despite the historic high temperatures in early January, Wachusett had nearly all of its terrain open with excellent machine groomed conditions and much less ice than expected. The day before my arrival, the resort received three inches of natural snow, which may have helped, but robust snowmaking was the true secret sauce that has allowed this resort to thrive during this unseasonably warm winter.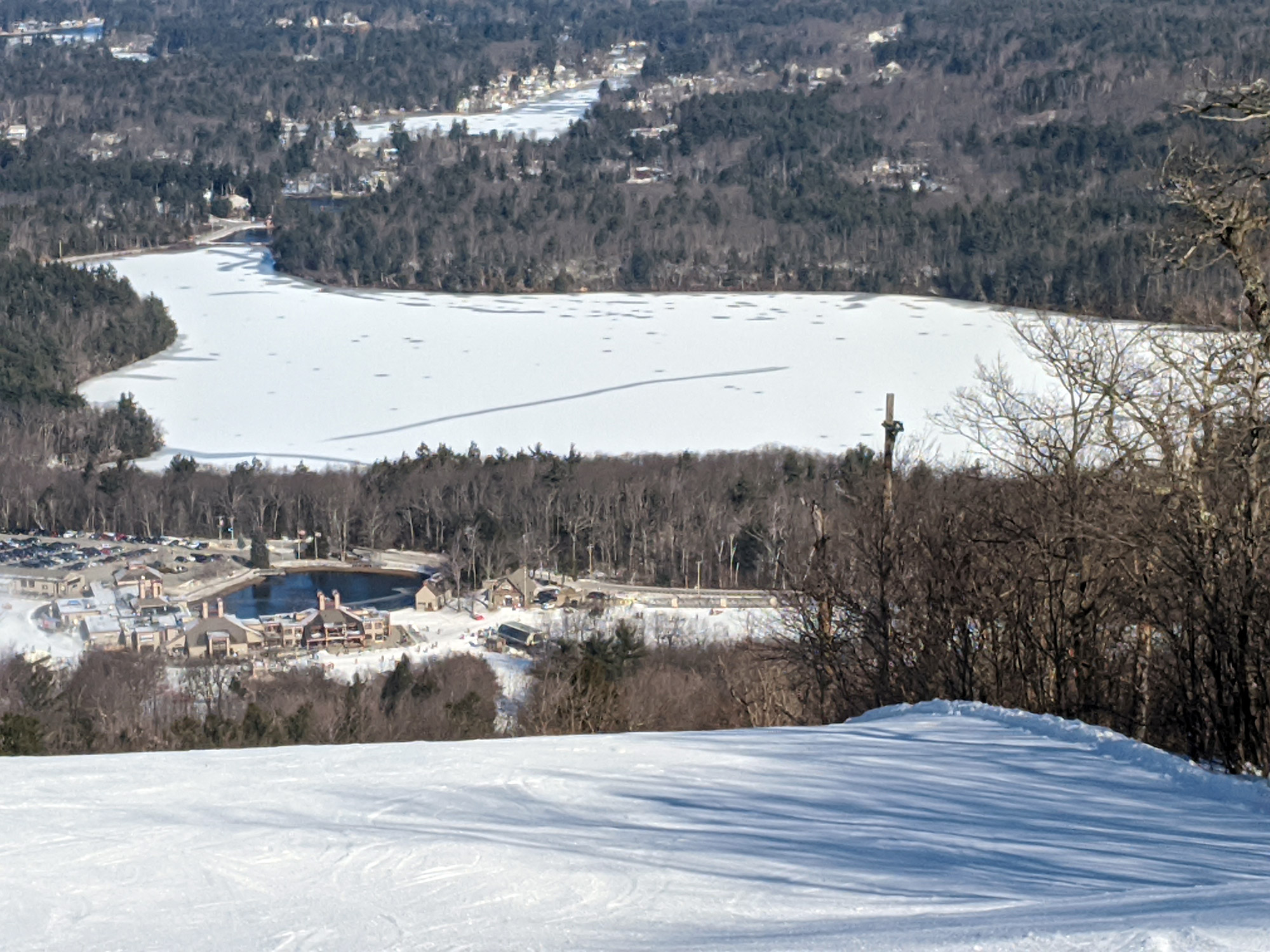 I flew up to Boston from National Airport on a 6 a.m. Delta flight and was skiing by 10:30. The scenic drive along Route 2 plows past Cambridge, Lexington, and Concord. Combining a trip to Concord and Wachusett would be a nice weekend getaway. In addition to its Revolutionary War heritage, Concord's literary legacy can be explored with visits to the houses of Louisa May Alcott, Ralph Waldo Emerson, and Nathanial Hawthorne as well as Walden Pond.
When I travel, I typically carry boots and rent performance skis or demos. The Mountain Demo Center at Wachusett hooked me up with a ski that has been on my radar screen since this year's Ski Magazine review issue hit the streets — the new Nordica Enforcer 88s. It's a narrow width all mountain ski designed for Europe and the East Coast. I need a ski that will both cut through ice and smash through crud — something for the marginal ski conditions prevalent in DC area.
The Enforcer 88, according to the reviews, seems to fit these demands. It did not disappoint. Not only did it perform well on machine groomed snow, it also handled the icier sections of the mountain with aplomb. It does not have quite the edge control of a true frontside carver but I still felt confident on hard, shadowy surfaces. I also loved its performance in mounds of manmade snow under active snow guns. I am 5'11" and skied on 172s. Before making a final decision, I want to try the 179s and also ski some other brands. Apparently, the trend these days is towards longer boards.
The temperatures stayed below 20 degrees with strong winds for much of the day — a "nice January day in New England,"" as one gentleman described it on the lift. Wachusett has an excellent base lodge complete with Starbucks, but for a warm up I instead opted for the mid-mountain Bullock Lodge Cider House. Built in the 1930s by the Civilian Conservation Corps (CCC), this authentic stone house serves up hot drinks and fresh baked goods. It is an ideal place to relax between runs.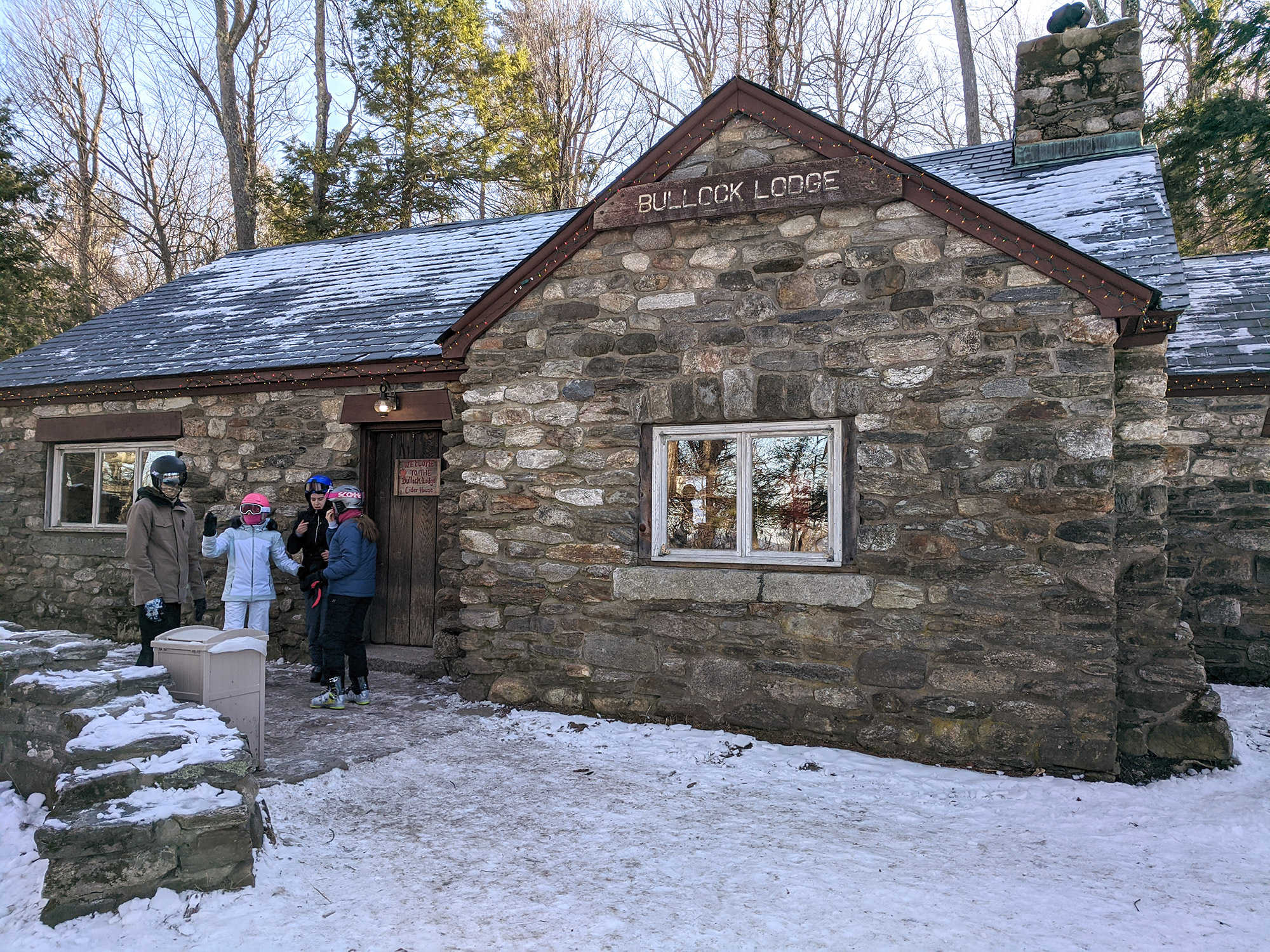 Wachusett Mountain has a lot of history besides the lodge. Built during the Great Depression by the CCC, the mountain later served as a training area for units of the storied 10th Mountain Division during World War II. A signature black diamond trail bears the name of the division and as I skied it I imaged how difficult winter training must have been for those soldiers on days like this one.
I also skied a trail I have never made turns on — the meandering Balance Rock trail. It offered a break from the snow guns blaring on Conifer Connection, the resort's main top to bottom blue thoroughfare. While the angle seemed a bit low for an intermediate run, I suspect it rates a blue square mainly because of its narrow width and tight switchbacks.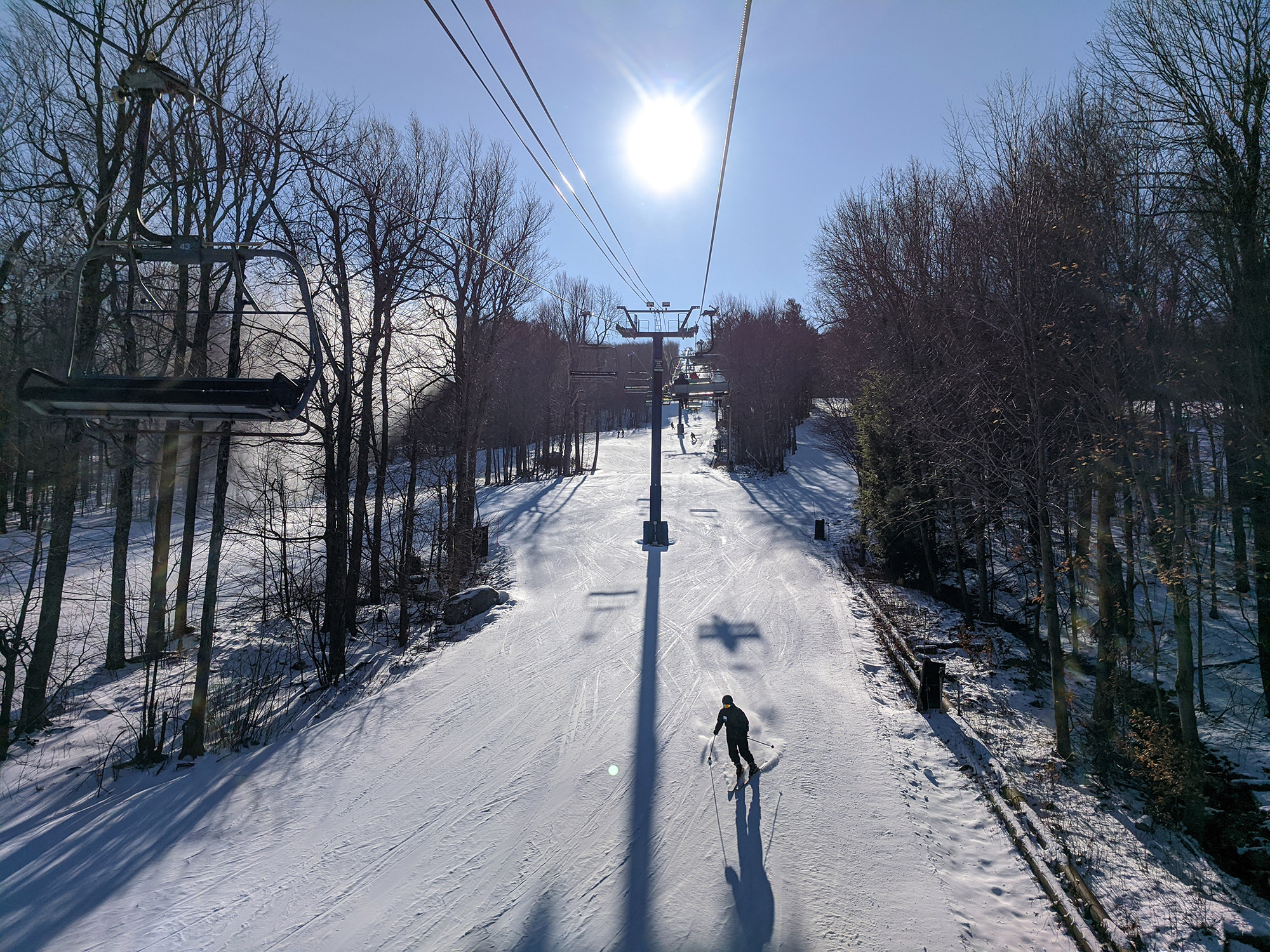 I skied the Friday before MLK weekend and despite the many cars in the main lot, I never waited more than a few minutes in line. The black diamond trails in particular were quiet, allowing me to test skis at higher speeds. Gotta love love cold air — it keeps the fair weather crowd spending money in the lodge. I hope to return to Wa Wa Wachusett later this season. This is my third visit in three years and the mountain surprises me every visit.
There are no reader comments on this article yet.