Quick: What ski resort has the highest elevation on the East Coast?
Some resorts might jump to mind as possible candidates: Killington in Vermont, perhaps, or even Snowshoe Mountain in West Virginia.
The correct answer may surprise you. At an altitude of 5,506 feet above sea level, North Carolina's Beech Mountain Resort offers the highest lift-served skiing in the East — over 1,000 feet higher than the peak of Killington. This year will mark the 50th year that Beech Mountain has been in operation.
Beech Mountain first began operating during the winter of 1967-1968.
"Skiing in the South was just being developed and this was a unique facility at 5,506 feet in elevation with a Swiss Bavarian village," explained Ryan Costin, General Manager of the resort. "It exposed the Southeast market to something new."
"That continues to be one of our strongest assets — a layout where you can navigate the village and experience all the wintertime activities we have here," he added.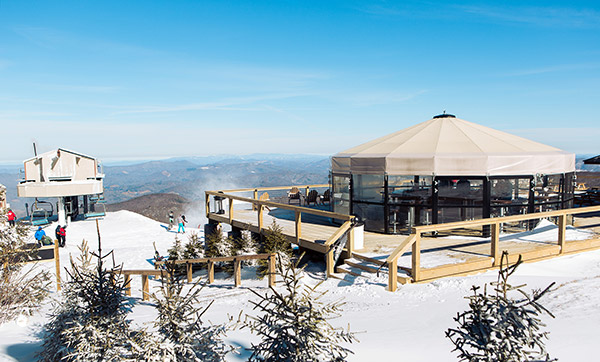 A high altitude means winter arrives early at Beech Mountain; the ski area began its 2017-2018 winter season on November 24. Currently Beech Mountain has 12 of 17 trails open with a base depth of 17-47 inches and packed powder conditions, setting it up nicely for the holidays.
To celebrate half a century of skiing, Beech Mountain has many special events planned throughout the winter season.
On Tuesday, Wednesday, and Thursday evenings throughout the season, Beech Mountain will be offering "throwback" pricing. Tuesdays are ladies' nights with $9 lift tickets; Wednesdays are mens' nights with $9 tickets; and Thursdays are couples' nights featuring a first ticket for $16 and a second ticket for $8.
A special celebration will be held January 20-28, 2018 with activities, contests, live music, games, and fireworks.
If skiing and snowboarding aren't your thing, Beech Mountain also offers snow tubing and ice skating. The resort is located in the town of Beech Mountain, providing plenty of lodging, dining, and nightlife options within walking distance or a short drive.
Beech Mountain has made some enhancements for this winter, streamlining the process of purchasing tickets and getting set up with rental gear.
"Going into the 50th year, we took a hard look at not only the product on the mountain, but the process, too," explained Costin. "We want people to spend as much time outside enjoying activities as they possibly can."
With an elevation that's over a mile above sea level, the conditions at Beech Mountain can remain good throughout the winter.
"A lot of people are surprised at just how good a winter season we have," said Costin. "Our infrastructure provides a strong product all winter."
There are no reader comments on this article yet.