The Thanksgiving Holiday weekend saw the opening of several ski areas in the Mid-Atlantic region, thanks to a recent stretch of cold temperatures that enabled productive snowmaking.
In Pennsylvania, both Hidden Valley and Seven Springs began their ski season on Friday, November 25, 2016. On Sunday, November 27, Hidden Valley was reporting 5 open trails while Seven Springs was reporting 4 open trails. Snow tubing was also available at Seven Springs over the holiday weekend.
To the south, North Carolina's Sugar Mountain Resort got a head start on the season by opening on November 21, 2016, once again snagging the earliest opening date for a Mid-Atlantic ski area. On Sunday, November 27 Sugar Mountain was reporting 6 open slopes with an 8-24 inch base.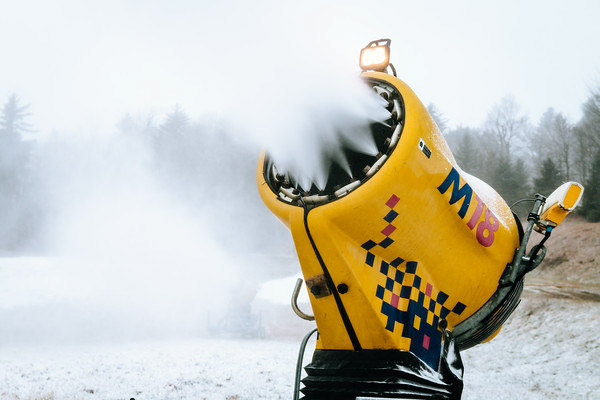 Ski areas in West Virginia also started winter operations the day after Thanksgiving. Snowshoe Mountain Resort opened on Friday, November 25 and was reporting 7 open trails on Sunday, November 27. Snowshoe expects to continue making snow during nights to expand open terrain.
Canaan Valley Resort hasn't yet opened its ski slopes, but did open its snow tubing park between November 25 and 27. Canaan Valley Resort and Winterplace are looking to open for skiing and boarding on Saturday, December 10, 2016, while Timberline Resort is targeting a Friday, December 16 opening date, conditions permitting. The White Grass Touring Center also took advantage of recent natural snow to offer cross country skiing.
Most resorts throughout the region are still waiting for a sustained stretch of cold temperatures before they're able to officially start their seasons. The areas that opened for the Thanksgiving holiday weekend may close operations midweek while they wait for more snow and snowmaking, so before making any trip, be sure to contact resorts directly to verify operating status and current conditions.
Resorts are cautiously optimistic that this season will be healthier than last season, when November and December passed by without any significant cold stretches. That hit resorts hard and led to a decline to skier visits. West Virginia resorts typically attract over 800,000 skier visits annually, having an economic impact of over $250 million, but the state failed to meet that skier visit target last winter.
"It's always important to open as soon as possible and thank goodness we are on schedule this season," said Terry Pfeiffer, President of the West Virginia Ski Areas Association and President of Winterplace Resort.
There are no reader comments on this article yet.