Over the past year, Canaan Valley Resort has doubled its snowmaking capacity in an effort to open more trails earlier in the season. New snowmaking equipment has been installed, and the West Virginia ski area also expanded its water reserves to feed the new snowguns.
"We are anticipating a banner year this winter as we will be ready early for holiday guests," said Steve Drumheller, general manager of the resort.
"We will start by making snow at the tubing park in time for a Thanksgiving opening, and by our traditional mid-December opening we plan to have skiers and boarders using some 23 trails and slopes," he added.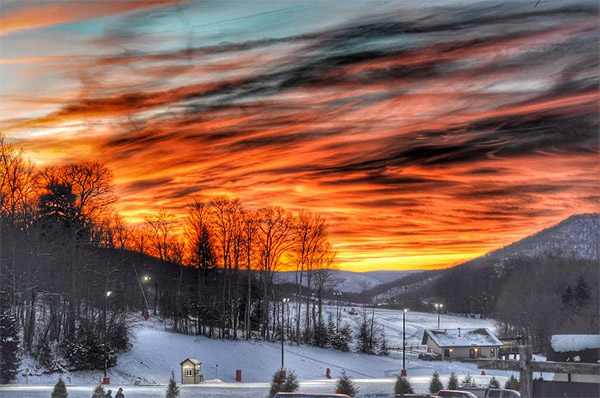 Snowmaking upgrades began this summer with the addition of 12 state-of-the-art, energy-efficient TechnoAlpin T40 snow guns, which have been popping up at resorts across the country in recent years due to their efficiency. The T40 guns can be fully automated. Canaan Valley Resort is now adding six additional "stick guns" to the 1.25-mile long Timber Trail.
"Each of these types of snow guns have distinct advantages, and we plan to use them to their fullest to create a great early-season experience throughout the whole ski year," said Drumheller.
The resort will be ready to fire up the snow guns once the temperature dips, with the goal of opening both the snow tubing park and the ice skating rink on the Friday after Thanksgiving. The resort has a lineup of Thanksgiving activities planned for November 23-27, 2016, including a Thanksgiving Buffet at the resort's Hickory Dining Room, pie-eating contests, crafts, and games, including "turkey bowling" where participants will bowl a frozen turkey down the ice skating rink in an effort to reach the "fowl" line.
Canaan Valley Resort is targeting a December 10, 2016 opening date for ski and snowboard operations, weather permitting. The resort, which has a summit elevation of 4,280 feet, has 47 trails and slopes spread across 91 skiable acres.
Over the summer the resort also upgraded its rental inventory, purchasing $80,000 worth of new equipment for skiers, boarders, and skaters. This includes Elan downhill skis, snowboards, and snow boots; Salomon downhill skit boots; Elan cross country skis, boots, and poles; Evo snowshoes; and Jackson Softec ice skates.
"After our unseasonably mild temperatures last year, we know there is plenty of pent-up demand among skiers from throughout the East, Mid-Atlantic and Midwest, and we are anxious to welcome them here with a memorable ski experience and great accommodations," said Drumheller.
There are no reader comments on this article yet.