On Saturday, February 20, 2016, the Thunderstruck chairlift at West Virginia's Timberline Four Seasons Resort experienced a significant failure, causing a cross-arm to separate from the top of lift tower #12 and injuring multiple skiers. Following the accident, Timberline invited industry experts to the resort to investigate the failure and restore the lift to safe operation. Timberline is aiming to repair the lift and perform rigorous safety inspections in order to re-open the lift by Saturday morning, February 27. Meanwhile, other resorts across the nation have begun to inspect similar lifts for early signs of failure.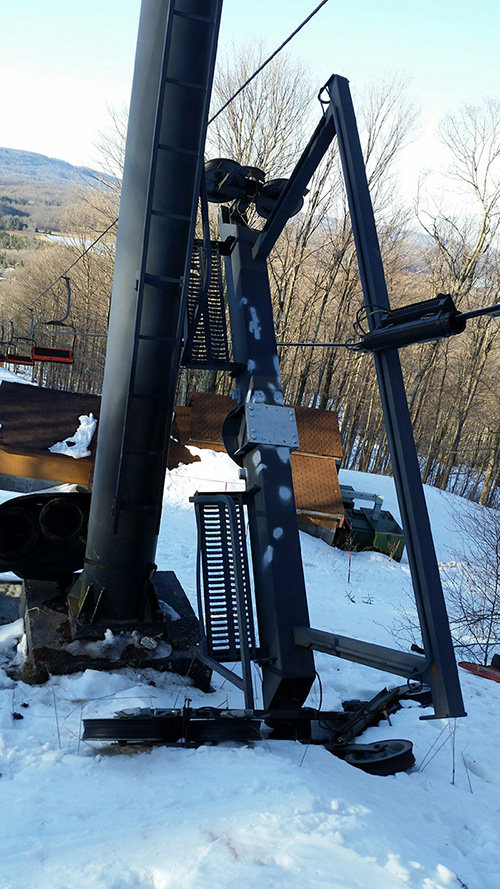 The accident on Saturday caused multiple skiers to fall up to 20 feet to the snow-covered ground, causing minor injuries. Other skiers were stranded on the wounded chairlift until they could be rescued. Ski patrollers from Timberline and the nearby Canaan Valley Resort, as well as instructors from Timberline's Ski School, responded immediately to the accident and were able to quickly rescue all visitors stuck on the lift. Some skiers were treated on-site, while other injured skiers were transported to a hospital and released later the same day.
In an interview with WV MetroNews earlier this week, Timberline Resort General Manager Tom Blanzy said they were fortunate only minor injuries occurred.
"As that cross-arm came down, it didn't hit anybody, so I think somebody was looking out for us," Blanzy told the radio station.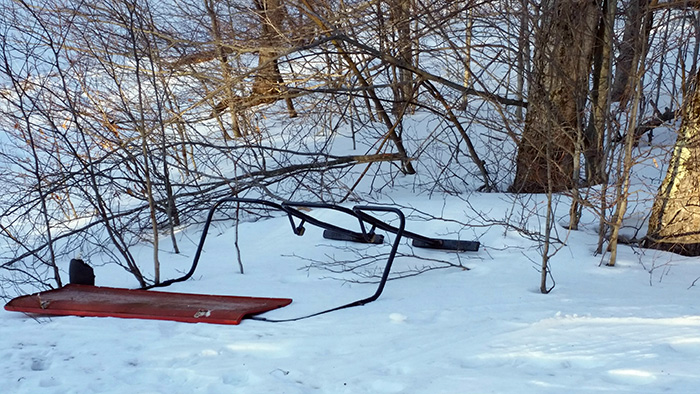 Earlier this week, Aerial NDT Inspection, Inc. was on site at Timberline to perform nondestructive testing of all existing lift towers and welds. According to the American Society for Nondestructive Testing, nondestructive testing techniques explore the physical properties of materials without causing damage, allowing parts to be used after successful testing. New Hampshire-based Aerial NDT, which specializes in the inspection of aerial ropeways, is qualified to perform tests including Magnetic Particle Testing, Liquid Penetrant Testing, Ultrasonic Testing, Electromagnetic Testing, and Visual Testing.
The Thunderstruck triple chairlift was manufactured by Borvig and installed at Timberline Resort in the mid-1980s. Borvig installed many chairlifts throughout the northeast until the company ran out of business in 1993. Partek Enterprises, Inc. was founded in 1991, and took over technical support and parts fulfillment for Borvig chairlifts. According to Timberline Resort, Partek and Beitzel Corporation, an industrial construction and maintenance company, are working jointly this week to assess and repair the chairlift. An additional company, Ropeway Construction, will be installing a new cross-arm. Ropeway Construction will also perform a complete haul rope inspection following the installation of the new cross-arm.
"We are requesting that these same experts do a thorough inspection of our other lifts as well, even though they are performing properly," indicated Timberline Resort in an official release. "We anticipate all inspections and load testing to be completed, and for the Thunderstruck triple lift to be fully operational by Saturday morning, February 27, allowing skiers to enjoy the rest of the ski season in confidence," the resort added.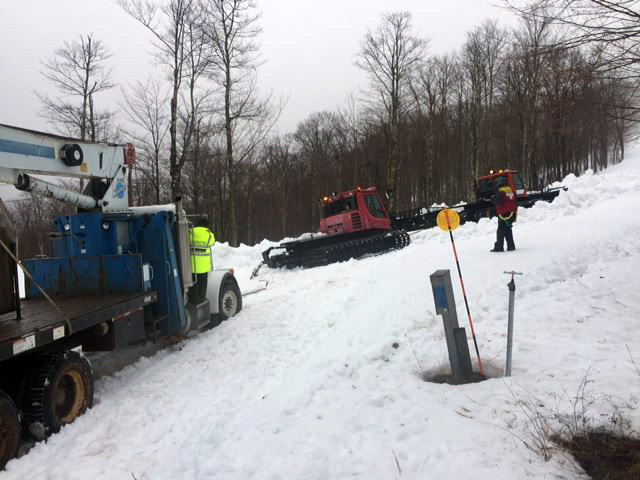 With uncertainty over what caused the tower to fail, other ski areas throughout the U.S. began inspecting similar lifts.
Located in Maine, Sugarloaf Mountain Resort released a statement on Tuesday, February 23 indicating that it had briefly closed its Snubber lift for inspections. Installed in 1985 and similar in design to the Thunderstruck chairlift, the Snubber lift was also manufactured by Borvig.
"Our lift maintenance team immediately researched [Timberline's] accident, reaching out to contacts who may have had knowledge of what transpired," Sugarloaf noted. "Sugarloaf's lift mechanics kept the Snubber lift on a mechanical hold Monday morning until they were able to thoroughly inspect every tower and ensure there was no threat of a similar accident occurring here," the ski area added.
Sugarloaf indicated that the Snubber's lift towers were reinforced at the intersection of the cross-arms and towers shortly after the lift was installed in 1985. During inspections earlier this week, Sugarloaf inspected all of these reinforcements. The lift was quickly reopened following a successful inspection.
While Sugarloaf's inspections did not turn up any problems, an inspection of a Borvig-manufactured lift led state regulators in Vermont to shut down a chairlift at the Suicide Six Ski Area earlier this week. After the Timberline accident, state regulators requested inspections of lifts throughout Vermont. Cracks were discovered near the cross-arm of a lift at Suicide Six, causing the ski area to suspend skiing operations until repairs could be made. The ski area expects repairs and testing to be completed later this week.
According to the National Ski Areas Association (NSAA), lift accidents are extremely rare. Since 1973, there have been 12 deaths attributed to ski lift malfunctions. During that time, the NSAA estimates that chairlifts have transported guests more than 8.16 billion miles, or more than 87 trips from the Earth to the Sun.
Although chairlifts enjoy a good safety record, many chairlifts across the nation have now been in service for multiple decades, raising concerns that there could be a rise in lift failures. With proper maintenance and regular inspection, industry officials estimate that chairlifts should be able to provide decades of safe and reliable service.