Significant Chairlift Failure at West Virginia's Timberline Resort Injures Skiers
[updated x2]
1
A significant chairlift malfunction on the morning of February 20, 2016 has left multiple skiers injured at Timberline Four Seasons Resort. According to the West Virginia resort, due to a mechanical malfunction that is still under investigation, the Thunderstruck triple lift is no longer operating. Timberline has two triple lifts that provide service to the top of the mountain. The Silver Queen triple lift remains in operation. According to firsthand reports and webcam photos, the Silver Queen lift was experiencing significant lines mid-day on Saturday.
According to eye witnesses, shortly after the resort opened for the morning, the cross-arm of one of the lift towers on the fixed-grip Thunderstruck lift separated from the lift tower, landing onto the ground. This caused the haul rope to detach from the sheave wheels. The resulting loss in tension caused multiple skiers to fall to the ground. At this time injuries are being reported as minor. West Virginia news station WBOY/12-News is reporting that two people were transported to a local hospital with non life threatening injuries. A medical helicopter was requested, but was not utilized.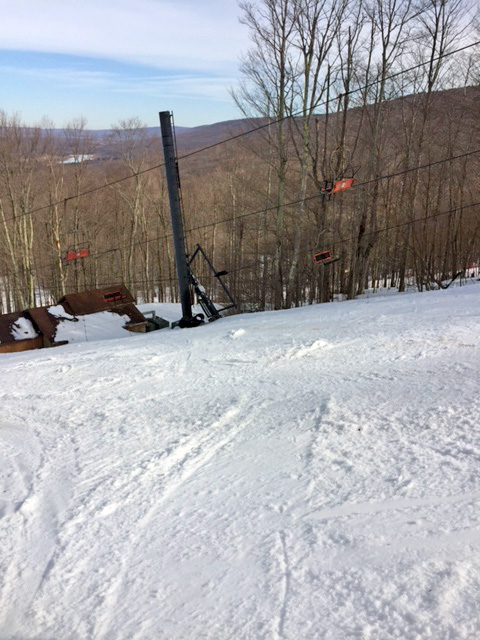 Throughout the morning, members of the Timberline Ski Patrol worked to rescue around 100 skiers who were stranded on the broken lift. Ski patrollers from nearby Canaan Valley Resort also provided assistance during the lift evacuation.
Ben Eisler, who was visiting Timberline for the U16-21 SARA/USSA ski racing championships, was evacuated from the lift after being stuck for about 90 minutes.
"Canaan Valley Patrol, Timberline Patrol, and First Responders arrived promptly," Eisler told DCSki.
"Timberline resumed operations after the evacuation and ran the Silver Queen lift, but only every 3 or so chairs because it could not handle the heavy skier traffic," Eisler noted.
Chairlift accidents are rare. According to the National Ski Areas Association (NSAA), "riding a chairlift or gondola while skiing, snowboarding, mountain biking, or even just sightseeing, is an exceptionally safe and secure mode of transportation." NSAA reports that a person is 3 times more likely to suffer a fatality riding an elevator than a ski lift, and 9 times more likely to suffer a fatality in a car than on a ski lift.
NSAA reports that chairlift injuries are low due to significant inspection procedures.
"Ski areas adhere to rigorous and exacting inspections procedures for the lifts at their resorts. Ski area employees conduct their own individual inspection of their lifts on a daily, weekly, monthly, and annual basis. The year-round maintenance regimen is conducted pursuant to state agencies, lift manufacturer requirements, federal requirements, national safety standards and other inspection entities," the NSAA states.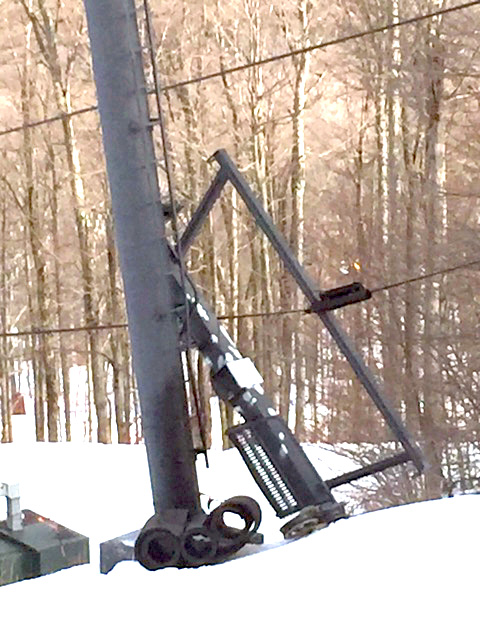 Although rare, chairlift failures are not unheard of. In 2011, a chair detachment at Montana's Red Lodge ski area caused two injuries. In 2010, a deropement at Maine's Sugarloaf Resort caused 8 injuries. A rollback in 2009 at Devils Head, Wisconsin caused 13 injuries. In 1985, a welding failure on a bullwheel caused a chairlift malfunction at Keystone Resort, Colorado, killing two skiers.
Ski resorts worldwide have adjusted their inspection and maintenance practices as a consequence of lessons learned from prior accidents. For example, in December, 2008, a chairlift tower on the Excalibur gondola at Whistler Blackcomb snapped, causing multiple injuries. The results of that accident investigation were made public in July, 2010 by the British Columbia Safety Authority. Investigators determined that water had built up inside the lift tower, and then frozen. That ultimately caused an expansion that led to structural failure. Doppelmayr CTEC had designed the towers to prevent water intrusion, but investigators determined that a path of water may have been created during the installation of the tower. As a consequence of this accident and resulting investigation, resorts began installing drain holes at the bottom of towers to prevent the accumulation of water. They also increased their vigilance in checking for built up or frozen water in towers.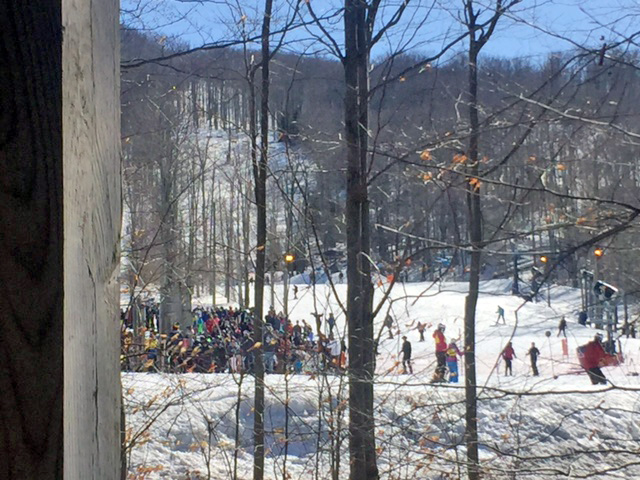 According to liftblog.com, the Thunderstruck chair at Timberline Resort was manufactured by Borvig in 1986. Equipped with Leitner chairs, the chairlift is just over 4,100 feet long with 17 towers. Borvig, which manufactured three chairlifts at Timberline, operated from 1961 to 1993, installing towers mostly in the Northeast. Due to the nature of the malfunction, it is unlikely that the Thunderstruck lift will resume operation in the immediate future. Accidents at Maine's Sugarloaf resort in 2010 and 2015 also involved Borvig lifts.
Over the past week, temperatures near the resort in Davis, West Virginia varied from -2.9 degrees and 55 degrees Fahrenheit.