El Niño Presents Challenge for Mid-Atlantic Ski Areas
5
It's not too easy to run a ski resort in the Mid-Atlantic. Some winters bring banner amounts of snow, while others bring 70-degree days in the middle of January. With natural snow a wild card for all but the highest-elevation resorts, local ski areas live or die based on the amount of artificial snow they can make — and that requires low temperatures and low humidity. With another El Niño weather pattern settling into place, long-range forecasts suggest this could be a challenging winter for many Mid-Atlantic skiers and resorts.
As first reported by DCSki in 1998, the El Niño weather pattern begins when winds off the west coast of South America weaken. This leads to a disruption of the ocean-atmosphere system in the Tropical Pacific, which sets off a chain reaction of events that can have important consequences for worldwide weather and climate. El Niño can cause some parts of the country to be milder or colder than average. According to scientists at the National Oceanic and Atmospheric Administration (NOAA), we may face one of the strongest El Niños on record during the 2015-2016 winter season.
"A strong El Niño is in place and should exert a strong influence over our weather this winter," explained Mike Halpert, deputy director of NOAA's Climate Prediction Center.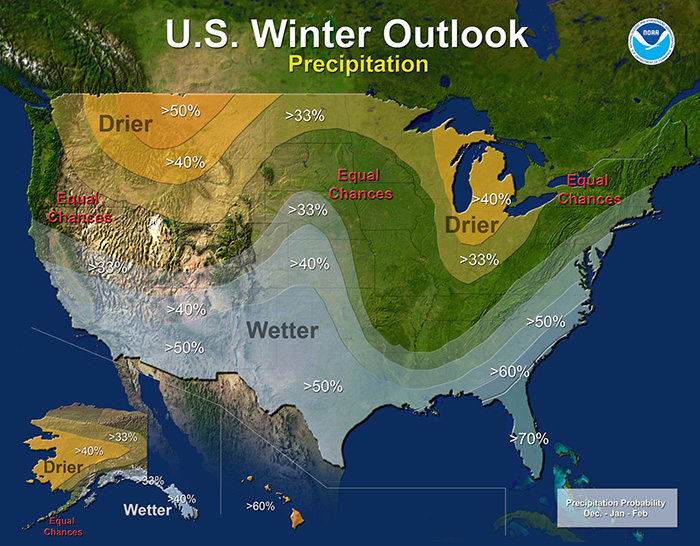 NOAA is predicting that wetter-than-average conditions are most likely to occur in the Southern Tier of the United States, from central and southern California, across Texas, to Florida, and up the East Coast to southern New England.
Wetter-than-average can mean more snow than average, if temperatures remain low. And that's where things start to look a little bleaker for the Mid-Atlantic. From the center of West Virginia and Virginia south, temperatures this winter are expected to remain average, decreasing to below average as you go further south into Florida. Unfortunately, Florida doesn't have any ski areas.
Going north from central West Virginia, temperatures are expected to be warmer than average, with temperatures rising the further north you go. This could be bad news for ski areas in the Mid-Atlantic and New England.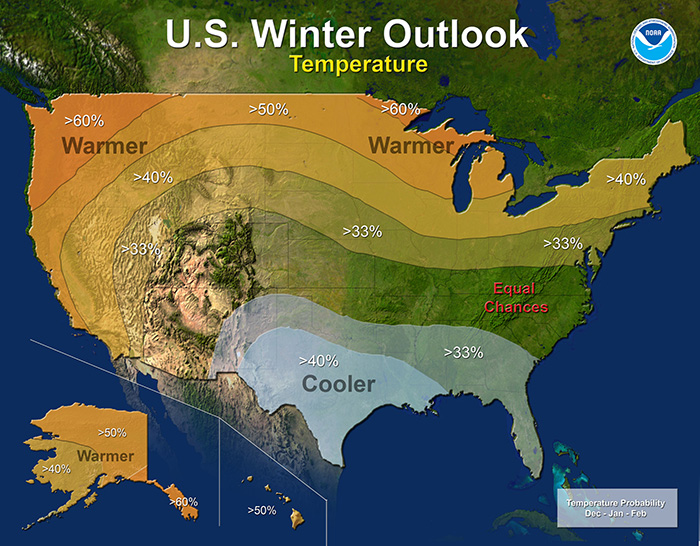 The Capital Weather Gang, a group of weather forecasters for the Washington Post, recently published their own outlook for winter in the D.C. region. According to the Capital Weather Gang, this winter is likely to be warmer than normal with below average snow.
The Capital Weather Gang isn't predicting a snowless winter. In fact, they think the chance of at least one blockbuster snow event might be slightly elevated than in a typical year, although it's still unlikely to occur. Instead, they suggest we should look forward to plenty of rain and mixed precipitation.
The possibility of a strong El Niño brings back bad memories for many Mid-Atlantic Resorts. For example, El Niño was not kind to local resorts during the 1997-1998 winter season. Milder temperatures, coupled with rain, kept slopes brown for much of the season. Some resorts — such as Snowshoe Mountain Resort in West Virginia — fared quite well due to its high elevation and southern latitude, while others suffered.
Things were bleak during the 2006-2007 winter season, another El Niño year. As reported by DCSki at the time, after a couple cold weeks at the beginning of December, cold weather disappeared and slopes began melting quickly. With temperatures touching the 70s in early January, 2007, the already-abbreviated Mid-Atlantic ski season was starting to look like a bust.
The lowest-altitude resorts may have the most to worry about this winter. Pennsylvania's Whitetail Resort, for example, has a base altitude of 865 feet above sea level. Liberty Mountain's base is just 570 feet above sea level. To the west in Pennsylvania, Seven Springs Mountain Resort has a base altitude almost four times higher, at 2,240 feet. In West Virginia, Snowshoe Mountain Resort has a base elevation of 3,348 feet, topping out at 4,848 feet above sea level. The higher-altitude resorts can expect lower temperatures on average, which translate to greater opportunities to make (and receive snow). Lower-altitude resorts might see more mixed precipitation, rain, and decreased opportunities for snowmaking. If you're worried about El Niño, this probably isn't the year to buy a season pass at lower-altitude resorts like Whitetail, Liberty, or Roundtop.
On the plus side, local resorts have invested millions of dollars in recent years to improve artificial snowmaking. New, automated snow guns operate with greater efficiency and can produce a larger amount of snow in a shorter period of time than previous-generation guns. Resorts can lay down a fair amount of snow with just a few nights of sub-freezing temperatures.
Winter in the Mid-Atlantic is fickle and hard to predict, and El Niño is setting the stage for another hard-to-predict winter. DCSki will track conditions throughout the winter, and readers should post their own observations and trip reports in the DCSki Forums to help local skiers and snowboarders find the best snow.