Cupp Run is one of the most respected ski trails in the Mid-Atlantic. Located at West Virginia's Snowshoe Mountain Resort, it's 1.5 miles long, dropping 1,500 vertical feet from top-to-bottom. It's also historically one of the last trails to open at Snowshoe, due to the immense snowmaking effort required to open it. However, with an investment in new snowmaking equipment this winter, Snowshoe expects it will be able to push Cupp Run's opening date earlier in the season.
Snowshoe Mountain has invested over $800,000 in snowmaking improvements this year, with most of that expense being put towards the purchase and installation of brand new, energy-efficient dual-vector snow guns along Cupp Run. Patented by Snow Logic, Inc., the guns will cover Cupp Run from top to bottom. Their efficiency means snowmaking power won't need to be drawn away from trails at the main basin and Silver Creek areas. According to the resort, existing snowmaking equipment from Cupp Run is being redeployed strategically throughout the resort, with a focus on Shay's Revenge - a double-black diamond sister trail to Cupp Run in the Western Territory.
Speaking of Shay's Revenge, Snowshoe is also thinning a 5-acre section of woods between Shay's Revenge and Cupp Run in order to develop a gladed skiing area, which will be called Sunset Glades. Between-the-trees glade skiing is common at high-altitude ski resorts in the west, but is a rare treat for expert skiers in the Mid-Atlantic.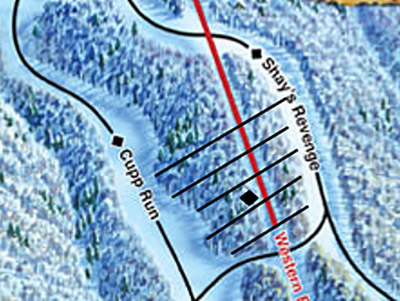 Snowshoe is also converting the previous Yew Pine slope to the all-new Evolution Park, which will serve as a transitional park as skiers and boarders work from small-to-medium features on the way to the more advanced Mountaineer Park. Additional changes include some trail reshaping to ease skier traffic in the Whistlepunk area of the Basin, and the removal of freestyle features from the Choker slope, returning it to black diamond status.
Dozens of events are scheduled at Snowshoe throughout the winter season. The resort has published a complete event schedule here.
Weather is always a wild card, but Snowshoe is once again offering its "Snow Guarantee": if any Southeastern ski area has more skiable terrain open than Snowshoe from December 18, 2015 through March 13, 2016, Snowshoe will provide your next day of skiing free. Details on this guarantee are provided here.
There are no reader comments on this article yet.