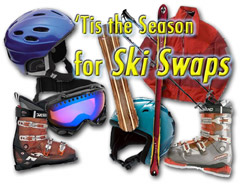 It's Fall, which means the ski season is just around the corner. Numerous resorts and ski shops throughout the Mid-Atlantic region offer "Ski Swaps" during the Fall, providing a chance to buy or sell used snowsports equipment. Many of these Swaps are operated by local ski patrols. DCSki has compiled a list of some upcoming Swaps below; if you are familiar with additional Swaps, please feel free to add them in the comments section below.
Before visiting a Swap, contact the organizer to verify details. Dates and hours may change without notice. You may also wish to review these classic tips on getting the most out of pre-season sales and ski swaps, provided by Otto Matheke on DCSki way back in 1998.
Ski Haus - Annapolis, Maryland
A Swap and Sale will be held at Ski Haus on Saturday, October 3 and Sunday, November 7, 2015. View details here or call Ski Haus at 410-757-6444 for more information.
Baltimore Ski and Board Swap - Towson, Maryland
A Swap will be held on Saturday, November 21, 2015 from 8 a.m. to 3 p.m. at the Ruhl MD National Guard Armory. For more information visit this page.
Liberty Mountain Resort - Carroll Valley, Pennsylvania
A Swap will be held at Liberty Mountain's annual Fall Fest from October 17-18, 2015. To view complete details, click here, or call Liberty Mountain at 717-642-8282.
Roundtop Mountain Resort - Lewisberry, Pennsylvania
During its annual Fall Fest November 7-8, 2015, Roundtop Mountain Resort will hold a Fall Mega Sale with deals on new and used equipment. For more information click here or contact the resort at 717-432-9631.
Whitetail Resort - Mercersburg, Pennsylvania
Whitetail will be holding a Ski and Board Swap during its 15th Annual Great Outdoors Festival, scheduled for October 24-25, 2015. The Swap will run from 9 a.m. until 5 p.m. each day. Click here for additional info, or call Whitetail at 717-328-9400.
Ski Center - Washington, DC
Ski Center, a retail shop in Washington, DC, will be holding a Ski Swap on Sunday, October 25, 2015 from 8:30 a.m. to 3 p.m. (If it is raining on October 25, the event will be moved to October 31.) More information on this event is available here, or call Ski Center at 202-966-4474 or 888-754-2368. Ski Center will also be holding a Winter Season Kickoff Sale from October 1-4.
Pro-Fit Ski & Mountain Sports - Leesburg, Virginia
Pro-Fit Ski & Mountain Sports will be holding a "Used Ski, Snowboard,and Bike Tag and Tent Sale" on Sunday, September 27 and Sunday, November 22, 2015 from 8 a.m. to 4 p.m. The event will help benefit the Whitetail Resort Ski Patrol. For more information, visit this page or call Pro-Fit at 703-771-7669.
Alpine Ski Shop - Sterling, Virginia
The Sterling, Virginia location of the Alpine Ski Shop will be holding two Ski Swaps this fall: October 10-11 and November 7-8, 2015. These events will help benefit the Timberline Ski Patrol. To learn more about this event, click here, or call the Alpine Ski Shop at 703-444-7844. (Note: The first swap was originally scheduled for October 3-4, but was postponed a week due to expected bad weather.)