What's New for 2015: Whitetail Resort
5
A busy winter season has led directly into a busy summer season at Pennsylvania's Whitetail Resort. The ski area has already begun its capital improvement program for the 2015-2016 winter season. Before next fall, $2.5 million will be spent on various upgrades and enhancements.
"We continue to improve and expand our facilities and programs at Whitetail Resort to better meet the needs of our guests," said Don MacAskill, President and General Manager of Whitetail Resort.
In recent years, Whitetail has gradually replaced aging snowmaking infrastructure with state-of-the-art Techno Alpin Fan Guns. The energy-efficient, automated guns allow Whitetail to more effectively cover slopes. After covering trails such as Angel Drop, Snow Dancer, and Fanciful with Techno Alpins, Whitetail is now focusing its sights on the Exhibition black-diamond trail. The resort reports that 17 Techno Alpins will be installed along Exhibition. The resort is also adding new automated HKD air/water guns to its arsenal to hit areas that are harder to cover. These air/water guns will replace older guns that had to be manually adjusted.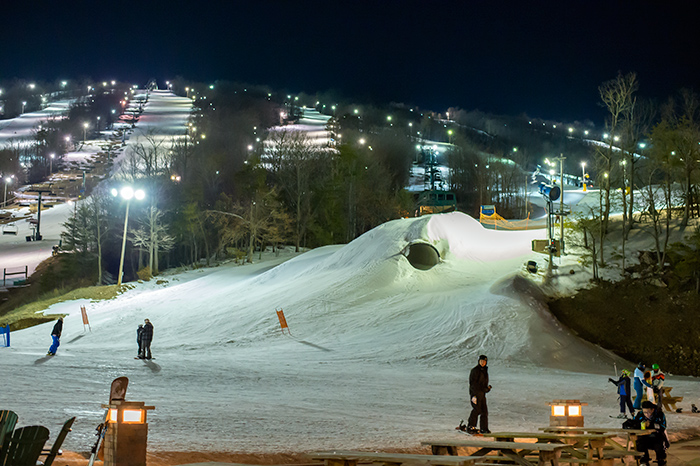 Whitetail is expanding its inventory of rental equipment to accommodate growth in its beginner programs. Whitetail will also be purchasing new skis, boards, and boots to support customers taking advantage of the resort's full season lease program.
Whitetail began paving some of its parking lots last summer, and its multi-year paving renovation program continues this summer. Whitetail notes that Lot 1 will be fully paved before the next ski season, along with the road leading to Whitetail's snow tubing park.
Although Whitetail has not yet announced specific plans, the resort has enlisted the assistance of local engineering and architectural firms to explore expanding several areas of operations at the resort.
Whitetail's summer season is already underway with activities such as the Whitetail Golf Resort and Dusty Wissmath's Fly Fishing School. Whitetail will once again be offering Summer Adventure Kid's Camps.