The 2014-2015 ski season is about to kick off. While many people will be hitting the stores on Black Friday, diehard skiers and snowboarders will be pointing their cars away from the shopping malls and towards the mountains — where they'll find a variety of ski resorts launching their winter season.
Cold weather arrived early last year, and has repeated the pattern this year, allowing many ski areas to once again open for Thanksgiving weekend.
In Pennsylvania, several areas close to D.C. will be opening Friday morning, November 28, 2014. Liberty Mountain Resort fired up its snowguns around November 19, and received over 4 inches of natural snow on Wednesday. Liberty will be opening at 9 a.m. on November 28 and plans to be open 8 a.m. to 10 p.m. on Saturday, November 29 and 8 a.m. to 5 p.m. on Sunday, November 30. Liberty will then close midweek, with plans to re-open for the season on Friday, December 5 at 9 a.m. For opening weekend, 8-hour lift tickets will be $39 and night tickets (5-10 p.m.) will be $29. Liberty plans to announce open trails on Friday morning.
Whitetail Resort will be open from 8:30 a.m. until 10 p.m. on Friday, November 28 and Saturday, November 29, and from 8:30 a.m. until 5 p.m. on Sunday, November 30. The resort will then close midweek. Whitetail plans to have 7 trails open and 5 lifts in operation, including the Whitetail Express high-speed quad. Whitetail will also offer discounted opening weekend pricing.
Roundtop Mountain opens on Friday at 9 a.m. The ski area plans to open with Minuteman, Lafayette's Leap Cut, Fife & Drum, the J-Bar Park, Fanny Hill, and the Discovery Area, with up to 5 lifts in operation. Discounted opening weekend pricing will also be $39 for 8-hour tickets and $29 for night tickets.
Seven Springs Mountain Resort will open on Friday, November 28 at 9 a.m. Hours for Friday, Saturday, and Sunday will be 9 a.m. to 5 p.m. In addition to opening several trails with a 12-24" average base depth, Seven Springs plans to offer 2-hour tubing sessions.
Hidden Valley Resort will also begin its season on Friday, November 28. The resort will be open on Friday, Saturday, and Sunday from 9 a.m. until 5 p.m.
In Maryland, Wisp Resort will be open Friday, November 28 through Sunday, November 30, offering a range of activities: skiing, snowboarding, snow tubing, ice skating, and a mountain coaster. Initially, Wisp plans to open the beginner Wisp Trail, adding the Central Park Terrain Park on Saturday with limited terrain features. Opening weekend pricing will include $39 adult day lift tickets. Skiing and snowboarding hours for Friday, Saturday, and Sunday will be 9 a.m. to 5 p.m. 12/3/14 Update: Wisp has tentatively rescheduled its Wisp Benefit Day for Friday, December 12, pending snow and weather conditions. The new Wisp Benefit Day has proceeds going to the Garrett Lakes Arts Festival. On December 12, tickets will be sold for $20 and include lift ticket access for skiing and snowboarding, unlimited snow tubing, ice skating, and a mountain coaster ride at the Mountain Park. Operating hours will be announced later, and Wisp notes that 2014-2015 season passes will not be valid on Benefit Day. Wisp's official opening day for the season will be on announced soon.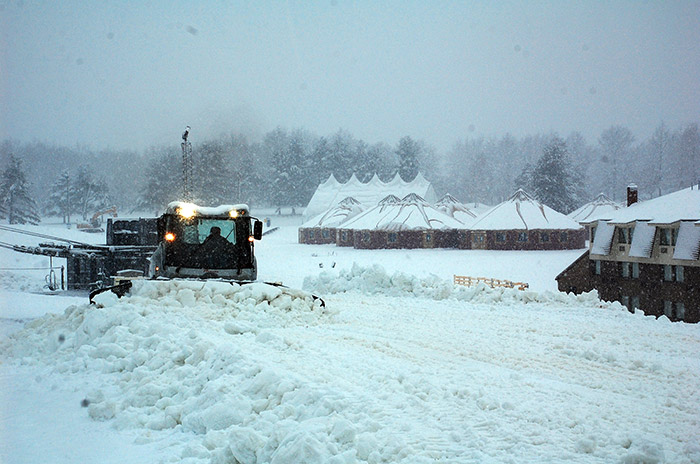 Virginia's Bryce Resort is open on Friday from 10 a.m. to 4 p.m., and will be open weekends from 10 a.m. until 4 p.m. until December 13, when the ski area begins its regular season.
Massanutten Resort received 5 inches of fresh snow on Wednesday, and will open on Friday, November 28. Slopes will be open from 9 a.m. until 5 p.m. on Friday, Saturday, and Sunday, and will close from December 1 until December 5. Daily operations will then begin on Saturday, December 6. For opening day, Massanutten plans to have 5 trails open and 4 lifts, offering top-to-bottom skiing.
Also in Virginia, Wintergreen Resort opens on Friday, November 28 with 5 open trails and 2 lifts running. Wintergreen hopes to add two additional trails to the open count on Saturday, along with snow tubing.
West Virginia's Snowshoe Mountain Resort began its season on November 26, and Winterplace plans to open on Friday, November 28. Winterplace will be open November 28-30, and will then shut down until Friday, December 12, when it kicks off its regular season.
Canaan Valley Resort will be open on Saturday, November 29 with 8 trails and 2 lifts. Timberline Resort plans to begin its skiing and snowboarding operations on Friday, December 12.
In North Carolina, Sugar Mountain Resort didn't wait for Thanksgiving to open slopes: the ski area captured its second earliest opening this year by opening the Upper and Flying Mile slopes on November 2, 2014. Since then, Sugar Mountain has added to its open trail count, opening the brand new slope Gunther's Way on November 20. Sugar Mountain is now reporting 9 open trails with an average base depth of 18-45 inches.
North Carolina's Beech Mountain begins its 47th ski season on Friday, November 28.
"We are pleased to be kicking off the 2014-2015 ski season on 'White Friday' and certainly appreciate the assist from Mother Nature," said Talia Freeman, Beech Mountain Resort's marketing director. The resort received half a foot of snow on Wednesday. "The staff is excited, and skiers and snowboarders will notice a lot of improvements and upgrades since last winter," she added.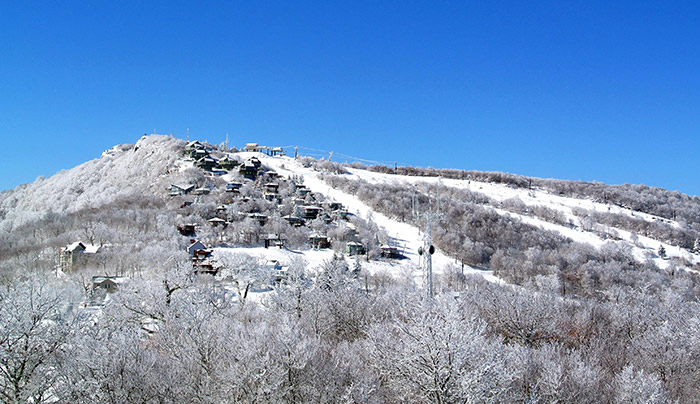 If you find yourself out west in Colorado, you'll benefit from a snowy November: Vail reports that it's received over 30 inches of fresh snow in recent days, and more than 6 feet over the past 3 weeks.
"We have a lot to be thankful for every year in Vail, but this year is extraordinary," said Chris Jarnot, executive vice president and chief operating officer of Vail Mountain. "It's rare to have conditions this good, this early in the season. We'll be talking about Thanksgiving 2014 for years to come."
On November 26, Vail opened its legendary Back Bowls, putting its total open terrain at more than 2,700 acres — the most skiable terrain open currently in the country. Vail plans to open the Blue Sky Basin in early December.
If you plan to hit a resort in the Mid-Atlantic for early-season skiing and snowboarding, please be sure to check with the resort to verify operating hours and conditions. Snow conditions can change frequently, and many resorts will be operating on a reduced schedule, shutting down mid-week until later in December. Some ski areas offer discounts in the early season, so check with local resorts to see what specials are available.
There are no reader comments on this article yet.