Pennsylvania's Seven Springs Mountain Resort has kept busy with capital improvements over the past year. Enhancements include re-graded slopes, additional snowmaking, a new experience-based instruction program, and a new dining option.
"Our largest project has been to create new ways to make learning to ski or snowboard fun and easy," explained Eric Mauck, CEO of Seven Springs and nearby Hidden Valley Resorts.
To that end, the resort has teamed up with Snow Operating and Snow Park Technologys to develop a new learning program for first-time adults and children. The new program will immediately introduce skiers and snowboarders to the sports, focusing on "going" instead of "stopping." According to the resort, the contours of the controlled learning area will ease the process of learning range of motion, balance, edge pressure, steering, traversing, and initiating turns. The program is being introduced at both Seven Springs and sister resort Hidden Valley.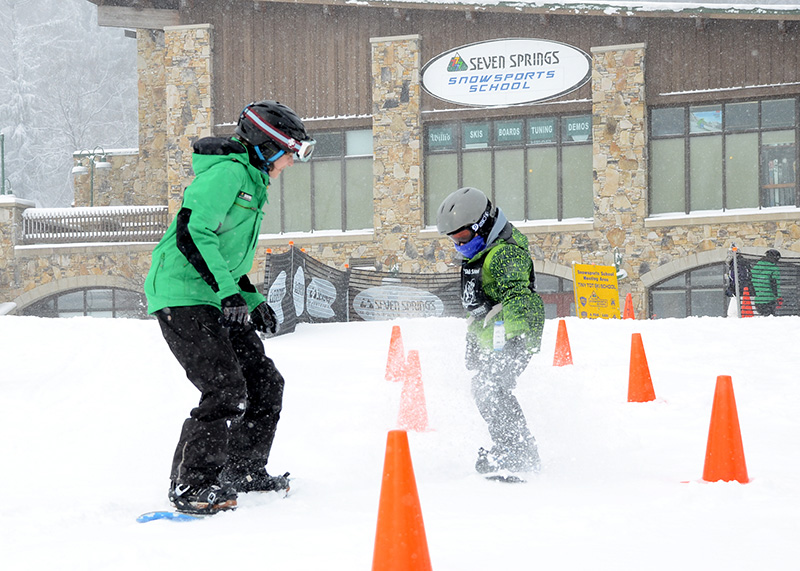 Long-time skiers and snowboarders will notice some changes to the Wagner slope. According to Seven Springs, the area known as the "Z" that leads skiers and boarders from Wagner to the Ski Lodge was expanded and re-graded. This results in a trail that is nearly double the width in places, which should improve traffic flow. Additional re-grading and clearing was done at the top of Wager, allowing for easier access from the Cortina lift, as well as the Avalanche slope. The resort's flagship terrain park, The Spot, also saw some sculpting.
Twenty HKD Click hydrants and 22 HKD SV 10 Impulse snowguns were installed on Upper Phillip's Run, continuing a multi-year effort to enhance snowmaking.
Seven Springs is currently constructing a brand new dining option at the Ski Lodge on the top floor near the Foggy Goggle bar. Once open, the full-service restaurant will provide a creative menu and an extensive craft beer selection.
Rounding out improvements, Seven Springs has purchased five propane-fueled shuttle buses, which will decrease noise. The resort has also purchased a new fleet of Rossignol rental skis, bindings, and boots, and beefed up its selection of Burton women's snowboard boots.
There are no reader comments on this article yet.