Laurel Mountain Placed on Auction Block
7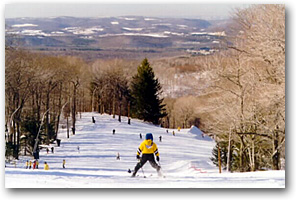 Pennsylvania's Laurel Mountain ski area has experienced many ups and downs since opening shortly after World War II. In 1989, the resort closed its doors, only to re-open ten years later in December, 1999. Significant investments were made to the resort to prepare for its 1999 re-opening, including chairlift upgrades, snowmaking installation, trail regradings and lodge renovations. However, despite an enthusiastic response by visitors to the resort, the resort has struggled with limited attendance and challenging weather conditions. The owner of Laurel Mountain has placed the resort on the auction block, and the results of this auction will determine whether Laurel Mountain opens this winter.
Tranzon, a nationwide auction and sales company, recently listed Laurel Mountain for auction. The listing includes approximately 387 acres of property located in Ligonier Township, PA, including the ski area and 327 acres of undeveloped property. 380 undeveloped mountain home sites are also included.
Closed bids on the area will be accepted through October 15, 2003. The winning bidder will receive ownership of the resort's 12,500 square foot ski lodge, a 10,000 square foot maintenance and ski patrol building, snowmaking equipment, quad and double chairlifts, a snowboarding half pipe, a tubing park, 500 sets of rental skis and snowboards, slope lighting system, water supply and underground electric utilities, parking for over 550 cars, and all furniture, fictures, equipment, vehicles, customer lists, domain names, and phone numbers associated with the resort. $2.5 million has been invested in upgrades to the resort over the past four years.
According to the Tribune-Democract, the resort's current owner, George Mowl, has attempted to obtain the $1 million in financing necessary to upgrade and re-open the resort for the upcoming winter season. However, attempts to raise financing have so far been unsuccessful. If a buyer is found on the October 15 auction, it is expected that there would be enough time for the new buyer to keep the resort open for the 2003-2004 winter season, although there probably would not be time to make capital investments.
The Tribute-Democrat reports that Mowl is looking for a bid of at least $7.5 million.
Photo provided by Laurel Mountain Ski Area.
I will buy it and run for a $1. How cool would that be to own and run your own resort!
It's too bad about Laurel Mt., it was a nice family ski area. Frankly, I expected Blue Knob All Seasons Resort (also in PA) to go under first. I believe it is one of the most under funded, poorly managed, and environmentally destructive ski resorts in North America. How it manages to stay open beats me...
The deadline for bidding has been extended to Oct. 31 and the min. bid has been lowered by about $3.5 mil. RobbieA, here is your chance. 900 feet of vertical and 350 acres of developable land. Go for it.
There's simply too much competition in the area (7-Springs and Hidden Valley) for Laurel to ever make a go of it. I hear that even Hidden Valley struggles a bit; plus 7-Springs is expanding, which will result in a new base village and more slopes and lifts! Laurel doesn't stand a chance! Too bad.....
Laurel Mountain was a great option for an uncrowded day of snowboarding. It also offered a much cheaper alternative to Springs. It will be sad to see her go AGAIN.....
If the state and Mellon would lift the lodging and expansion restrictions, maybe somebody could make some money running the place. Maybe not.
Laurel Mountain has a new owner and will open this year!!

The press release is supposed to come out today or tomorrow.