While leaves are changing in the Mid-Atlantic, the winter ski season has already arrived in the high country of Colorado. On October 13, 2013, Arapahoe Basin became the first ski resort in North America to open for the season, welcoming skiers and boarders with an 18-inch base and two open trails. A-Basin was able to take advantage of a combination of recent snowfall, ideal snowmaking conditions in recent weeks, and snowmaking equipment upgrades to capture the early-season opening date.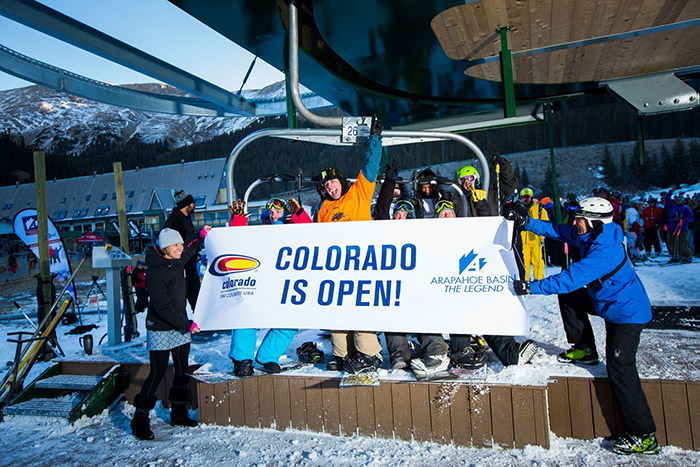 Arapahoe Basin's base altitude is at a lofty 11,000 feet above sea level, bringing cold temperatures to the resort early. Arapahoe Basin and nearby Loveland Ski Area began making snow on Friday, September 27. According to Colorado Ski Country USA, both resorts have either made snow or received natural snow nearly every day since. Loveland has not yet announced its opening date, but typically opens by mid- or late-October.
The opening day crowd at A-Basin was described as robust, and augurs a strong ski season for Colorado ski areas. Colorado tourism took a hit in early September due to catastrophic flooding along Colorado's Front Range. The ongoing government shutdown has further impacted tourism with the closing of popular parks such as Rocky Mountain National Park. However, Colorado's ski areas were unaffected by the flooding and are gearing up for opening dates between now and mid-December.
"It's still fall but the 2013/2014 ski and snowboard season is open for business in Colorado," said John Hickenlooper, Governor of Colorado. "Tourism and recreation are some of our most visible and important industries in Colorado, not to mention key economic drivers, and with [Arapahoe Basin's] grand opening we are looking forward to a fun-filled and snowy year on the slopes."
There are no reader comments on this article yet.