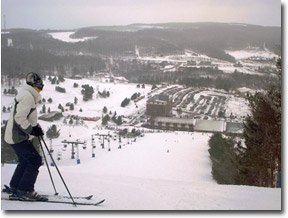 I took my family on a weekend ski trip to Wisp at Deep Creek Mountain Resort in Garrett County, Maryland on February 20-22, 2004. We had a wild and wonderful time. This was my third visit to Wisp in the last two years, but my first time for an overnight stay.
The 610-foot vertical drop of this place has got to be one of the most misleading statistics in the mid-Atlantic. The trail count of 22 doesn't seem right either. Believe me, Wisp's mountain is big enough to keep an aggressive skier/boarder occupied for a weekend of fun and it always seems to reveal a few additional pleasures upon each visit.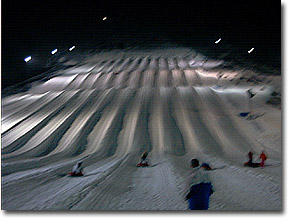 Heavy, intermittent rainfall dampened our arrival late on Friday evening. The wild weather, however, didn't seem to bother the big crowd at that evening's Mama Jama reggae bash filling the main lodge. Nor did the wet conditions stop a DJ from stirring up a sloshy, but good sized crew with tunes, games and prizes at the Tubes of Fire party at Wisp's Bear Claw Tubing Park. My kids went crazy for snow tubing even in the crazy weather. I tried it myself for the first time. The ride is pretty neat, a lot like a water slide at a summertime water park, especially in the warm (50 degrees Fahrenheit), rainy conditions we experienced on Friday night. Now I know why it is such a popular additional recreation product offered by winter resorts in our area.
As we settled into our comfy accommodations (arranged through Railey Mtn Lake Vacations) about a mile from the base of the slopes, I knew a change was in the wind. Sometime during the wee hours of the morning the rain turned to snow. Eventually, a total of about five inches of the white stuff fell on and off all day Saturday. Morning conditions were, to put the best spin possible on it, inconsistent. Because the rain had been followed by a temperature drop (Saturday's high was about 32 degrees F), there was a lot of iciness on the trails in exposed areas, yet the new snow had covered more than 50% of the ski terrain with a few inches of fresh powder. For better skiers the conditions were quite interesting with a considerable amount of untracked new snow in less traveled trail sections. But for novices, despite the best attempts of the Wisp grooming crew, it was tough going, made more difficult by occasional heavy snow squalls and a goodly number of fellow snowriders sharing the trails.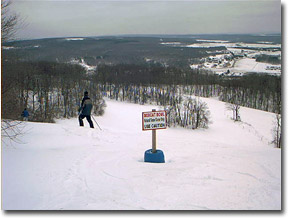 I skied with my family in the morning while we took a mellow introductory sampling of groomed portions of the mountain. We scoped out easy front side cruisers like Boulder and Possum then passed through the tunnel on the intermediate Down Under trail for several rides up the always under utilized backside chairlift # 5. After a lunch break back at the nearby Ski Harbor townhouse complex where we were staying, we returned to ski more in the afternoon. Contrary to the usual weekend expectation, conditions actually improved late in the day because of more snowfall and a skier traffic pattern that kept packing things down to a more consistent trail surface.
At one point on Saturday while my group stood at the top of Squirrel Cage debating whether to take this easy black diamond run or something else, a Wisp ski instructor schussed up beside us. I asked him a question about the trail layout and noticed he had an accent. His name was Miro and he was from Slovakia, working his first winter at Wisp. Thanks to DCSki's own John Sherwood and his article last summer on Slovakia skiing, I was able to briefly converse with him about Jasna and other ski areas in his part of the world. Then Miro the hero took off like a lightning bolt swooping down the steepest part of Squirrel Cage in three big turns.
Saturday night was brought to a favorable conclusion by the whole family. While my kids went back to the snow tubing park to make up for the wet, abbreviated session the night before, my wife and I took advantage of the pool, fireplace, and good wine back at our accommodations.
Sunday morning a select few in my group got out early and enjoyed a couple hours of really excellent, crowd-free, corduroy conditions. Mid-Atlantic veterans know the best time to ski on weekends is with the heathens on Sunday morning. At Wisp the Sunday crowd never really materialized and lift lines were short all over the mountain, all day. The temperatures were a few degrees cooler than Saturday, but there was less wind and no snow squalls. Sunday was a great ski day.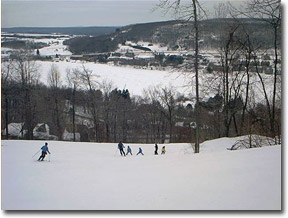 At mid-day we had lunch again in our townhouse and went through the brief check-out procedure with Railey's. Then the whole group hit the slopes for one nice afternoon of skiing. I particularly enjoyed sampling the remaining powder stashes on Main Street under chair # 5 and on Squirrel Cage under chair # 3. There was some good loose stuff in the Bobcat Bowl too. Devil's Drop was about the only thing closed this weekend and I'd like to check that out some other time. There appeared to be some lightly explored glades in that vicinity.
Wisp has a big contingent of snowboarders. The resort features two terrain parks and a halfpipe. While there are a few awkward flats, particularly near the summit, free riding boarders can get some respectable uninterrupted descents by using chair # 5 to access Main Street and Highland Pass trails. The newly upgraded front side triple chairs (# 2 and 3) offer mid-station unloading for more direct access to steep terrain. On Sunday, skiers and boarders were competing in a big air contest on some serious hits in the terrain park at the base of the black diamond trail called The Face. This park has its own handle tow. The halfpipe with a 17-foot radius carved out of the snow with a state-of-the-art Piston Bully Super Magician is located near the base of front side chair # 1. I noticed the groomer vehicle in the pipe early on Sunday morning. The primary areas sprouting moguls during my visit were one side of The Face and a short section of the Bobcat Bowl. I'm sure other black diamond runs bump-up from time to time.
There is a lot going on at Wisp. This past weekend the place was a beehive of activity with bands, parties, contests and even Special Olympics events. Combined with the amenities and proximity offered by our accommodations, I felt like we had everything we needed for a complete winter vacation experience. Because our visit was timed just after the President's Day weekend, crowds were lower and so were lodging rates. The ski conditions were still prime time. Wisp clocks in right at the 3-hour travel range from Baltimore and Washington with the trip almost entirely via interstate highway. Because of the variety of terrain, consistently good snow conditions, topflight management team, and well oiled infrastructure, I think it provides as good a ski experience as one can find that close to home.
i'VE HEARD WISP SKIS BIGGER THAN THE VERT CLAIMS,DOES IT SEEM BIGGER THAN LIBERTY OR ROUNDTOP WITH SIMILAR VERT?Sort of like my post stuck on caps lock?
Wisp is about twice as far from DC/Balt as the others you mention (90 min vs 3 hrs). Is it worth the extra distance? Depends. If you're an intermediate looking for variety, I definitely think so because of the additional mid-level terrain. Other pluses: typically superior natural and man-made snow conditions on a very well run mtn, lakeside scenery (e.g., Eye Opener trail), and often smaller weekend crowds, esp. on the backside of mtn. Though the great ride out I68 makes a daytrip feasible, Wisp is kind of a natural for a weekend stay. There are a ton of reasonably priced vacation homes/accommodations nearby due to the greater number of visitors that go there for the renowned summertime action on Deep Creek Lake (12 miles long and nearly 4,000 acres big). Regards, JimK
Just got back from a weekend at Wisp myself. It was beautiful up there! As a regular Liberty skier, going to Wisp provides a nice change of pace. The Deep Creek area is simply beautiful and the conditions at Wisp can not be beat! I agree very much that Wisp skis bigger than its 610 ft vertical suggests. Could be because of the wide sprawling nature of the trail layout or the fact that the trails themselves tend to be wider and roomier than Liberty's or Whitetail's.
Jim K,

From the title of your article, is either you or Scott a fan of NRBQ?
Heard of NRBQ, but not that familiar with them. Checked lyrics through web. Sounds like a good party song and does seem to resemble our itinerary.
Artist Lyrics: NRBQ
Song Lyrics: It's A Wild Weekend

Hey boys its a wild weekend
we did it then and we'll do it again
we're having fun and it just got started
we're on the run and we're crashing parties
get ready 'cause its a wild weekend
I am planning a group trip this winter and am having a difficult time locating a lodge. I am looking at a group of 20 plus and am wondering if anybody knows of lodge style rentals that would accomodate a large group of people with a large area that we could enterain everybody and attaching rooms where people could sleep. Any suggestions would be greatly appreciated!!! I am looking at MD, VA, PA, NJ, WV, and NY