Perhaps I was naive to think that most people would have gone back to work today. I looked forward to a peaceful, uncrowded day of skiing at Whitetail. Oops. That myth was shattered when I noticed that every single car in front of me on I-70 exited at the Clear Spring exit, en route to the ski resort. By 9:00 a.m., only half an hour after the lifts began running, the parking lots at Whitetail were nearly filled to capacity, with a steady stream of cars pulling in.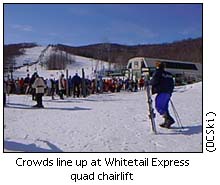 The biggest challenge people faced was buying a lift ticket. Lines 25-30 people deep extended from every lift ticket window, and people reported waiting half an hour or more to purchase their ticket. On the plus side, the crowds didn't transfer to the lift lines and slopes until around 9:45, giving early birds a chance to get in a lot of crowd-free runs.
All of Whitetail's beginner terrain was open, along with two intermediate paths down the main mountain served by the Whitetail Express high-speed quad. Upper Angel Drop to Homerun had good coverage; Snow Dancer, to the left of the Whitetail Express, opened later in the morning but had a very narrow layer of coverage. This prompted the Ski Patrol to upgrade the slope to Expert, and Snow Dancer became increasingly difficult to ski down as the crowds increased.
Early in the morning, conditions on Angel Drop and Homerun were a little crusty, but after a couple runs the snow began to soften up to a very pleasant consistency. As the day wore on, skiers and snowboarders began to remove layers of clothing as the temperature crept up to 50 degrees under bright sunlight; eventually, many skiers wore only t-shirts and ski pants. As expected, the snow softened, to the point where one skier described the snow on Snow Dancer as "mashed potatoes." It felt very much like spring skiing, with one notable difference: by spring, resorts usually have a strong base built up, but most area resorts, having only one week of solid snowmaking under their belt, have a shallow and fragile base.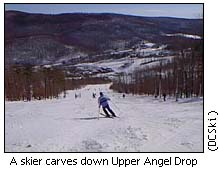 A look at the extended forecast reveals some very bad news: temperatures during the next week will climb into the 60's, with rain a distinct possibility. Long-term forecasts indicate that snowmaking temperatures may not return until January 18. Without a deep base to work off of, I doubt that the resorts within 2 hours of D.C. will be able to make it through the next week. Let's hope colder temperatures return (and stay) in mid-January.
Whitetail took a gamble with their snowmaking and tried to open expert slope Bold Decision. They had planned on opening Bold Decision this weekend, but it did not have enough coverage; a safer bet would have been to divert the snowmaking capacity to fortifying Angel Drop.
Although Bold Decision did not have enough snow to open, a path leading to it did and ski patrollers decided to open this path in late morning. A portion of lower Angel Drop, leading to Drop In, was opened. Skiers could ski down Drop In to Fallmount, which is a primarily flat (and even uphill, towards the end) slope winding back towards the base lodge. (If you're looking for a heavy aerobic workout, Fallmount will do the trick.) Whitetail had hoped to run the Expert's Choice quad chairlift on Friday, giving skiers the opportunity to ski down Drop In and ride back to the top, where they could then ski down Ridge Runner back to the top of Angel Drop. This would have helped relieve congestion in the base area, but patrollers decided there was not enough coverage on Ridge Runner. Whitetail plans on trying this again on Saturday, presumably after the grooming fleet moves some additional snow to Ridge Runner.
By noon, the parking lots were essentially full and Whitetail decided that capacity for the resort had been reached. At that point, Whitetail began turning away skiers without reservations.
Despite the crowds, the line at the Whitetail Express lift moved pretty quickly (especially the singles line) throughout the day, thanks to the diligent efforts of lift attendants. I did not attempt to ride the lifts serving beginner terrain, whose lines traditionally move much slower; I was content to stick with the intermediates.
Many skiers expressed surprise that more terrain was not open, particularly with snow on the ground from the last snowstorm (quickly melting as the day progressed, though). However, it takes a lot of snow to open a slope. The slopes that were open did have very good conditions throughout the day, and everyone seemed to be having a great time.
If you plan to go skiing at Whitetail, Roundtop, or Liberty in the near future, your best bet is this weekend. Conditions will rapidly deteriorate next week as temperatures rise. If you go to Whitetail, make sure you have reservations or arrive very early. I expect Whitetail will reach capacity again on Saturday.
There are no reader comments on this article yet.