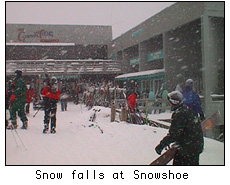 The current winter storm may bring little more than rain and slush to the D.C. area, but our neighbors to the west and north are bracing for a major "snow event."
Snowflakes began falling at West Virginia's Snowshoe Mountain Resort this morning at 9:30 a.m., and over 9 inches of snow have accumulated so far.
"It doesn't look like it's going to let up anytime soon," says Snowshoe's Joe Stevens. He adds that the roads leading to Snowshoe, while snow covered, are passable. "We're plowing the roads around the clock with everything we have," he says.
As the storm heads north, it will pass squarely over western Maryland, dumping significant amounts of accumulation. This is great news for western Maryland's Wisp Four Seasons Resort, which is anticipating a total snowfall of up to two feet.
"With that fresh powder and our Snowmaking Technicians working around the clock, conditions will be great for any level skier," predicts Wisp's Derek Versteegen.
Accumulation from the storm combined with snowmaking will allow Snowshoe and Wisp to open the bulk of their terrain by this weekend. Snowshoe currently has 34 trails open, with more slated to open soon. Skiers and snowboarders at Snowshoe are enjoying a healthy 42-74 inch base. Wisp has 10 trails open, with more to open in the coming days.
Other area resorts are hoping to pick up 8-12 inches of snow from the current storm, and have been making snow around the clock since Saturday evening.
There are no reader comments on this article yet.