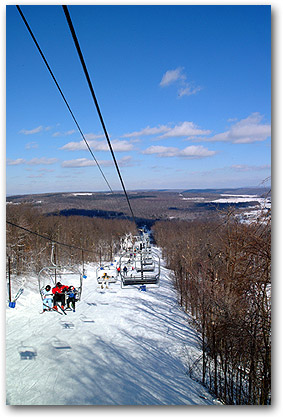 Wisp Resort
Deep Creek Lake, Maryland
| | |
| --- | --- |
| Vertical drop: | 700 feet |
| Base elevation: | 2,415 feet |
| Peak elevation: | 3,115 feet |
| Skiable acres: | 132 |
| Longest run: | 1.5 miles |
| Trails: | 32 |
Wisp Resort is located in far-west Garrett County, Maryland, next to the scenic Deep Creek Lake. Wisp is the only ski resort in Maryland, but it's not the closest resort to the Baltimore/D.C. region - skiers must travel approximately 2.75 hours from D.C. to the "panhandle" of Maryland. This makes Wisp a destination resort, and there are plenty of lodging options in the region, including a hotel right at the base area. Visitors are rewarded with snow conditions that are often better than other resorts in the region, thanks to Wisp's western location in the "snow belt" of Maryland. Wisp offers plenty of unique trails and is a bona-fide four-season resort, offering activities such as golf during the summer. And, the Wisp story got more exciting with the addition of the North Camp area in 2005; this expansion added ten new trails and two new quad chairlifts in 2005, increasing Wisp's vertical from 610 to 700 feet.
Wisp is often the first area resort to open, thanks to the unique weather patterns in western Maryland that offer plenty of snow (an average of 100" each year, reaching 208 inches during the 2002-2003 winter season) and good snowmaking conditions. Wisp's airless snowmaking system helps the resort capture a traditional pre-Thanksgiving opening date, and with the large Deep Creek Lake adjacent to the resort, water is never in limited supply for snowmaking. Wisp has 32 trails, including the meandering 1.5-mile long Possum trail, a real treat for beginners.
On-mountain lodging is available, including a 168-unit slopeside hotel at the base area, complete with several restaurants. Hundreds of homes and condos are available for rental througout the Deep Creek Lake region.
Thanks to natural snow, there are plenty of opportunities for cross-country skiers in the Wisp area.
In 2001, Wisp was purchased by an investment group for just under $12 million. This new ownership has brought many changes to Wisp. Wisp unveiled a new snow tubing park during the 2001-2002 season, and followed up by expanding its base lodge, upgrading lifts, and adding one of the largest "Super Pipes" in the east. A significant investment was made during 2005, when Wisp opened the new North Camp expansion, adding 10 new trails and two new quad chairlifts. In 2007, Wisp added a new Mountain Coaster, which offers hair-raising rides year round. An ice skating rink was added to Wisp in 2009. In 2010, Wisp purchased two new Prinoth snow groomers.
News reports in the fall of 2011 indicated that D.C. Development LLC, the current owner of Wisp Resort, had filed for Chapter 11 bankruptcy protection due to the challenge of selling new home sites in a depressed real estate market. This is not expected to affect ski area operations, which are planned to continue as normal for the 2011-2012 winter season.
Key Statistics
Resort Name:
Wisp Resort
Vertical Drop:
700 feet
Base Altitude:
2,415 feet
Peak Altitude:
3,115 feet
Trails:
Skiable Acres:
132
Longest Run:
1.5 miles
Lift Capacity:
12,600 per hour
Lifts:
12

(2 quads, 5 triples, 4 conveyor carpets, 1 surface tow)

Night Skiing:
Yes, on 90+% of terrain
Terrain Park:
Two terrain parks are available.
Halfpipe:
(No halfpipe)
Tubing Park:
Nine tubing lanes serviced by two lifts.
Address:
Wisp Resort
P.O. Box 629
296 Marsh Hill Road
McHenry, MD 21541
Phone:
(301) 387-4911
Latitude:
39.555981
Longitude:
-79.361270
Links:

http://www.skiwisp.com/
Getting to Wisp Resort
Estimated Distances from Major Cities
Baltimore, MD
3 hours, 5 minutes
182 miles
Washington, DC
3 hours, 5 minutes
179 miles
Arlington, VA
3 hours, 5 minutes
178 miles
Richmond, VA
4 hours, 35 minutes
244 miles
Pittsburgh, PA
2 hours, 5 minutes
122 miles
Harrisburg, PA
3 hours, 5 minutes
177 miles
Philadelphia, PA
4 hours, 40 minutes
279 miles
Charleston, WV
3 hours
196 miles
Raleigh, NC
7 hours, 20 minutes
420 miles
Charlotte, NC
6 hours, 30 minutes
416 miles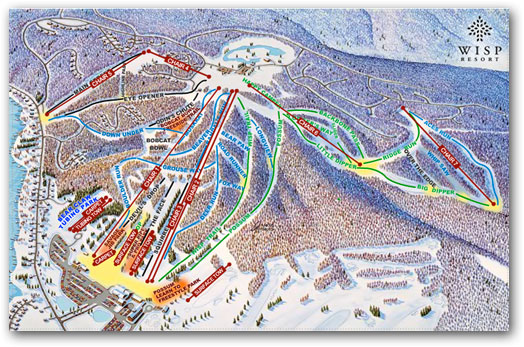 12:10 am on November 20 / Garrett County Airport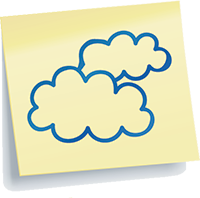 27° F
Mostly Cloudy
| | |
| --- | --- |
| Humidity: | 74% |
| Wind Speed: | 15 mph |
| Barometer: | 29.90 in |
| Dewpoint: | 19 °F |
| | |
| --- | --- |
| Visibility: | 10.00 mi |
| Sunrise: | 7:06 a.m. |
| Sunset: | 4:59 p.m. |
Good snowmaking conditions right now.

Weather supplied by the National Weather Service. Errors or reporting delays may be possible.
Snow Conditions at Wisp:
Wisp


Mar 28, 2017 at 6 am

N/A
N/A
N/A
News about Wisp
November 21, 2016

- Wisp has renamed its slopeside hotel the Lodge at Wisp, and is in the midst of a 3-year, $3.7 million renovation. Guests this winter will find many enhancements on the inside and outside of the on-site hotel.
November 27, 2014

- The 2014-2015 ski season is about to kick off. While many people will be hitting the stores on Black Friday, diehard skiers and snowboarders will be pointing their cars away from the shopping malls and towards the mountains — where they'll find a variety of ski resorts launching their winter season.
May 31, 2014

- Depressed that the winter season is over? No worries. Mid-Atlantic ski resorts will provide plenty of activities this summer to distract you from the fact that there is no snow on the ground. Here's a look at the summer offerings of many local resorts.
February 17, 2014

- Jim Kenney first visited DCSki 15 years ago. He soon became an active contributor, documenting his family's ski adventures locally and across the country. In this detailed retrospective, Jim reflects on his 15 years of writing stories for DCSki.
December 1, 2013

- In a typical Mid-Atlantic season, ski resorts struggle to open by mid-December. This is not be a typical Mid-Atlantic season.
Upcoming Events
No future events at this time.