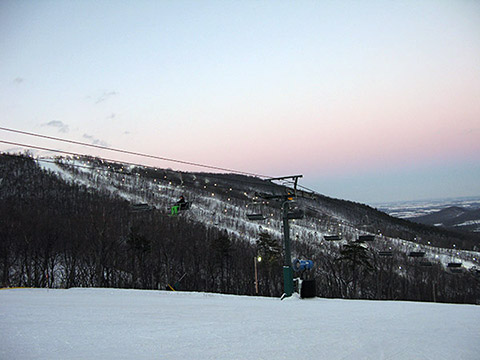 Whitetail Resort
Mercersburg, Pennsylvania
| | |
| --- | --- |
| Vertical drop: | 935 feet |
| Base elevation: | 865 feet |
| Peak elevation: | 1,800 feet |
| Skiable acres: | 117 |
| Longest run: | 1 mile |
| Trails: | 23 |
Located in south-central Pennsylvania, Whitetail is a comfortable 90-minute jog down I-70 from D.C. and Baltimore. Skiers and boarders will find 23 trails, a 935-foot vertical, and a high-speed quad. Whitetail's convenient location to D.C. also means skiers and boarders will often find crowds — on weekends and holidays, Whitetail's slopes can become as crowded and intimidating as the Washington Beltway during rush hour. On non-holiday weekdays, visitors will find fewer crowds and safer conditions.
Whitetail has continually invested money in capital improvements to the resort. Over the past couple decades, it has added new trails, expanded its base lodge, added a snow tubing park, expanded lighting across the slopes, and made significant snowmaking improvements. Whitetail's state-of-the-art snowmaking system can quickly take slopes from bare to skiable with just a few nights of snowmaking.
Whitetail is now part of the Vail Resorts family after a 2019 purchase. Previously, it was owned by Peak Resorts, and before that, Snow Time.
Skiers at Whitetail are pampered by a modern base lodge and amenities such as free ski check. Food is reasonable, with cafeteria-style food available in the Market Place. Whitetail developed a residential village that lines the Northern Lights beginner ski slope, but despite this lodging, Whitetail does not offer many year-round activities except for golf. In 2019, Whitetail was granted its first liquor license.
Key Statistics
Resort Name:
Whitetail Resort
Vertical Drop:
935 feet
Base Altitude:
865 feet
Peak Altitude:
1,800 feet
Trails:
23 Trails:


Skiable Acres:
117
Longest Run:
1 mile
Lifts:
9

(1 high-speed quad, 3 quads, 2 doubles, 3 magic carpets)

Night Skiing:
Night skiing on all trails
Terrain Park:
Two terrain parks.
Tubing Park:
Serviced by an enclosed magic carpet and its own lodge.
Address:
13805 Blairs Valley Road
Mercersburg, PA 17236
Phone:
(717) 328-9400
Latitude:
39.745606
Longitude:
-77.939157
Links:

http://www.skiwhitetail.com/
Getting to Whitetail Resort
Estimated Distances from Major Cities
Baltimore, MD
1 hour, 45 minutes
92 miles
Washington, DC
1 hour, 45 minutes
89 miles
Arlington, VA
1 hour, 45 minutes
88 miles
Richmond, VA
3 hours, 20 minutes
187 miles
Pittsburgh, PA
2 hours, 50 minutes
161 miles
Harrisburg, PA
1 hour, 35 minutes
81 miles
Philadelphia, PA
3 hours, 20 minutes
185 miles
Charleston, WV
4 hours, 30 minutes
287 miles
Raleigh, NC
6 hours
363 miles
Charlotte, NC
6 hours, 45 minutes
416 miles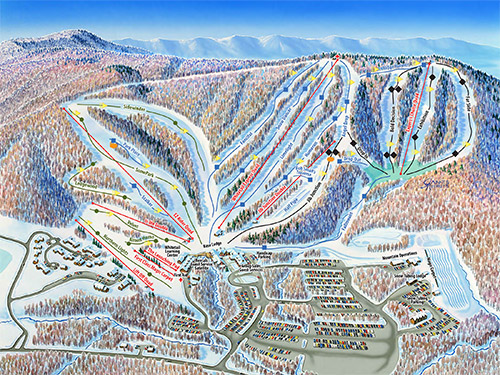 8:53 am on December 9 / Hagerstown, Washington County Regional Airport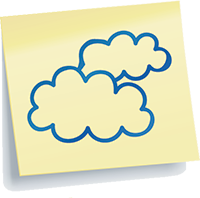 38° F
Overcast
| | |
| --- | --- |
| Humidity: | 83% |
| Wind Speed: | 3 mph |
| Barometer: | 30.05 in |
| Dewpoint: | 33 °F |
| | |
| --- | --- |
| Visibility: | 8.00 mi |
| Sunrise: | 7:20 a.m. |
| Sunset: | 4:47 p.m. |
Probably too warm for snowmaking right now.

Weather supplied by the National Weather Service. Errors or reporting delays may be possible.
Snow Conditions at Whitetail:
Whitetail


Dec 7, 2019 at 2 pm

-" base
of 25 trails open
of 9 lifts open
News about Whitetail
August 2, 2019

- There has been a changing of the guard at two Mid-Atlantic ski areas as two long-time General Managers have retired. Whitetail's Don MacAskill is being succeeded by Brett Cook, while Wisp's Jerry Geisler is being succeeded by Ron Hawkes.
July 22, 2019

- Vail Resorts announced on Monday, July 22, 2019 its intent to acquire Peak Resorts, setting in motion another seismic shift in the ski industry — and a further round of consolidation that leaves few players in charge of an ever-widening set of ski areas across the United States.
April 3, 2019

- On April 2, 2019, Peak Resorts, Inc. announced that it will be investing $3.5 million in capital improvement projects this summer at Pennsylvania ski areas Liberty Mountain, Roundtop Mountain, and Whitetail Resort, with a focus on snowmaking enhancements.
March 13, 2019

- DCSki recently covered the outrage many Mid-Atlantic skiers are having over the elimination of popular season pass products at Liberty, Roundtop, and Whitetail. The new Peak Passes are priced significantly higher but expand the number of ski areas available. Does that justify the higher cost? We analyze the properties that are part of the Peak Resorts portfolio to assist skiers in determining whether the substantially higher pricing of these passes is worth it.
March 12, 2019

- The honeymoon didn't last long. Last week, Mid-Atlantic skiers and snowboarders awakened to a new reality: now that Missouri-based Peak Resorts, Inc. owns Liberty, Roundtop, and Whitetail Resorts, changes are afoot. And these changes mean there could be much less change in the pockets of local winter sports enthusiasts starting next winter. That has led to outrage on the part of many Mid-Atlantic skiers.