Snowshoe Mountain Resort
Snowshoe, West Virginia

(Click here for the official web site for Snowshoe, or scroll below to read DCSki's complete profile...)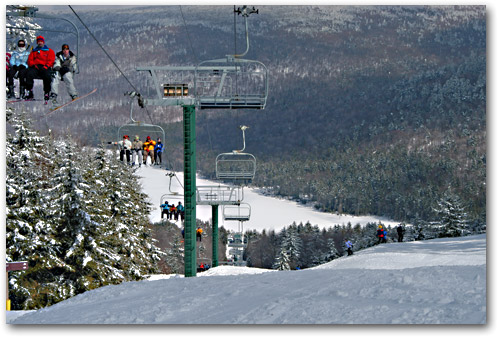 Resort Overview - reported by M. Scott Smith, DCSki Editor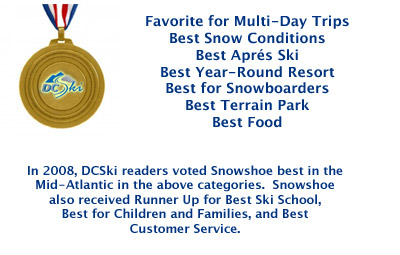 Snowshoe Mountain Resort is located in the middle of West Virginia. Despite its southern location, Snowshoe receives an eye-raising average annual snowfall of 180 inches - even in El Niño years. To that, Snowshoe adds plenty of manmade snow. Snowshoe is a year-round destination resort, offering numerous lodging options, from economical to upscale. During the summer, Snowshoe is known for its excellent mountain biking, drawing bikers from all over the country. DCSki readers have consistently rated Snowshoe the top resort in the area in terms of snow quality, diverse terrain, nightlife, family events, and more. In the Mid-Atlantic region, Snowshoe is the best of the best.
In 1995, Snowshoe was purchased by Intrawest. Since then, Intrawest has made significant investments in the resort — over $80 million has been invested in improvements, including terrain expansion and the installation of three high-speed quads.
Snowshoe offers some of the best skiing south of New England and even a suprising amount of nightlife for its secluded location in the mountains of West Virginia. That seclusion makes Snowshoe somewhat difficult to get to - it is approximately a 5-6 hour drive from Washington, D.C. Those willing to make the trek are rewarded with beautiful scenery, great snow conditions, and 60 trails spread over a 1,500-foot vertical. The drive became more palatable a few years ago, when Snowshoe opened a new entrance road to the resort from the town of Cass. This shaves about 30 minutes off the drive from the D.C. area.
Snowshoe has 60 trails, and they're usually all open by early January, with a handful opening before Thanksgiving. The trails are spread across three distinct areas: the main Snowshoe area, with 41 trails and an 800-foot vertical drop; the Silver Creek area, with 17 trails and a 660-foot vertical; and the Western Territory, with 2 trails and a 1,500-foot vertical. The Western Territory features Cupp Run and Shay's Revenge, two 1.5-mile expert slopes serviced by their own high-speed lift. The Western Territory is just across the street from the main Snowshoe area. Silver Creek is down the road (and reached by a free shuttle), featuring tamer trails and usually less crowds. Silver Creek is home to the Ruckus Ridge tubing park, a snowboard park, and is lit for night skiing.
On weekends, the main Snowshoe area can become crowded (with the base of the Ballhooter Express chairlift becoming a choking point), but the Western Territory and Silver Creek areas are rarely crowded. The installation of a third high-speed quad in 2006, replacing the older Widowmaker lift at the main Snowshoe area, has helped to reduce crowding. Three additional trails were cut off of this lift for the 2007-2008 winter season, including one gladed run. If you can swing a trip to Snowshoe mid-week, you'll find significantly discounted prices and might have the slopes to yourself.
As a full-blown destination resort, Snowshoe doesn't lack amenities. There are 21 dining establishments, including one nightclub. Snowshoe rents out over 1,400 condominium and lodge rooms, covering a variety of price points from economy to luxurious. There are also many winter activities that do not involve skis and snowboards, such as snowmobiling and snowshoeing.
Snowshoe usually opens for skiing and boarding around Thanksgiving.
Although Snowshoe's winter season frequently lasts over 130 days, the fun doesn't end when the snow melts. Snowshoe offers some of the best mountain biking on the east coast, with 100 miles of maintained trails winding through the resort's 10,000 acres. Trails range in difficulty; some trails follow scenic backcountry roads and old rail trails, while others are hair-raising, advanced singletrack. Races such as the popular 24 Hours of Snowshoe (covered by DCSki in 2002 and 2003) have been held at Snowshoe in the past.
Two mountain biking centers offer trail maps, bike rentals, clothing and equipment sales, and bike tours. When you're done biking, you can give your bike a wash with supplied hoses.
If mountain biking isn't your sport, Snowshoe also offers golf, tennis, horseback riding, swimming, hiking, fishing, canoeing, or sightseeing. Snowshoe's high elevation (nearly 5,000 feet) helps it escape from the scorching summer heat found in D.C. Not far from Snowshoe, you'll find other attractions such as the Cass Scenic Railroad and the National Radio Astronomy Observatory.
The Raven Golf Club (formerly known as Hawthorne Valley Golf Course) is an 18 hole, par 72 Gary Player signature course set into the mountainside. Golf Magazine has declared the course as one of the "top ten new courses you can play in the U.S."
Snowshoe added new activities several summers ago, including a skate park, a climbing wall, fly fishing, and more. Snowshoe also began offering scenic rides on the Western Express chairlift during weekends. Snowshoe is a bustling resort year-round.
Resort Name:

Snowshoe Mountain Resort

Vertical Drop:

1,500 feet

Base Elevation:

3,348 feet

Peak Elevation:

4,848 feet

Trails:

60 (41% beginner, 36% intermediate, 23% advanced)

Skiable Acres:

244

Longest Run:

1.5 miles

Lift Capacity:

23,400 per hour

Lifts:

14 (Including 3 high-speed quads, 2 handle tows, 2 Magic Carpets)

Night Skiing:

75% of Silver Creek area (12 slopes) is lit for night skiing.

Terrain Park:

Snowshoe has four terrain parks; two at the main Snowshoe area, and two at Silver Creek. The Silver Creek parks are lit for night riding.

Halfpipe:

Yes

Tubing Park:

Bear's Claw Tubing Park is located at the Silver Creek area. The hill is 600 feet long with five lanes.

Address:

10 Snowshoe Drive
Snowshoe, WV 26209

Phone Number:

(877) 441-4386

Latitude:

38.41207

Longitude:

-79.99204

Twitter:

http://twitter.com/snowshoemtn

Facebook:

http://www.facebook.com/snowshoe.mountain

Web Site:

http://www.snowshoemtn.com/
---
Estimated Distances from Major Cities
| | | |
| --- | --- | --- |
| Baltimore, MD | 5 hours, 25 minutes | 300 miles |
| Washington, DC | 4 hours, 50 minutes | 257 miles |
| Arlington, VA | 4 hours, 50 minutes | 255 miles |
| Richmond, VA | 4 hours, 20 minutes | 260 miles |
| Pittsburgh, PA | 3 hours, 40 minutes | 211 miles |
| Harrisburg, PA | 5 hours, 25 minutes | 296 miles |
| Philadelphia, PA | 7 hours | 400 miles |
| Charleston, WV | 2 hours, 45 minutes | 167 miles |
| Raleigh, NC | 5 hours, 45 minutes | 298 miles |
| Charlotte, NC | 4 hours, 55 minutes | 309 miles |
To view a full-size trail map for Snowshoe, click on the following thumbnail image. The trail map will open in a new window. Please note that DCSki's trail maps can be out of date; always pick up a copy of the latest trail map at each resort.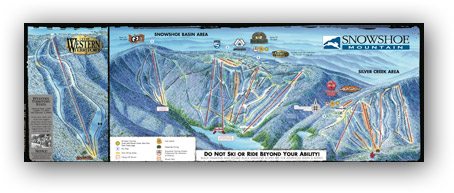 A snow condition report for Snowshoe is shown below. Because condition reports may not be updated regularly, be sure to check the date and timestamp on the report. Before making a trip, we recommend contacting resorts directly for the latest conditions.
Snowshoe Mountain, WV

As of 06:03:00 on 2011-03-27

Report data is over 2 days old -- please check back later.
To view additional ski condition reports for areas throughout the Mid-Atlantic region and across the world, visit the DCSki Conditions page.
The past five articles related to Snowshoe are shown below.
Mid-Atlantic Ski Season Pushes into April (March 28)
Yes, you can still ski or board in the Mid-Atlantic. Several resorts have announced that they plan to remain open into early April.

Firsthand Report: Snowshoe in the Rain (January 22)
Can skiing in the pelting rain at Snowshoe be fun? If you're DCSki Columnist Matthew Graham, it sure can be. He describes his recent rainy adventure in this Firsthand Report.
(1 reader comment)

Firsthand Report: Snowshoe Mountain Resort (January 13)
Connie Lawn and Charles Sneiderman spent the weekend at West Virginia's Snowshoe Mountain Resort. They filed this Firsthand Report.
(7 reader comments)

Mid-Atlantic Ski Season Gains Momentum (December 27, 2012)
A shot of cold air and some natural snow has helped launch the 2012-2013 winter season in a big way. Find out the status of Mid-Atlantic ski areas.

The Weekly Altitude (November 25, 2012)
The Weekly Altitude provides a look at what's happening in the Mid-Atlantic ski and snowboard scene. In this weeks issue: Ready, Set, Fire the Snowguns!; Kickstarter Project aims to develop Adventure Case for iPhone; North Carolina Ski Areas Association Offers "Gold Cards."
To view more articles related to Snowshoe, click here.
The DCSki Event Schedule currently doesn't have any events listed for Snowshoe. To view events at other resorts, please visit the DCSki Event Schedule.
The following bargains are related to Snowshoe.
(No matching bargains found.)
To view more bargains, click here. Remember, bargains may include exclusions or expirations not noted here. Contact the company offering the bargain to verify details.
Recent Tweets from Snowshoe Mountain Resort
The following properties located near Snowshoe are listed in the DCSki Lodging Finder. Property owners pay DCSki a small listing fee for this service. Inclusion in the Lodging Finder does not represent an endorsement by DCSki.
Chestnut Ridge Country Inn:

Bed & Breakfast lodging on the eastern side of Snowshoe Ski Resort, we offer 5 guestrooms with private baths and a cottage directly behind the main house. Come off the mountain after a day of skiing, relax in one of our oversized guestrooms or sit in front of the fire in our Common Room. The next morning, be greeted by a hot breakfast in our dining room. We are family-friendly with several guestrooms to accommodate five in your family traveling together. There's lots to do in the summer here as well, including special events @ Snowshoe. See our page @ www.chestnutridgecountryinn.com/thingstodo.
Elk River Inn and Restaurant:

The Elk River Inn and Restaurant is located on the banks of the Elk River 5 minutes from the base of Snowshoe Mountain Resort. Our services have provided a unique style hospitality for over 25 years.
The views and opinions expressed in DCSki Article Comments are strictly those of the comment authors and have not been reviewed or approved by DCSki. If you believe a comment is inaccurate or inappropriate, please contact DCSki's Editor.
Comments on Snowshoe
- posted by The Colonel
August 14, 2004 at 8:56 pm
Talk about snowmaking -- Intrawest has really reved up this part of the skiing, nearly guaranteeing perfect snow. Unbelievable base, but really true. Last year [1998-99 season] when December was so warm, Intrawest went out and purchased an additional large number of the fan type snow cannons, just to make sure the resort would have good snow when the cold temperatures returned. And cold it is at 5,000 feet of elevation.

Easily the best ski slopes in the area, especially the Great Western area. Enough variety to satisfy most for a multi-day stay. Long, long drive.

With Intrawest financing, this place will only get better and classier. Two high speed quads. Disappointed that there were not more improvements to the slopes this summer. Maybe next year -- more expansion is planned.

Midweek, one can ski at the Silver Creek part of Snowshoe and never see a lift line. The new lodges will help with the ambience off the slopes.

SUPERPIPE at snowshoe???
- posted by Steezy Mcsteezinstien
September 17, 2004 at 11:55 pm
Has anyone heard if snowshoe will be getting a superpipe for the 2004/2005 winter season? All of the freestyle snowboarders and skiers would like to know.

Comments on Snowshoe
- posted by RobFL
October 30, 2005 at 12:48 am
How is the snow at Snowshoe in mid March?
RobFL

Comments on Snowshoe
- posted by AWC
April 16, 2006 at 6:17 pm
On the article, The Renaissance of Snowshoe, it talks about the phase 5 of interwest's plan, which involves Hawthorne slope system - 30 acres. Does anyone know what this is or where it will be? And further, does anyone know if it will actually happen and when? I believe Snowshoe is a great resort, that still tons of untapped potential. I would love to hear from some slope developments, instead of another condo.

Comments on Snowshoe
- posted by skibummds
October 11, 2006 at 1:10 pm
AWC-I haven't read the article but "Hawthorne" slope was developed in the 80s originally to parallel Cupp from the Cupp side of the Top of the World parking lot entrance to the valley near the tennis courts-1500 vertical feet-and almost a straight shot-the slope cut left at midway and then straight and narrow back to the base of the lift. The run and lift were open for 2 or 3 years and then closed mysteriously, never to reopen. The wind on that part of the mountain is very strong and management had trouble maintaining skiable conditions near the top. Power lines were also a problem, and water for snowmaking. If they designed the top with turns to break the wind better (like the top of Cupp) I always thought it would work.

Comments on Snowshoe
- posted by Eric
August 19, 2007 at 1:33 am
There are 3 new trails opening for the 2007/2008 season, all blacks including a glades trail. They are running off the new high speed quad, Soaring Eagle Express. This brings the total number of trails at Snowshoe to 60. Additionally, improved shuttle service for 2007/2008 will help distribute skiers across all these trails by opening Silver Creek terrain to more skiers staying in the Village for the amenities and nightlife. Finally, real estate development slowed, so for the first time in a long time, trails are improving while the number of beds at the resort are remaining relatively flat (there are a few new luxury SF homes being built but the 8 rivers condo development is on hold indefinitely). All in all, some very good news for skiers and boarders at Snowshoe.

Comments on Snowshoe
- posted by Scott
January 27, 2008 at 1:06 am
CAN YOU GO TO SNOWSHOE FOR A DAY TRIP???

Comments on Snowshoe
- posted by Scott
January 27, 2008 at 12:21 pm
Sure, you can go to Snowshoe as a day trip, but it really depends on how far away you live and how much you're willing to drive in a day. A lot of West Virginia residents consider Snowshoe their "local" resort and buy season passes for use on day trips. But if you live near D.C. or Baltimore, Snowshoe is a good 5-6.5 hours away. I know I wouldn't want to drive 13 hours in one day for a few hours of skiing. And there's enough terrain at Snowshoe/Silver Creek to spend at least a couple days skiing.

Comments on Snowshoe
- posted by Carmen
September 22, 2008 at 10:04 am
We are interested in taking a Christmas Holiday ski trip. Would Snowshoe be a good choice?

Comments on Snowshoe
- posted by Scott
September 23, 2008 at 11:07 pm
Hi Carmen. Snowshoe is aggressive with early-season snowmaking and usually has received some natural snow by Christmas too. Although there's always a possibility of mild temps in the mid-Atlantic, chances are pretty good that Snowshoe will have a wide variety of terrain open by the Christmas holiday. There are lots of lodging options available too.

Comments on Snowshoe
- posted by Dave
November 25, 2008 at 10:39 am
I live in Fairmont, WV and try to get to Snowshoe once or twice a year. But lately I have been turned off of Snowshoe because of their higher ticket prices and long lift lines. To me it just isn't worth paying $75 bucks a piece for peak season weekend lift tickets only to stand in line for almost an hour just to ride the lift. It is a resort, don't forget that! Check eBay for cheaper lift tickets but they will black out the holiday and weekends on you. So I am forced to take a day off of work just to avoid the steep ticket prices and long lines. There are 5 ski slopes within a 2.5 hour drive for me so I try and hit up each one once or twice. Snowshoe won't be getting much of my money this year!

Comments on Snowshoe
- posted by David
November 25, 2008 at 6:05 pm
Reply to Dave - Buy a season pass at the early discount rate of $350 and enjoy the best early, peak and late season conditions at SS. Your break even is 5 days. Avoid MLK and Presidents weekend. Go against the crowd on other weekends. Week days are always the best - wish I could do that more often as well.

Comments on Snowshoe
- posted by Lynn Kemmerer
November 27, 2008 at 1:42 pm
Check out www.Stemwinder10.com for a great place to stay. It is located at the top of Powder Monkey lift, close to the Western Territory, and right beside Snowshoe Village. The renovated 2 BR unit has a ski mud room with a boot warmer. Easy to ski in and out for hot chocolate breaks.

Comments on Snowshoe
- posted by Chet Simmons
March 6, 2009 at 6:11 pm
MY friend is a local in west virginia and after going on a ski tour of europe and Alaska (preperation for the extreme skiing world championships in Valdez) I decided to go skiing with my friend at snowshoe. At first i was appaled by the sheer tiny size of the mountain. I went backwards down their double blacks (fun, you should try it) and then found my favorite part. You can jump of the highest part of the lift and it gives you the feeling of heli skiing, for those of you who hve always wanted to try it. Just don't stick your legs straight because they can pierce your lungs ad kill you. Also what ever you do check for rocks before jumping. If you hit one you can laserate a liver like one of my friends did on a mountain peak in Romania. An outcroping of rock went right through his leg. So BE CAREFUL when trying it. Ok then I gues i would give snow shoe a four out of five.

Comments on Snowshoe
- posted by DCSki Reader
March 6, 2009 at 7:13 pm
If you jump off a chair at a ski resort, if you don't kill yourself (and there's a very good chance you will), you can expect to be arrested on the spot. In addition to endangering yourself, jumping off a chair can cause the chair cable to bounce off its track, injuring other skiers on the chairlift. There are few things that resorts take more seriously than this kind of irresponsible behavior. Not only will you be permanently banned from the resort (and any other properties the parent company owns), but in many states you can also have charges filed against you, and you'd better believe resorts will do that.

Comments on Snowshoe
- posted by Homey Buiscut Breath
March 6, 2009 at 8:23 pm
Hey Chet..You will surely die in an avalanche...untill then, Send us postcards of your glorious Ski life & we will burn them in our fire places as we enjoy the ambeiance of our beloved Alpps!

Comments on Snowshoe
- posted by Jo
September 20, 2009 at 1:05 am
We are planning to go to SS right after Christmas for our 10 year anniversary--just me and hubby--no kids. We haven't been skiing for over 15 years and just want a nice great away with some skiing, snowmobiling, spa stuff and eating out. Would you recommend SS? We are coming from Pgh. where we would drop the kids off at grandma's, even though we live in IL.

Comments on Snowshoe
- posted by DCSki Reader
September 20, 2009 at 9:47 am
Yeah, I think Snowshoe will fit the bill. It's a nice resort in a scenic area with lots to do. The snow conditions are usually quite good by late December or early January.

Comments on Snowshoe
- posted by Fishnski
September 20, 2009 at 3:39 pm
Homey Bicuit breathFishnski...& proud of that comment to Chet...he did give SS a 4 out of 5 though..hmmmmm...

Comments on Snowshoe
- posted by Fishnski
September 20, 2009 at 3:43 pm
That should have been Biscuit Breath..Equals..Fishnski..what happened to the ?..Why can't we edit these Comments?

Comments on Snowshoe
- posted by Sunshine Boy
September 30, 2009 at 2:47 am
OK first off I have never been snow skiing before... would SS be a good place to start? Actually, I've never even seen snow in real life. I'm going to be driving up from Florida, thought I would get to ski in late Nov./early Dec. but, after reading about when the ski season is, I'm way off. Could I get some help and insight here please. Point me in the right direction and remember I know NOTHING of winter, skiing, and having fun in the snow. Oh wait, I do know that I should not eat yellow snow. Thx.

Comments on Snowshoe
- posted by Handy Andy (fishnski)
September 30, 2009 at 5:05 pm
Watch your weather (moniter dcski) & SS will seem like the most B-u-t-ful place that entertains to no end...word..

Lodging at Snowshoe
- posted by Wanda
January 19, 2010 at 4:51 pm
Just to you know there is a great little place to stay at Snowshsoe called Ridgewood. Small unit sleep up to 4 person or 6. Clean rooms well supplied and all you need to do is bring you food if you want. Kitchen, washer,dryer. wood fireplace for your enjoymentand free wod, but the unit is heating by electic. Check it out. Ridgewood unit 59 is great. Others Ridgewood units also being rented throught snowshoe. Good snow removal also Check it out.

Comments on Snowshoe
- posted by Patty
January 24, 2010 at 3:00 pm
Our spring break is March 26-April 3...is that too late to ski at Snowshoe?

Comments on Snowshoe for Patty
- posted by Karl
January 25, 2010 at 1:00 pm
Last year we were planning a trip to Snowshoe starting on March 14. When we called the mountain we were told that the 14th was their last day and they were closing at 5pm. We ended up going to Montage and Elk in the Poconos. But closing days are not set in stone so you might want to contact the mountain when it's closer to your date. Or plan to go north.

Comments on Snowshoe for Patty
- posted by Jen
February 18, 2010 at 2:19 pm
Snowshoe just extended their closing date to April 5th (Easter Monday). They have had a ton of snow and so I'd say that while the conditions won't be 'epic' probably in late March, they should still be decent enough to get some good turns in.

I have a rental condo (2BR/2BA, ski-out) that is very nice - just been completely rennovated. We are running a special 'spring break' deal including free lift tickets for up to 4 people for the entire stay. Only - $1200 for the entire week March 28-April 4 (Sun-Sun) That's only $300 per person to stay AND ski for 7 days. You can't beat it! (Only $1600 for March 21-28 to stay and ski for 4!) If you are interested, please inquire on VRBO (vacation rental by owner), listing 194341. (pictures posted there as well)

Snow in Dec
- posted by sporter
August 29, 2010 at 11:46 pm
Does SS typically get snow in Dec?

Comments on Snowshoe
- posted by Scott
August 29, 2010 at 11:48 pm
They do generally get snow in December, but it can be hit and miss. In the early season, Snowshoe relies mostly on snowmaking, which kicks into gear in November.

Comments on Snowshoe
- posted by sporter
August 30, 2010 at 6:34 pm
Thanks Scott.

Is the snowmaking enough in Dec to open a few trails if natural snow is not sufficient. Thanks again.

Comments on Snowshoe
- posted by Scott
August 30, 2010 at 6:45 pm
Yes, as long as the temperatures are low, Snowshoe can open 100% of their terrain with snowmaking. By mid-December, Snowshoe typically will have at least a dozen trails open, and sometimes a lot more. Cupp Run and Shay's Revenge (two experts that have 1,500-foot vertical) usually won't open until early January, but otherwise, there should be a selection of good terrain available.

Snowshoe in March
- posted by Kim
January 1, 2011 at 4:14 pm
I'm planning a ski trip March 10-13 2011..... will there be snow at Snowshoe during this time???

Comments on Snowshoe
- posted by Scott
January 1, 2011 at 4:34 pm
Unless we have a really mild late winter, there should be snow. Snowshoe is usually open until late March and sometimes in to early April. In some years they've had the best conditions of the season in early March. So you should be OK!

CARPOOL
- posted by Claudio
February 10, 2012 at 2:43 pm
To any person interested on spending a day or two up in snowshoe. I have a condo up there that I am renting this 2011/2012 winter season and I am looking for anyone that will be willing to drive there in exchange i will offer free stay at my condo.
My vehicle broke down recently and it is difficult for me to get up to Snowshoe as often as I would like to. If you have a vehicle and you snowboard/ski and willing to drive me there, You have a free place to stay.
Contact me at ccuestas@gmail.com
In fact, I would like to go up there this weekend.

Comments on Snowshoe
- posted by Tim
March 5 at 11:56 pm
Don't waste your time with Snowshoe. I'm 33 years old. My wife and I do a ski trip once a year and decided on Snowshoe this year. We were very disappointed and will never go back. We had our trip booked to stay March 4th and 5th at Expedition Station. We arrived a day early and booked a room at The Inn at Snowshoe. I'm sure it was nice when it was built but we have stayed at nicer Motel 8's. Obviously no money is being put back into the building. Our room was dirty, the lady who checked us in acted like she was put out because we wanted a room for the night. Her name tag said Stacy. Breakfast buffet was outstanding. That was the best part of that stay. When we checked into Expedition station the next day that staff was rude. No cell phone service anywhere. You can only make a long distance call from a calling card and the shops to buy these close earlier than expected. The slopes close at 4:30 every day. You can ski at another close by resort but you have to drive or be shuttled there. Why would I spend the extra money to stay slope side to have to drive to another resort to ski? I walked to a nearby shop to buy a sweat shirt. The only one I liked in the entire place was my size and everything, when I went to pay for it the lady told me she couldn't sell it to me because the tag was missing and she didn't know how much to charge me for it. I told her to give me a price I really like it and she said "sorry, I can't sell it to you".
We walked to to pool and there was a life guard which was nice but there was a lot of college kids getting drunk in the hot tub which was allowed and tolerated by the life guard. We were annoyed after 10 minutes and went to our room. My wife said "lets rent a movie tonight at the store down the road". I agreed. so we left the pool and found the store which was closed at 8:00 PM. We had to drive to the bottom of the mountain 6 miles away to buy any snacks, popcorn, etc. There were other issues that I could explain but I think you get my point. We had enough tonight and drove home a day early instead of staying until tomorrow.
We went to Holiday Valley last year and the trip was absolutely perfect. The staff from Snowshoe along with all other patrons gave the perception to my family that "you should be greatful that we let you come here". Instead of the perception that should be made, "Welcome, thanks for coming, were glad your here,let us know if we can do anything to make your stay more enjoyable."

If any Snowshoe representitive would like to contact me please leave a name and number and I will contact you. Or if you want to contact me directly we stayed in room 326. All of you readers I will let you know if anybody from snowshoe was interested in hearing from me.

Comments on Snowshoe
- posted by ILV2SKI
March 7 at 9:08 pm
I just left Snowshoe this afternoon, I have skied there every 2 weeks since Jan 1, have to say the slopes have never been better all year. Hats off to the snow-making and grooming crews. After last years warm weather, it was sure nice to see Lower Shays in fantastic shape. But this is a place when you come and visit midweek, or for that matter in March, be prepared for some inconvenience. Seasonal staff have already begun to leave for summer jobs. The Restaurants will be closing or cutting days as patrons begin to dwindle. The resort is a long way from convenient stores and gas stations, so plan ahead. There is very little to no cell phone service in the area, because of the US government and National Radio Astronomy Observatory at Green Bank WV.

Comments on Snowshoe
- posted by Chris
April 29 at 10:52 am
Ski'd there in April of this year - the latest that I have ever ski'd!!! Had a wonderful time!!

Want to share your own comments on Snowshoe with other DCSki readers? Enter your comments below. Feel free to describe the things you like most about Snowshoe, along with any areas you feel could be improved.