The Homestead
Hot Springs, Virginia

(Click here for the official web site for The Homestead, or scroll below to read DCSki's complete profile...)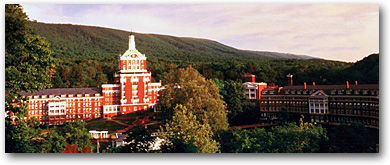 Resort Overview - reported by M. Scott Smith, DCSki Editor
Skiing is almost an afterthought at the Homestead, a resort packed with year-round activities, whose history dates back to 1766. Located in the scenic Allegheny Mountains, the ski area at the Homestead is relatively small, with just ten trails. Trails are usually uncrowded, though, and the Homestead has a reputation as being an excellent place to learn skiing. The Homestead has also recently added additional winter activities, such as snowshoeing, cross country skiing, and snowmobile rides.
Despite its southern location, the Homestead receives an average annual snowfall of 50 inches, which the resort supplements with snowmaking. During the summer and fall of 2003, the Homestead upgraded its entire snowmaking system with a state-of-the-art system, which has allowed the resort to extend its traditional season length while offering improved snow conditions. In 2012, The Homestead added the Allegheny Springs Winter Wonderland, which provides ice skating and year-round outdoor swimming in addition to skiing and snowboarding.
There's no reason to pout when the ski slopes close at the Homestead; plenty of recreational activities are offered year-round, including golf, mountain biking, hiking, tennis, horseback riding, fly fishing, and much more. The Homestead is surrounded by 15,000 acres of wilderness. Special events are offered throughout the year, including a Wine and Food Festival and a Fourth of July Extravaganza.
Resort Name:

The Homestead

Vertical Drop:

700 feet

Trails:

10 (3 beginner, 3 intermediate, 4 advanced)

Skiable Acres:

45

Longest Run:

4,200 feet

Lift Capacity:

3,000 per hour

Lifts:

5 (1 double, 2 tows, 1 J-bar, 1 T-bar)

Night Skiing:

No

Terrain Park:

The Playland Terrain Park features rails, hits, and a halfpipe.

Halfpipe:

Yes

Tubing Park:

Yes

Address:

State Route 220
Hot Springs, VA 24445

Phone Number:

(800) 838-1766 or (540) 839-7721

Latitude:

37.997583

Longitude:

-79.831209

Twitter:

http://twitter.com/TheHomestead

Facebook:

http://www.facebook.com/HomesteadResort?ref=ts

Web Site:

http://www.thehomestead.com/
---
Estimated Distances from Major Cities
| | | |
| --- | --- | --- |
| Baltimore, MD | 4 hours, 45 minutes | 255 miles |
| Washington, DC | 4 hours, 5 minutes | 220 miles |
| Arlington, VA | 4 hours | 233 miles |
| Richmond, VA | 3 hours, 10 minutes | 182 miles |
| Pittsburgh, PA | 5 hours | 269 miles |
| Harrisburg, PA | 4 hours, 55 minutes | 275 miles |
| Philadelphia, PA | 6 hours, 30 minutes | 357 miles |
| Charleston, WV | 2 hours, 40 minutes | 159 miles |
| Raleigh, NC | 4 hours, 50 minutes | 231 miles |
| Charlotte, NC | 4 hours, 40 minutes | 268 miles |
To view a full-size trail map for The Homestead, click on the following thumbnail image. The trail map will open in a new window. Please note that DCSki's trail maps can be out of date; always pick up a copy of the latest trail map at each resort.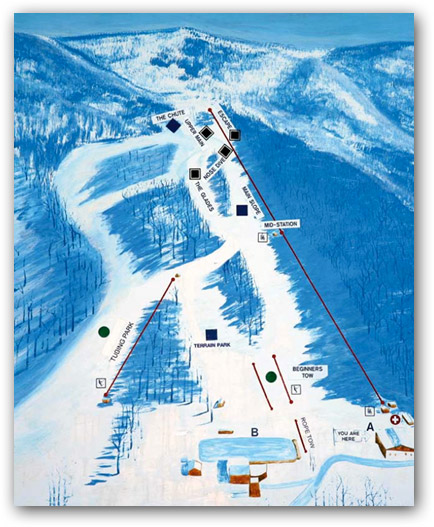 A snow condition report for The Homestead is shown below. Because condition reports may not be updated regularly, be sure to check the date and timestamp on the report. Before making a trip, we recommend contacting resorts directly for the latest conditions.
The Homestead, VA

As of 07:12:00 on 2011-03-14

Report data is over 2 days old -- please check back later.
To view additional ski condition reports for areas throughout the Mid-Atlantic region and across the world, visit the DCSki Conditions page.
The past five articles related to The Homestead are shown below.
Mid-Atlantic Ski Season Gains Momentum (December 27, 2012)
A shot of cold air and some natural snow has helped launch the 2012-2013 winter season in a big way. Find out the status of Mid-Atlantic ski areas.

What's New for 2012: The Homestead (November 25, 2012)
This winter, The Homestead debuts the Allegheny Springs Winter Wonderland, which will provide ice skating and swimming in addition to skiing.

Who's Open? A Detailed Look at Mid-Atlantic Ski Areas (March 17, 2008)
Spring is a mixed blessing: Mid-Atlantic resorts begin to close one by one, but the weather is nice and the rates can't be beat. DCSki provides a detailed look at the current operating status of Mid-Atlantic ski areas.

Results of the 2008 DCSki Annual Survey: Top Resorts in the Mid-Atlantic (February 22, 2008)
During January, DCSki asked its readers to complete a survey, ranking Mid-Atlantic ski areas in a number of categories. Over 100 readers filled out this detailed survey, providing a measurement of what local resorts are doing well, and what they could be doing better. We also asked readers to cast a critical eye on DCSki itself. The results are in, so kick back, relax, and see if you agree with readers' picks for best resort in various categories.

Family Ski Road Trip Primer (January 6, 2008)
Going on a road trip to the slopes with your family in tow can be a wonderful experience, or a disaster, and it often comes down to effective planning. DCSki Columnist Jim Kenney provides a wealth of useful tips on planning the perfect family road trip, leveraging his own experience and the experience of other Mid-Atlantic ski dads.
(5 reader comments)
To view more articles related to The Homestead, click here.
The DCSki Event Schedule currently doesn't have any events listed for The Homestead. To view events at other resorts, please visit the DCSki Event Schedule.
The following bargains are related to The Homestead.
(No matching bargains found.)
To view more bargains, click here. Remember, bargains may include exclusions or expirations not noted here. Contact the company offering the bargain to verify details.
Recent Tweets from The Homestead
The views and opinions expressed in DCSki Article Comments are strictly those of the comment authors and have not been reviewed or approved by DCSki. If you believe a comment is inaccurate or inappropriate, please contact DCSki's Editor.
Comments on The Homestead
- posted by Robbie Allen
January 19, 2007 at 2:38 pm
One does not go to the Homestead to ski. Skiing is just one on the many things one can do with ones time if so inclined at the Homestead. Getting a few turns in after trap shooting while the other half is at the spa is what this place is all about.

Skiing does have a long history here and the photos of skiing in the 50s and 60s are interesting. They were one of the first Southern resorts with a lift other than a rope tow. They have tried many contraptions.

The conditions have varied over the years but recent upgrades in snow making are welcome. As shown on the trail map there is only one true slope with some off shoots. It is too bad they cant do more with the 700ft of drop. The double chair lift is tried but performs acceptably. It would have been more fun and more in keeping if the place had a Poma or some other kind of surface lift.

Evenings are to be spent retired to the drawing room over brandy and cigars rather than night skiing, but the slopes are lit. Guess the kids and nannies have to do something in the evening.

Ever if you find yourself lucking enough to enjoy a day here at the Homestead Resort and feel like skiing go a head, just be sure to enjoy the rest of the resort as well.

Comments on The Homestead
- posted by Kyle
March 15, 2007 at 1:38 am
I was at The Homestead on March 4-6th and was very impressed with the snowmaking. It isn't often you see a VA ski area making snow in March, however, they blew all kinds of snow. (Anyone know what their snowmaking source is or how big the reservior is?) It would be nice if they brought back goat farm and the black diamonds on the left side of the map. Those are not open anymore since the snowtubing park opened. This place is a lot of fun still, even though much of the terrain no longer opens. The main slope is great, and the trails off of it, especially nose dive, are fantastic. You can actually feel yourself pulling G's at the bottom of nose dive. I would like to catch The Homestead after a major snow to see if i could sneak onto goat trail and the old black diamonds. Anyone remember them? Are they worth it?

Comments on The Homestead
- posted by Jim Klein, Billerica, MA
March 15, 2009 at 1:29 am
I skied the Homestead in the 60's when the skimobile lift was running. It was lots of fun riding that lift even though it was quite slow. It was only one of two lifts of its kind--the only other one was at Mount Cranmore in NH. It is unfortunate that neither one is still in operation. One thing it had over rope and other over-the-snow lifts is that it needed no snow to operate and could operate all year. I wish I had pictures of that lift to share. When was the last year the lift was in operation?

Comments on The Homestead
- posted by Kenneth
September 29, 2009 at 8:11 am
Homestead is a great place to ski and snowbaord. The homestead is a very big local spot for local snowboarders.. i was a snowboard instructor there and it was lots of fun teaching kids the ropes. yes the double chair is still in operation, as well as, the rope tow and the T-Bar, which is only one of five still left in the us. the best time to go is nov-jan. the conditions are great and the other staff are great, and full of knowledge.

Want to share your own comments on The Homestead with other DCSki readers? Enter your comments below. Feel free to describe the things you like most about The Homestead, along with any areas you feel could be improved.