Spring Mountain
Spring Mount, Pennsylvania
| | |
| --- | --- |
| Vertical drop: | 420 feet |
| Base elevation: | 108 feet |
| Peak elevation: | 528 feet |
| Skiable acres: | 45 |
| Trails: | 8 |
Spring Mountain is a small ski hill, offering 8 trails with a vertical of 420 feet, but it's a ski hill that's only 28 miles from Philadelphia. That makes the ski area popular with Philly natives who don't want to drive all the way to the Poconos.
Spring Mountain also offers a snow tubing area with two tubing runs.
Key Statistics
Resort Name:
Spring Mountain
Vertical Drop:
420 feet
Base Altitude:
108 feet
Peak Altitude:
528 feet
Trails:
Skiable Acres:
45
Lift Capacity:
9,500 per hour
Lifts:
6

(3 doubles, 1 triple, 1 surface, 1 margic carpet.)

Night Skiing:
Spring Mountain offers night skiing, until 9 or 10 p.m. at night. Check with resort for current operating hours.
Terrain Park:
Yes
Halfpipe:
Yes
Tubing Park:
Two tubing runs, serviced by surface lift.
Address:
757 Spring Mount Road; Spring Mount, PA 19478
Phone:
888-305-5044
Latitude:
40.27003
Longitude:
-75.455346
Links:

http://www.springmountainadventures.com/
Getting to Spring Mountain
Estimated Distances from Major Cities
Baltimore, MD
2 hours, 25 minutes
126 miles
Washington, DC
3 hours, 10 minutes
161 miles
Arlington, VA
3 hours, 15 minutes
165 miles
Richmond, VA
5 hours
274 miles
Pittsburgh, PA
5 hours
291 miles
Harrisburg, PA
1 hour, 50 minutes
93 miles
Philadelphia, PA
55 minutes
39 miles
Charleston, WV
7 hours, 15 minutes
447 miles
Raleigh, NC
7 hours, 40 minutes
450 miles
Charlotte, NC
9 hours, 15 minutes
569 miles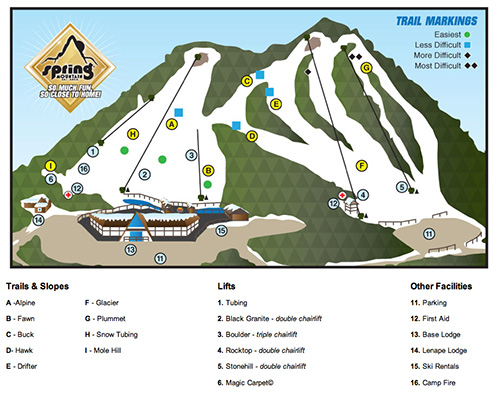 11:54 pm on November 19 / Pottstown, Pottstown Limerick Airport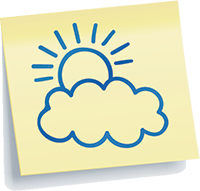 37° F
Partly Cloudy
| | |
| --- | --- |
| Humidity: | 62% |
| Wind Speed: | 6 mph |
| Barometer: | 29.88 in |
| Dewpoint: | 25 °F |
| | |
| --- | --- |
| Visibility: | 10.00 mi |
| Sunrise: | 6:52 a.m. |
| Sunset: | 4:42 p.m. |
Probably too warm for snowmaking right now.

Weather supplied by the National Weather Service. Errors or reporting delays may be possible.
Snow Conditions at Spring Mountain:
News about Spring Mountain
December 27, 2012

- A shot of cold air and some natural snow has helped launch the 2012-2013 winter season in a big way. Find out the status of Mid-Atlantic ski areas.
January 4, 2009

- In late December, DCSki Columnist Robbie Allen visited Spring Mountain, a small ski area just outside of Philadelphia. He found that Spring Mountain offers a bit of midwestern-style skiing. He provides this Firsthand Report.
March 17, 2008

- Spring is a mixed blessing: Mid-Atlantic resorts begin to close one by one, but the weather is nice and the rates can't be beat. DCSki provides a detailed look at the current operating status of Mid-Atlantic ski areas.
February 22, 2008

- During January, DCSki asked its readers to complete a survey, ranking Mid-Atlantic ski areas in a number of categories. Over 100 readers filled out this detailed survey, providing a measurement of what local resorts are doing well, and what they could be doing better. We also asked readers to cast a critical eye on DCSki itself. The results are in, so kick back, relax, and see if you agree with readers' picks for best resort in various categories.
December 6, 2007

- If you live in the Mid-Atlantic, you'll have your pick of several dozen resorts to ski or snowboard at this weekend. DCSki provides a complete breakdown of opening-day plans for resorts from North Carolina up through northern Pennsylvania. Cold temperatures and natural snow have produced remarkable early-season conditions.
Upcoming Events
No future events at this time.
Forum Topics Related to Spring Mountain
No messages to display.