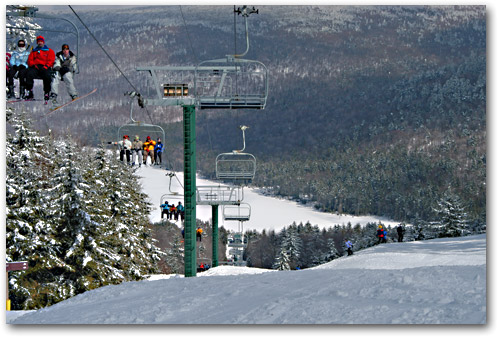 Snowshoe Mountain Resort
Snowshoe, West Virginia
| | |
| --- | --- |
| Vertical drop: | 1,500 feet |
| Base elevation: | 3,348 feet |
| Peak elevation: | 4,848 feet |
| Skiable acres: | 270 |
| Longest run: | 1.5 miles |
| Trails: | 60 |
Snowshoe Mountain Resort is located in the middle of West Virginia. Despite its southern location, Snowshoe receives an eye-raising average annual snowfall of 180 inches. To that, Snowshoe adds plenty of manmade snow. Snowshoe is a year-round destination resort, offering numerous lodging options, from economical to upscale. Snowshoe is also one of the few "inverted" ski resorts in the U.S.: the base facilities are located on the top of the mountain. During the summer, Snowshoe is known for its excellent mountain biking. DCSki readers have consistently given Snowshoe top marks for snow quality, diverse terrain, nightlife, family events, and more.
Snowshoe underwent $80 million in upgrades following its purchase in 1995 by Intrawest, resulting in a modernization of the resort. Snowshoe now has three high-speed quads and a large variety of lodging options available.
Snowshoe offers some of the best skiing south of New England and even a suprising amount of nightlife for its secluded location in the mountains of West Virginia. That seclusion makes Snowshoe somewhat difficult to get to - it is approximately a 5-6 hour drive from Washington, D.C. Those willing to make the trek are rewarded with beautiful scenery, great snow conditions, and 60 trails spread over a 1,500-foot vertical. The drive became more palatable a few years ago, when Snowshoe opened a new entrance road to the resort from the town of Cass. This shaves about 30 minutes off the drive from the D.C. area.
Snowshoe has 60 trails, and they're usually all open by early January, with a handful opening before Thanksgiving. The trails are spread across three distinct areas: the main Snowshoe area, with 41 trails and an 800-foot vertical drop; the Silver Creek area, with 17 trails and a 660-foot vertical; and the Western Territory, with 2 trails and a 1,500-foot vertical. The Western Territory features Cupp Run and Shay's Revenge, two 1.5-mile expert slopes serviced by their own high-speed lift. The Western Territory is just across the street from the main Snowshoe area. Silver Creek is down the road (and reached by a free shuttle), featuring tamer trails and usually less crowds. Silver Creek is home to the Ruckus Ridge tubing park, a snowboard park, and is the only part of Snowshoe lit for night skiing.
On weekends, the main Snowshoe area can become crowded (with the base of the Ballhooter Express chairlift becoming a choking point), but the Western Territory and Silver Creek areas are usually less crowded. If you can swing a trip to Snowshoe mid-week, you'll find significantly discounted prices and might have the slopes to yourself.
As a full-blown destination resort, Snowshoe doesn't lack amenities. There are 21 dining establishments, including one nightclub. Snowshoe rents out over 1,400 condominium and lodge rooms, covering a variety of price points from economy to luxurious. There are also many winter activities that do not involve skis and snowboards, such as snowmobiling and snowshoeing.
Snowshoe usually opens for skiing and boarding around Thanksgiving.
Key Statistics
Resort Name:
Snowshoe Mountain Resort
Vertical Drop:
1,500 feet
Base Altitude:
3,348 feet
Peak Altitude:
4,848 feet
Trails:
60 Trails:


Skiable Acres:
270
Longest Run:
1.5 miles
Lifts:
14

(Including 3 high-speed quads, 2 handle tows, 2 Magic Carpets)

Night Skiing:
75% of Silver Creek area (12 slopes) is lit for night skiing.
Terrain Park:
Snowshoe has multiple terrain parks at both the main Snowshoe area as well as the Silver Creek area. Parks at Silver Creek are lit for night riding.
Tubing Park:
An 8-lane tube park is located at the Silver Creek area.
Address:
10 Snowshoe Drive
Snowshoe, WV 26209
Phone:
(877) 441-4386
Latitude:
38.41207
Longitude:
-79.99204
Links:

http://www.snowshoemtn.com/
Getting to Snowshoe Mountain Resort
Estimated Distances from Major Cities
Baltimore, MD
4 hours, 55 minutes
266 miles
Washington, DC
4 hours, 25 minutes
229 miles
Arlington, VA
4 hours, 15 minutes
223 miles
Richmond, VA
3 hours, 50 minutes
202 miles
Pittsburgh, PA
3 hours, 50 minutes
214 miles
Harrisburg, PA
5 hours, 5 minutes
277 miles
Philadelphia, PA
6 hours, 30 minutes
367 miles
Charleston, WV
3 hours, 5 minutes
149 miles
Raleigh, NC
6 hours
302 miles
Charlotte, NC
5 hours, 30 minutes
320 miles

10:35 am on September 30 / Hot Springs / Ingalls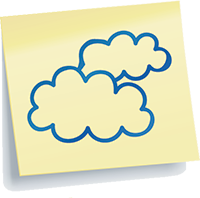 47° F
Overcast
| | |
| --- | --- |
| Humidity: | 80% |
| Wind Speed: | 16 mph |
| Barometer: | 29.93 in |
| Dewpoint: | 41 °F |
| | |
| --- | --- |
| Visibility: | 10.00 mi |
| Sunrise: | 7:15 a.m. |
| Sunset: | 7:05 p.m. |
Doesn't look like it's cold enough for snowmaking.

Weather supplied by the National Weather Service. Errors or reporting delays may be possible.
Snow Conditions at Snowshoe:
News about Snowshoe
December 21, 2019

- After a burst of cold weather in November allowed some Mid-Atlantic resorts to snag pre-Thanksgiving opening dates, the balance of resorts have now officially begun their season in recent days thanks to a stretch of snowmaking-friendly temperatures.
November 20, 2019

- Thanks to unseasonably cold temperatures in November, four additional Mid-Atlantic ski resorts will be kicking off their winter seasons by this weekend.
January 3, 2019

- The 2018-2019 winter season is off to a rocky start, with above-average temperatures throughout much of December. DCSki provides a roundup of current conditions and struggles across the Mid-Atlantic.
December 20, 2018

- Early-season cold temperatures enabled many Mid-Atlantic resorts to fire up the snowguns, but the cold gave way to some bouts of milder temps and heavy rain, which has delayed the start of the season for some resorts. Although pre-Christmas rain is still adding to the challenge, several additional resorts plan to open in the coming days.
November 22, 2018

- It's not summer anymore. That will become abundantly obvious on Thanksgiving, when temperatures in the northeast and Mid-Atlantic are expected to plunge to their lowest turkey day reading in over a century. That's allowed several resorts to move towards the "open" column.