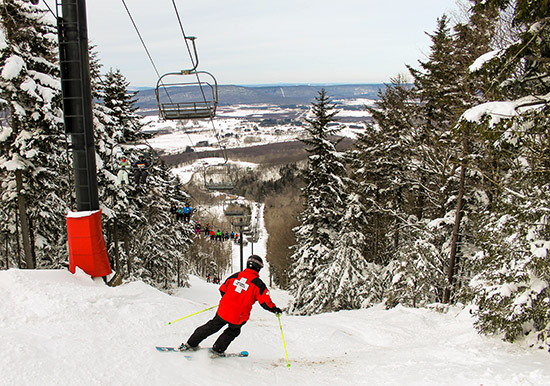 Canaan Valley Resort
Davis, West Virginia
| | |
| --- | --- |
| Vertical drop: | 850 feet |
| Skiable acres: | 95 |
| Longest run: | 1.25 miles |
| Trails: | 47 |
Canaan Valley Resort State Park offers an exciting array of seasonal outdoor activities throughout the year. Nestled on a plateau overlooking the valley and offering sweeping views of surrounding peaks, the resort provides plenty of amenities including 160 new guest rooms and fireplace suites, a new atrium-style lobby, renovated main lodge, 23 cabin and cottage rentals, 34 campsites, a variety of dining options, conference/banquet facilities, and an indoor pool/fitness center.
Although West Virginia's Canaan Valley Resort has snowmaking facilities, it is one of the few resorts in the D.C. region that receives much of its snowmaking from Mother Nature. With an average annual snowfall of over 160 inches, and a summit elevation of 4,280 feet above sea level, Canaan Valley's 95 acres are frequently covered by snow that lasts late into the season. The ski resort is part of Canaan Valley State Park, which also features cross-country skiing and snowshoeing thanks to plenty of powder.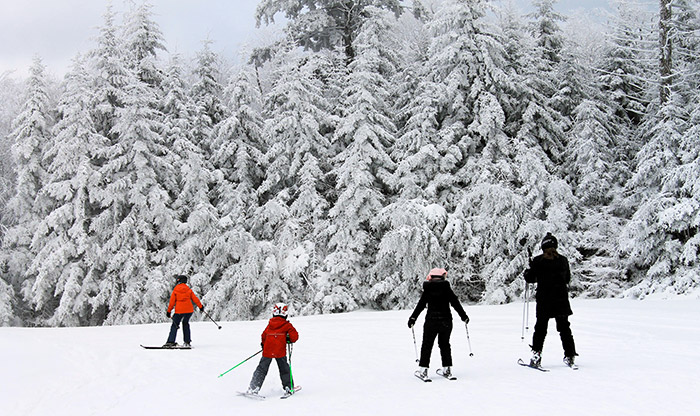 Located in the highest mountain-valley east of the Rockies, Canaan Valley Resort's ski area includes 47 trails, 3 lifts, 1 magic carpet, and a terrain park. Canaan Valley is known for its great beginner and intermediate terrain, providing a perfect place for new skiers and boarders to learn. In 2012, the resort added Critters Crawl, a dedicated beginner instruction trail serviced by its own magic carpet.
On a clear day, stunning views are provided from Canaan Valley Resort's 4,280-foot summit on Weiss Mountain. Terrain varies from wide trails, narrow chutes, and high mountain meadows, providing opportunities for skiers and boarders at all skill levels.
Snowboarders will find a new terrain park in Allegheny Alley, and expert skiers will be challenged by black diamond favorites Dark Side of the Moon, Prosperity, and Gravity. Recent renovations at the ski area have included an expansion of snowmaking capabilities and upgrades to the base facilities. The resort added 3 glade trails in 2015. The resort doubled its snowmaking capacity in 2016, and has since increased its capacity another 20% in 2017. Canaan Valley Resort offers 74% snowmaking coverage. Some natural snow trails open later in the season, and may temporarily close during warm stretches.
For kids and the young at heart, Canaan Valley Resort offers a 1,200-foot long tubing park (the longest in the Mid-Atlantic), featuring multiple tubing lanes and a dedicated magic carpet. Guests ages 4 and up can enjoy linking up and racing down the lanes. The tubing park includes its own warming hut complete with ticket kiosk, restrooms, concessions, a fireplace, an outdoor fire ring, and a parking area.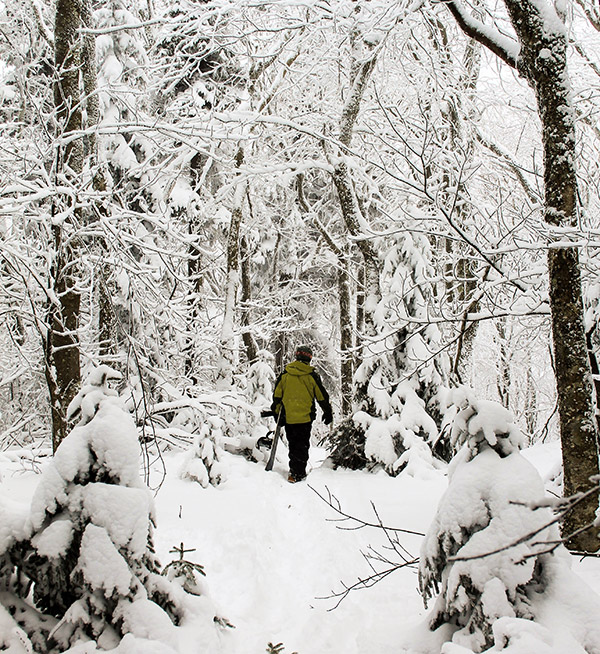 Over 30 kilometers of natural snow-based marked trails are available for cross-country skiers, and there is also easy access to the Monongahela National Forest. There is no trail access fee for cross-country skiing. Snowshoe and cross country ski rentals are available through the XC Center on the park grounds, and the popular White Grass Touring Center is also located nearby.
The lighted pavilion over the ice-rink along with two wood-burning fireplaces offer guests a leisure winter activity during their stay. Guests can skate and mingle in a comfortable outdoor environment while viewing the scenic Canaan Valley and Allegheny Mountains.
Photo credit: Justin Harris / Canaan Valley Resort.
Key Statistics
Resort Name:
Canaan Valley Resort
Vertical Drop:
850 feet
Trails:
Skiable Acres:
95
Longest Run:
1.25 miles
Lift Capacity:
6,000 per hour
Lifts:
4

(1 quad, 2 triples, 1 magic carpet)

Night Skiing:
Night skiing is not available during the 2015-2016 winter season.
Terrain Park:
1 - Features include an assortment of boxes, rails, and jumps.
Halfpipe:
(No halfpipe)
Tubing Park:
1,200 feet long with multiple lanes and 1 magic carpet.
Address:
Canaan Valley State Park
230 Main Lodge Road
Davis, WV 26260
Phone:
(800) 622-4121 or (304) 866-4121
Latitude:
39.003978
Longitude:
-79.440165
Links:

http://www.canaanresort.com/
Getting to Canaan Valley Resort
Estimated Distances from Major Cities
Baltimore, MD
3 hours, 35 minutes
215 miles
Washington, DC
3 hours, 5 minutes
178 miles
Arlington, VA
3 hours
172 miles
Richmond, VA
3 hours, 55 minutes
214 miles
Pittsburgh, PA
3 hours
135 miles
Harrisburg, PA
3 hours, 45 minutes
212 miles
Philadelphia, PA
5 hours, 10 minutes
317 miles
Charleston, WV
2 hours, 50 minutes
169 miles
Raleigh, NC
6 hours, 10 minutes
329 miles
Charlotte, NC
6 hours, 15 minutes
375 miles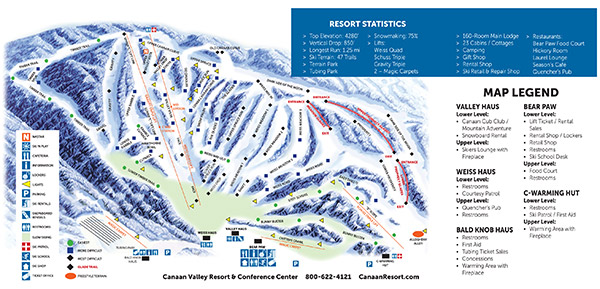 1:51 pm on November 15 / Elkins, Elkins-Randolph County-Jennings Randolph Field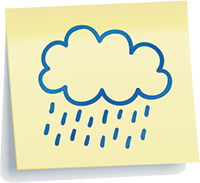 35° F
Light Rain
| | |
| --- | --- |
| Humidity: | 78% |
| Wind Speed: | 6 mph |
| Barometer: | 29.95 in |
| Dewpoint: | 29 °F |
| | |
| --- | --- |
| Visibility: | 8.00 mi |
| Sunrise: | 6:59 a.m. |
| Sunset: | 5:05 p.m. |
Marginal snowmaking conditions right now.

Weather supplied by the National Weather Service. Errors or reporting delays may be possible.
Snow Conditions at Canaan Valley Resort:
News about Canaan Valley Resort
March 27, 2018

- Back in February, DCSki Columnist Jim Kenney came up with a strategy to avoid President's Weekend crowds, jumping between Canaan Valley Resort, Laurel Mountain, and Seven Springs Resort. In this Firsthand Report, he describes how he avoided crowds and mostly avoided rain.
January 27, 2018

- DCSki Columnist Jim Kenney recently returned from a trip to West Virginia's Canaan Valley Resort. He describes how the resort is firing on all its cylinders, offering a mix of low crowds, low prices, and low drama.
December 28, 2017

- On December 20, 2017, Liftopia announced its Second Annual Best in Snow Awards, and Mid-Atlantic ski area Canaan Valley Resort received top billing in two categories.
December 14, 2017

- The past week saw the arrival of cold temperatures, and the dip in Mercury allowed ski areas to fire up their snowguns. Although lifts have already started running at several resorts, by the end of the December 16-17 weekend nearly every ski resort in the Mid-Atlantic will have kicked off its 2017-2018 winter season. DCSki has the latest opening information here.
November 4, 2017

- Continued snowmaking improvements set the stage for the upcoming winter season at West Virginia's Canaan Valley Resort.
Canaan Valley Resort Webcams