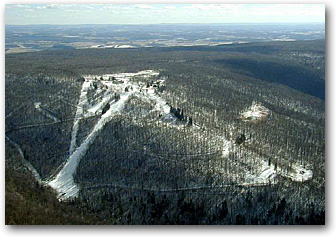 Laurel Mountain
Ligonier, Pennsylvania
| | |
| --- | --- |
| Vertical drop: | 900 feet |
| Skiable acres: | 70 |
| Longest run: | 1.5 miles |
| Trails: | 20 |
Note: As of November, 2011, Laurel Mountain will not be open for the 2011-2012 winter ski season. There remain some efforts to re-open Laurel in future seasons; read this DCSki story to learn more.
Rebirth of a classic: that summarizes the reopening of Laurel Mountain Ski Resort in 1999, after the Pennsylvania resort was forced to shut down in 1989. For its reopening, the resort was revived and significantly enhanced. Laurel Mountain is one of the hidden jewels of the Mid-Atlantic. One DCSki reader jokingly tried to bribe DCSki to ignore the story of Laurel Mountain's rebirth so he could "have Laurel Mountain all to myself."
Unfortunately, the history of Laurel Mountain Resort is like a roller coaster ride, and for the past couple seasons, the roller coaster has not left the station.
Shortly after reopening in 1999 after a decade-long closure, Laurel Mountain faced several seasons of mild winters. This struggle put the future of the resort in doubt during the Fall of 2003, when Laurel Mountain was placed on the auction block. Virginia-based HomeSpan Financial Group began to purchase the resort in November, 2003, hoping to open the resort for the 2003-2004 winter season. However, tragedy struck when the president of Home Span suddenly died. Laurel Mountain failed to open for the 2003-2004 season, and spent much of 2004 seeking a buyer or another arrangement that would allow the resort to open for the 2004-2005 season.
In October, 2004, a surprise announcement was made: Seven Springs announced that it would operate Laurel Mountain, under the name The Springs at Laurel Mountain, for the 2004-2005 season.
The ski area was open during the 2004-2005 season, but in the summer of 2005, the future of the resort was once again placed into question. Seven Springs announced during the Fall of 2005 that the Springs at Laurel Mountain would be closed for the 2005-2006 season. (The main Seven Springs Resort remained open, as always.) However, Seven Springs indicated that it planned to study improvements to make to the resort in the hopes of re-opening the resort during the 2006-2007 season. But Seven Springs was sold over the summer of 2006, and Laurel Mountain did not re-open. It remained on the open market.
Fast forward to 2008. Over the past summer, the future of Laurel Mountain seemed to reach a tipping point. Stakeholders began lobbying Pennsylvania Governor Ed Rendell for state funds to inject into the ski area. With the infusion of funding, the hope was that a local ski area operator - such as the Buncher Group, which purchased nearby Hidden Valley Resort in 2007, would step in and also operate Laurel Mountain. In August, 2008, Governor Rendell relayed his intention to provide up to $6.5 million in funding for infrastructure improvement to the ski area and to enable a company to step in and lease and operate the area.
On August 20, 2008, Seven Springs announced that it had entered into an agreement with the Somerset Trust Company to revive Laurel Mountain. But the timing of the re-opening remains unclear, and any potential impact of a global economic meltdown and tightening credit in late 2008 on Laurel's re-opening area also unclear. However, there were strong steps made in 2008 towards re-opening Laurel, and for the first time in several years, it appears there may be hope for Laurel Mountain yet.
Suffice it to say, it's been a bumpy ride.
Dating back to the mid-1930's, Laurel Mountain has a rich heritage. Located in the scenic Ligonier region, the resort was first operated by the Mellon family, initially as a private resort. In 1958, the Mellon family made the ski area public. The ski area was turned over to the state of Pennsylvania in 1962, and various concessionaires operated the resort until March of 1989, when the resort was forced to shut down due to mild winters and a constrained water supply which restricted snowmaking.
There have been several failed attempts to reopen the resort over the past decade. In 1998, the newly-formed Laurel Mountain Ski Company - comprised of individuals with a love for the mountain - began developing a plan to reopen the resort, submitting a proposal to the State of Pennsylvania. The State accepted the proposal and the Laurel Mountain Ski Company signed a 35-year lease with the Commonwealth of Pennsylvania. As part of the agreement, the State has provided a grant and loan to help fund the startup costs.
The agreement was reached and was followed by a flurry of activity in late 1999 to prepare for a December opening. Laurel Mountain offered plenty of improvements at its reopening as it welcomed back older generations of skiers - and entirely new generations that had yet to ski or board its slopes. Changes included a rebuilt lodge, new and upgraded lifts, a tubing park, a snowboard halfpipe and terrain park, new trails, enhanced snowmaking, and lighting. Few visitors to Laurel Mountain during its reopening were dissapointed. However, some warm winters following the reopening were not kind to the struggling resort.
DCSki readers report that Laurel Mountain has some of the most advanced terrain in the region - particularly Lower Wildcat, which is so steep that crews had to invent new techniques for putting in snowmaking pipes. Located within 493 acres of Laurel Mountain State Park, the area also offers some of the best views in the region.
When Laurel Mountain was operating, it featured affordable lift ticket prices and its own Professional Ski Instructors of American (PSIA) Certified Ski School.
Although there is no lodging on-site, there are numerous hotels, inns, and bed and breakfasts within a 5-30 minute drive.
Cross-country ski trails are also located nearby.
Key Statistics
Resort Name:
Laurel Mountain
Vertical Drop:
900 feet
Trails:
Skiable Acres:
70
Longest Run:
1.5 miles
Lift Capacity:
3,600 per hour
Lifts:
5

(1 quad, 1 double, 3 handle tows)

Night Skiing:
Yes
Terrain Park:
Yes
Halfpipe:
Yes
Tubing Park:
Yes
Address:
P.O. Box 657
Ligonier, PA 15658
Phone:
(877) 754-5287 or (724) 238-9860
Latitude:
40.165166
Longitude:
-79.170656
Links:

http://www.skilaurelmountain.com/
Getting to Laurel Mountain
Estimated Distances from Major Cities
Baltimore, MD
3 hours, 45 minutes
213 miles
Washington, DC
3 hours, 45 minutes
210 miles
Arlington, VA
3 hours, 45 minutes
209 miles
Richmond, VA
5 hours, 25 minutes
308 miles
Pittsburgh, PA
1 hour, 10 minutes
54 miles
Harrisburg, PA
3 hours
169 miles
Philadelphia, PA
4 hours, 35 minutes
271 miles
Charleston, WV
4 hours
233 miles
Raleigh, NC
8 hours, 5 minutes
484 miles
Charlotte, NC
7 hours, 30 minutes
453 miles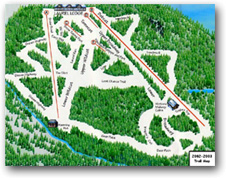 10:35 pm on December 16 / Latrobe / Westmorland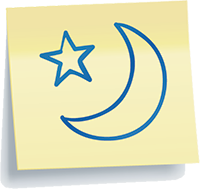 30° F
Fair
| | |
| --- | --- |
| Humidity: | 80% |
| Wind Speed: | 8 mph |
| Barometer: | 30.15 in |
| Dewpoint: | 25 °F |
| | |
| --- | --- |
| Visibility: | 10.00 mi |
| Sunrise: | 7:32 a.m. |
| Sunset: | 4:52 p.m. |
Good snowmaking conditions right now.

Weather supplied by the National Weather Service. Errors or reporting delays may be possible.
Snow Conditions at Laurel Mountain:
Snow conditions currently unavailable.
News about Laurel Mountain
December 14, 2017

- The past week saw the arrival of cold temperatures, and the dip in Mercury allowed ski areas to fire up their snowguns. Although lifts have already started running at several resorts, by the end of the December 16-17 weekend nearly every ski resort in the Mid-Atlantic will have kicked off its 2017-2018 winter season. DCSki has the latest opening information here.
November 5, 2017

- For the fourteenth year, the Pennsylvania Ski Areas Association (PSAA) is offering a Snowpass program that allows fourth and fifth graders to his the slopes free, up to three times each at each participating Pennsylvania resort, with some limitations.
February 15, 2017

- On February 10, 2017, DCSki Columnist Jim Kenney visited the slopes of the newly-reopened Laurel Mountain for the first time. That kicked off a great weekend of skiing which included a stop at the classic resort as well as nearby Seven Springs. Jim provides this Firsthand Report.
November 20, 2016

- Each year, DCSki chronicles some of the newest enhancements at Mid-Atlantic ski resorts. These upgrades typically consist of snowmaking enhancements, renovated lodges, a new fleet of rental skis, or even an occasional chairlift upgrade. But announcing a new resort? Well, that's almost unheard of. Until now. Sort of, anyway.
December 8, 2008

- The move to re-open Pennsylvania's Laurel Mountain Ski Area advanced in late November, as Seven Springs officially purchased the ski assets at Laurel Mountain State Park. DCSki provides the latest news, and a detailed look at the storied history of Laurel Mountain.
Upcoming Events
No future events at this time.