Ski Cherokee was a ski resort in Linden, Virginia that had a very limited lifespan: it opened at the start of the 90's and closed two seasons later.
"You might have been one of the few to try Cherokee ski area west of Warrenton, Virginia during the few brief seasons it operated around a decade ago," wrote DCSki Columnist Jim Kenney in 2000. "It became a victim of inadequate cash flow and a succession of warm greenhouse-effect winters. You can still see Cherokee's trail cuts off to the left as you head west on I-66 near Linden, VA," Jim writes.
Cherokee offered about 1,000 vertical feet, broken into a gentle upper hill and a lower hill with more advanced terrain. The area was served by a single chairlift, which did not reach the mountain's summit. A lodge was located midway up the mountain.
The developers of Cherokee felt that the area's high elevation and proximity to Washington, D.C. would be a recipe for success, but two warm winters in the early 90's squashed that plan. Snowmaking may also have been limited due to an insufficient water supply.
Although Cherokee met an untimely demise, its chairlift helped the rebirth of a New England ski resort. Crotched Mountain Ski and Ride Area, located in Bennington, New Hampshire, acquired Ski Cherokee's fixed grip Riblet quad chair and installed it on Lower Zeke's Peke, servicing a beginner trail and terrain park.
DCSki Columnist Matthew Graham stopped by the old site of Ski Cherokee during the summer of 2004, and reports that there's a great view from the top near the old lodge. He noted "no trespassing" signs all over the lodge. According to Matthew, the land is now being sold off for mountain homes in a development called Mosby Estates.
DCSki reader Matt Kavlick was going through old files and discovered a brochure from Ski Cherokee in February, 2006. "Since I have not skied at Cherokee I must have picked the leaflet up from the local ski shop at least 15 years ago!" Matt writes. Matt provides the following scans of the front and back of the brochure. (The front is the same as the image above, but slightly higher quality. Click the images for larger versions.) Matt notes that the back of the pamphlet indicates snowboarding was not permitted. "I wonder, even if the weather conditions were excellent and attendance was up for Ski Cherokee, how long that policy would have lasted?"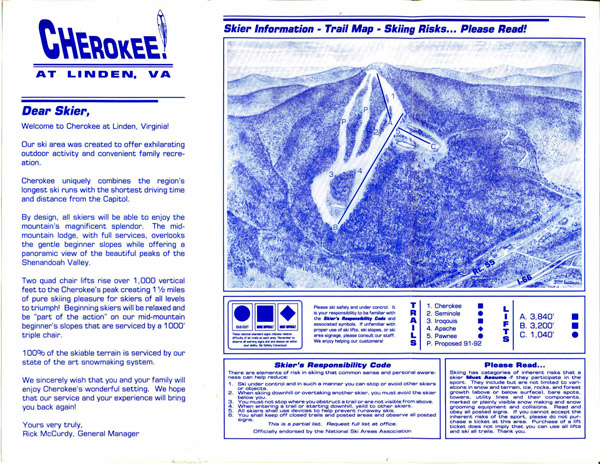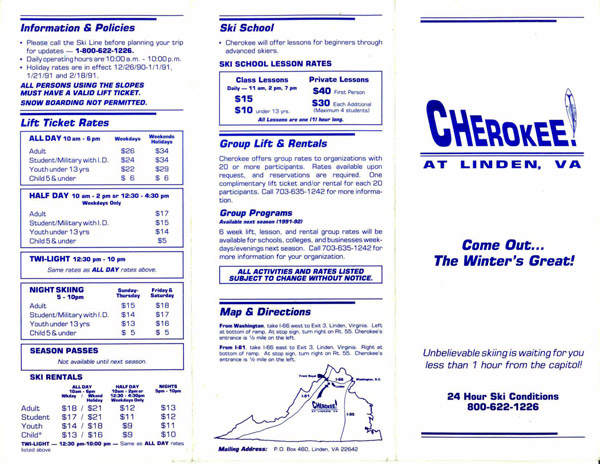 Wes Worek provided the following scan of an old lift ticket from Cherokee: