Ski SnowPeak
Thompsontown, Pennsylvania
Ski SnowPeak was located in Pennsylvania between State College and Harrisburg on U.S. Route 322. The resort had a vertical drop of 643 feet and had 9 trails with one 3,200-foot quad and one 120-foot pony lift.
The resort opened in early 1989, but the concept originated as early as 1969, when a group of local investors formed the Tusquenita Corporation. The corporation purchased the land in 1972 and began cutting trails, intending to call the ski area Tusquenita. However, the land ended up sitting dormant, and the ski area was never opened. Tusquenita Corp. was purchased by John P. Hall in 1978. The ski area finally began materializing in late 1988, with a frantic effort to install a quad chairlift, install snowmaking, and build a lodge.
The first phase of the resort brought skiing halfway up the mountain. In a planned second phase, which was supposed to be complete in time for the 1998-1999 winter season, trails would go all the way from the top of the mountain. This would have given Ski SnowPeak a vertical drop of 1,340 feet, making it the highest vertical drop in Pennsylvania. Ski SnowPeak had north-facing slopes that were protected from afternoon sunlight, and an unlimited supply of water for snowmaking from the nearby Juniata River. Prospects for the ski area looked bright.
However, by February, 1991, Ski SnowPeak had plunged into bankrupcy; court records indicated that the ski area was at least $4.3 million in the red. That put an end to any further expansion plans, and caused the resort to shut down very shortly after it had opened. On February 27, 1991, the Harrisburg-based Patriot-News reported that John P. Hall was also trying to develop a ski area in Montana to be called Ski Yellowstown. But those plans were aborted when the U.S. Forest Service refused to provide necessary approvals, due to grizzly bear habitation at the planned area. The Patriot-News also included this information about Hall:
"Hall is the son of the late John N. Hall, a trucking magnate and philanthropist. He made headlines in 1985 when he was sentenced to four months in prison and ordered to pay a $10,000 fine for wire fraud, interstate transportation of stolen securities and customs violations in connection with the theft of $4 million in cash and securities from his father's Camp Hill home. He had been arrested by the FBI after trying to peddle $2.5 million worth of the securities in the Bahamas. Later, Hall pleaded guilty to a charge of reckless burning of a property in connection with a 1983 fire at an apartment building his family owned in Stone Harbor, N.J."
Three years later, with SnowPeak still bankrupt and out of operation, further tragedy hit the ski area in the early hours of February 13, 1994. Suspected arson caused the lodge to be destroyed by fire. It took firefighters six hours to contain the blaze.
In early 1995, the Patriot-News reported that potential buyers were looking at purchasing and re-opening Ski SnowPeak. Nothing ever materialized.
DCSki reader Joshua P. recalls some of the details of Ski SnowPeak:
"Ski Snowpeak in Thompsontown, PA was open in the late 80's or early 90's. It was only open briefly. The lodge apparently burned down but there was more to it than that. You can see the resort from US 322/22. I remember when I was a kid seeing people ski down it. The trails went about 1/2 of the way up the mountain when it closed. I went past Ski SnowPeak this past summer. One of the buildings is still there along with the primary electric poles. The lift towers appear to be gone. I want to hike up it this fall when the vegetation dies off."
DCSki Reader Rob had an old SnowPeak brochure on hand and sent us the following scans, providing some raw statistics for the resorts.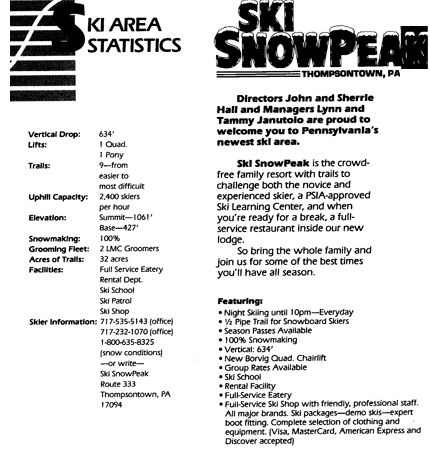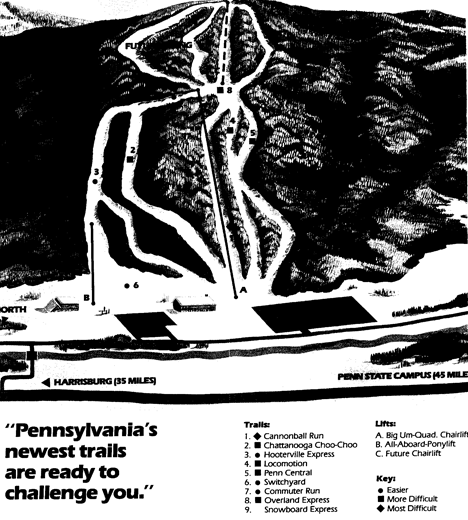 Joshua P. also provided the following photos showing what Snowpeak looks like today.
In early 2007, Joshua P. located a lady who used to work at Ski Snowpeak. She had a number of pictures of Snowpeak when it was in operation, which she provides below.