Arapahoe Basin joins Ikon for 2019-20
7
posts from
2
users
Updated 9 months ago

As you probably know, Arapahoe Basin left Epic last spring after a long association with Vail Resorts.  Ikon just got a big boost with the announcement on Aug. 2 is that A-Basin is becoming a partner starting 2019-20.  Get the usual 7/5 days for Full/Base Ikon.  Can't say it's too much of a suprise.

https://www.alterramtnco.com/news/2019/08/02/ikon-pass-adds-arapahoe-basin
Late season flight to Denver anyone?  Meaning in May or maybe even June if Mother Nature helps out again.

For those who don't know A-Basin, it's a ski area not a ski resort.  Parking was a big issue last year with all the snowstorms bringing out locals as well as Epic pass travelers.
Here's how Ikon describes A-Basin on the email going to Ikon passholders:
"Your winter bucket list just got a little longer with the addition of Arapahoe Basin Ski Area to your Ikon Pass. Known as The Legend, A-Basin has one of the longest ski and ride seasons in Colorado, unforgettable terrain, and an après scene like no other. The newest Ikon Pass destination is just 68 miles from Denver making it easy to get on the mountain."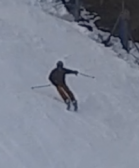 Love Love Love A-Basin. Bummed now that I did not get the Ikon for the upcoming season.

wgo wrote:
Love Love Love A-Basin. Bummed now that I did not get the Ikon for the upcoming season.
The only folks complaining today are those who live close enough to buy a season pass for A-Basin.  Was something like $400 in the spring.  Although it was pretty clear that some partnership was going to happen for A-Basin before the fall.

A-Basin chose Ikon over less expensive multi-resort options deliberately to try to keep the numbers down on weekends.  Seem to be expecting most people who plan to ski A-Basin to go for the less expensive Ikon Base $749, which has blackout dates for holiday periods.  Ikon passholders can get a $20 discount on a day ticket for friends (unlimited).
A-Basin's season pass is $449 or $349 for Midweek.  Also have other lower cost options for just a few days, and a 70+ Senior pass for $199.
http://arapahoebasin.blogspot.com/2019/08/a-basin-joins-ikon-pass.html - 02Aug2019
"…
Today we are proud to announce that we have entered into a partnership with the Ikon Pass. Skiers and riders will have 7-day access with no blackout dates on the Ikon Pass, and 5-day access with selected blackout dates (Christmas holidays, Martin Luther King weekend, President's weekend) on the Ikon Base Pass. These restrictions and blackout dates will make our already busy periods more manageable.

We know that many of our guests want a multi-resort pass. We believe this pass solution will provide the ideal access to Arapahoe Basin while joining a team of excellent resorts and providing us better control of our business. With this addition, we will only be part of two limited passes (Ikon Pass and Ikon Base Pass) and we will no longer be part of very low-priced multi-resort passes.
…"

wgo wrote:
Love Love Love A-Basin. Bummed now that I did not get the Ikon for the upcoming season.
What did you do instead in the spring?  The price for Ikon didn't go up that much after April.

A-Basin will also be on the MCP for 2019-20.  All the MCP locations are also on Ikon at this point. 
The MCP just came back on sale Aug. 6.  Price is $489 for adults and $199 for kids.  For trips with adults only, there can be reasons the MCP makes more sense if thinking about taking 2-3 trips that are long weekends.  At least in comparison to Full Ikon at $1049.  Ikon Base is $749 for ages 23+, $549 for ages 18-22, $539 for Military or College.
Speak truth to powder.
If you'd like to share your own comments, please
log in
to DCSki.