Quick TR: Whitetail Dec 28th and 29th
11
posts from
6
users
Updated one year ago
1,337 views

I hit up WT Thurs and Fri last week.  No photos, unfortunately.  
Thursday was cold, maybe mid to high teens, but bright sunshine and little to no wind.  With toewarmers in my boots and dressed appropriately, I was completely comfortable, and skiied for 4 hours without ever taking a break.  Even not hitting the snow until around noon, conditions were fantastic.  WT had the guns on Limelight, Bold Decision, and Far Side.  I don't think I heard (much less hit) any noisy snow until the last hour or so.  After a few blues to warm up (it was my first day of the year), I headed over to expert's choice, and stayed there until that side of the mountain lost direct sunlight, when I finished up with a few laps on Home Run.  
The highlights?  In addition to great snow and visibility conditions, the side of Exhibition was fantastic, with soft snow pretty much all day, lots of things to jump off of, and only a very small area with visible rocks.  I saw a ton of excellent skiers over there, more than I have ever seen in the mid Atlantic.  Employees were generally very friendly, and parking was easy.
The stuff WT needs to work on or I wasn't thrilled with?
- The process of getting an Advantage card took way too long, and employees were unable to answer some questions around benefits (does it give 40% off ski school?).  
- While the place wasn't as packed as weekend, given the holiday period, it was decently crowded.  I never ventured near EZ Rider or Lift Off, but the lines looked long at each.  My issue was the lifties at Whitetail Express were paying absolutely ZERO attention, as were, honestly, many of the skiers in line.  I was skiing as a single, and wanted to get in max vert to fatigue my legs and get them in shape for the season.  Even with 40+ people in line, people kept boarding as pairs, or splitting up.  At one point, I counted 14 chairs in a row with only 2 people on them.  Not even 3 people!!!  I finally just started skiing around people in the singles line that weren't paying attention and taking empty spots on chairs.
- Expert's choice was similar, but there were usually only a dozen people or less in line, so it wasn't as big a deal.  What really surprised me was how often people fell boarding the lift (and stopped it).  Literally, 3-4 times every time I rode it.  I know I'm going to come off as a snob, but it's an expert lift serving only black terrain.  I can't think of the last time I fell boarding a chairlift, maybe 15 years ago?  I think the problem was that exhibition wasn't bumped up yet, so was skiing like a blue.  Lots of intermediates were skiing it for better snow conditions and shorter lift lines versus WT Express.  That said, I probably watched 25+ fall (including directly in front of me, or directly behind me), and it seemed like most of it was due to to lack of attention (looking at phone, talking to friends) or alcohol (I know WT is dry, but I saw a few beer cans on the slopes, and there were a ton of college students on the slopes.  I'm not sure if WT can do anything about this, but in decades of skiing, I've never seen anything like it, at WT, Snowshoe, or anywhere else.  I don't know how many of you play golf (I do, but am not good), but I felt a bit like a golfer on a backed up course, watching a foursome tee it up from the back tees, then all four of them swinging at, and missing, their ball.  
On Friday, the temperature was warmer, maybe low to mid 20's.  Still comfortable, no wind, and the sun came out in the afternoon.  I skied with my wife, so not quite as hard, but we again stuck to expert's choice.  Conditions were firmer, but still excellent.  Larger crowds, and by 2pm, many of the runs were getting skied off.  They had turned off all guns, so no worries about getting snow blown at you while riding WT Express.  Lifties were properly loading WT Express, so none of the previous day's issues.  Still a lot of falls on Expert's Choice, but nothing like the day before.  
All in all, even though I vented a bit, both of these days were fantastic for the mid-A.  Friday was a 10 out of 10, and Thursday was an 11 out of 10.  Major props to Whitetail for taking advantage of the weather early in the season and teeing up such fantastic conditions. 

Nice review.  Thank you for writing it.  I was there on Monday (yesterday) and it was pretty close to mid-week skiing conditions at the lifts.  The only time things got "hung up" a bit is when they decided to scan everyone's lift ticket which they seem to do at very irregular intervals.  The longest line I faced was maybe 20 people long and it was due to one person trying very hard to get his scanner to work.  You can't really blame him, the scanner technology must be kind of old and required just the right angle I guess.  But while he was trying to scan a group of three, 5 cars went by empty - thus the line formed as he continued to try and people seemed eager to wait for him.  I didn't have any issues on the expert lift as far as people falling.  The speed difference between the Express Quad and the Expert lift is exceptional when you consider that the WT Express uses the cars that detach/slow down while loading as opposed to the Expert - chair speed at loading seems to be 3 or 4 times faster.  That might be just my impression but the WT Express allows laziness and lack of attention whereas the Express needs you to be fully alert.

I also got some nice pictures but I don't know how to get them from my phone to here…

mwolf00 wrote:
 That might be just my impression but the WT Express allows laziness and lack of attention whereas the Express needs you to be fully alert.
Yeah, that's definitely a big part of it (loading a fixed grip versus a detachable chair).  Maybe it's selective memory, but I don't ever remember many people falling loading that lift.  I'm sure it happens occasionally, but I've never seen anything like that Thursday.  A lot of times I would be on the slope or halfway up the lift (so could only see from a distance), so couldn't really tell what happened.  But of the times I saw, many were lack of attention, many were people in the wrong spot (stopping halfway to where they should be loading from), several actually fell off the chair (ie. they were still on the edge of the seat when it began rising), and one guy got hit in the back of the head when his buddies started lowering the bar before he had even sat down (so it wasn't his fault!).  
Interestingly, despite all the craziness loading the chair, I saw nothing extraordinary getting off ( a few people fell, but no more than normal) and nothing really special on the slope (the occasional intermediate straight lining it out of control, but no especially bad shenanigans).  
I wasn't ever scanned on Thursday, but we did occasionally see the line slow down on Friday when they had trouble scanning passes.  We would just load without being scanned (ie. not wait), which no one seemed to take issue with (we were lapping the lift and had already been scanned a few times).  

I took my 7 y/o daughter to WT yesterday (Sunday, January 7th) for her first day of the season.  A couple of notes both from a WT perspective and a skiing parent perspective:
- The North Face outlet at Mercersberg is a good place to stop for gear on the way.  Since it was pretty cold, I opted to stop and get my daughter a new insulation layer between her base layer and insulated jacket.  I picked up a nice, heavy NF fleece for under $30 (full retail was around $100).  
- We arrived around noon to find the parking lot very full.  Attendants were directing traffic to park really far away, but knowing that people would be leaving, I told them I was dropping off at the circle, and proceeded to make the last right instead of left into the circle.  Sure enough, there were several empty spaces in that upper lot.
- Hooray for no line at guest services to get my daugher her Advantage card.  That said, it sure would be nice not to have to scan (and keep track of) a physical card, but just to have my name in a database somewhere and be able to show my driver's license when I buy lift tickets.  
- Snow conditions (like virtually all mid-A resorts the past few weeks) were nothing short of epic.  Soft, soft snow all over, forming soft bumps on all blue trails by early afternoon.  Not spring corn, but still hero snow.  I did not venture over to the expert area since I was skiing with my young daughter.  Light conditions were bluebird, and the weather was cold without being frigid (no wind until late in the day).  Dressed appropriately, the 7 y/o never complained of being cold.
- I made a pretty serious tactical error by starting my daugher off on WT Express instead of Easy Rider (due to long lift lines at Easy Rider).  She was skiing tons of blue comfortably last season (including west coast blues), but I should have been prepared for more regression / rust.  Combined with the soft snow and bumps, she fell dozens of times on her first three runs, and wanted to quit for the day.  Bad dad!!!
- This led to a 45 minute break in the lodge, where she scarfed down a hot chocolate, half a gatorade, and most of a bread bowl of chili (while I watched the Jags and Bills exchange punts over and over and over again).  The break, sugar, warmth, and a full belly improved her outlook immensely, and she was ready to give it another try.  
- Side note, WT staff is generally very friendly, but thumbs down to the rude employee who decided to stock the cabinets underneath the condiments at peak lunch hour on a Sunday.  He was snippy with multiple customers, including me, when I informed him that one of the stations was out of napkins.  He was stocking napkins under the cupboard, but opted not to refill the station, and instead sharply informed me to "then go to a different station to get them".  When we left 30 minutes later, the station was still out of napkins, causing a traffic jam around the lone napkin dispenser (which was located next to the water, which people were also lined up for).  Perhaps a customer-facing role is not the best fit for that gentleman, or he may have just been having a bad day.
- After lunch and two successful warm-ups / confidence builders off Easy Rider, my daughter returned to WT Express, and we skiied another 3 hours or so with maybe one fall every other run.  Massive success, she felt great, and was back linking turns on flatter sections, only resorting to snowplowing on steeper sections with bumps.  
- Interestingly, despite literally probably 50 falls in 4 hours of skiing, her skis never came off.  I'm kind of torn; they were all low-speed falls, she never twisted or hurt anything, and it was convenient not to have to clip back in.  On the other hand, I'm wondering if the DIN isn't set too high.  They do not seem difficult to step out of when pressing on the heel.  The skis are from the junior lease program at Alpine.  
- The afternoon was a success, and I had a blast skiing the bumps on the various WT blues.  I normally just lap exhibition when skiing by myself, but the soft snow conditions made Limelight, Fanciful, and Snow Dancer enjoyable for me.  We finished the day with the constant "just one more run, dad" for the last half-dozen runs, until the lights were on, and the sun had pretty much set (around 5pm).
- All in all, I very rarely have skiied WT under such great light, temperature, wind, and surface conditions as my last three days there.  Hopefully this trend will continue.
Great report! I love the ski parent perspective. I think we have all had the occasional "bad ski dad" moments despite our best efforts. Glad everything worked out and you had a great day.

Thanks for the post.  I've been very happy with my two trips to WT so far this season.  Personally, I haven't been able to get the kids to ski - started trying too late (youngest is now 16 and I didn't get back into skiing until he was 13).   However, I have been guilty of being a "bad ski husband" for similar circumstances ;)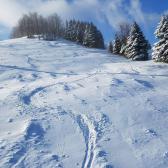 Yep, my desire to ski and not wait in the EZ Rider line led me many times to take my grom up the Express, only to suffer and hinder his progress on the way down. His progress/confidence went through the roof late in a season when there were no lines on the EZ Rider and we could lap that all day. I would use that terrain to work on drills and things I wouldn't/couldn't do on the Express or Expert.
Another trick we used was to get to the terrain park lift and just lap that with no line and ski next to the features. Very moderate slope there.

Thanks for the support, all.  I laugh about it now, but was feeling pretty rotten after that third run when my 2nd grader was in tears and exhausted after so many falls.  As camp writes, it was simple impatience on my part, combined with naive / unrealistic expectations (that she would pick right back up where she left off last February / March).  
I didn't include it in the post, but there were a couple of other variables that I should have considered:
- Skiing with poles for only the third day or so, and without expert instruction on their use (both Whistler and Snowshoe's ski schools had her skiing without poles last season, although both said at the end of her time there that she should start using them).  A number of her faults were mistimed pole plants where she slid into her own pole.
- She moved up from 110's to 124's, so a substantial increase in ski length.
The nice thing was, after the mental health break (and accompanying food / warmth), then the confidence booster from two trips up easy rider, she skied the same slopes with no issues.  Both of us learned something; me about pushing too hard too quick (although I was being super patient with her), her about mental strength / not getting frustrated and quitting when she faces adversity.  
All that said, I caught hell from Mrs. Reisen last night.  "WHAT???  I TOLD YOU TO START HER ON THE FREAKING BUNNY SLOPE!!!!"

Reisen wrote:
All that said, I caught hell from Mrs. Reisen last night.  "WHAT???  I TOLD YOU TO START HER ON THE FREAKING BUNNY SLOPE!!!!"
That's funny.  Mother knows best!  Glad it all worked out!  

LOL!
What gets even trickier with a young tween is that they are less likely to want to complain and ask to go back to the bunny slope at the start of the season.  One reason I pushed doing at least the 90-min Intermediate group lesson in the first day or two back on the slopes at Massanutten when my daughter was 7-10 was so that I could leave it up to an instructor to tell her what she wasn't doing correctly.  Especially for the seasons when she got new skis, which I always bought at about forehead length so they would last a couple seasons.  She was skiing SE blacks by then.  Doing the same for my friend's kids now that they are tweens.
For those who don't know me, I'm a mom not a dad.
Speak truth to powder.
If you'd like to share your own comments, please
log in
to DCSki.