A Great Weekend at Canaan Valley Resort
6
posts from
5
users
Updated 2 years ago
2,822 views

Science and Mother Nature aligned to create supreme conditions allowing us to open all 47 trails and runs this past weekend at Canaan Valley Resort. Even with a certain football game (the best Super Bowl ever?) drawing people away from the slopes, we had our busiest non-holiday weekend in the past three years.
Non-skiers had a great day as well with plenty of visitors hooting and hollering as they slid down our multiple-lane Tube Park.
In spite of such a good weekend, lift lines were short with the average wait time of only five minutes.

I have to agree about the stellar conditions in the woods and the the ungroomed powder.  Thank you for putting the effort in to make snow, open trails, and open an extra lift as needed.  It wa nice to see the second lift up the mountain operating to cut the lines to almost nothing on Saturday.
I skied there Thursday through Saturday and the conditions on the ungroomed trails and the glades were stellar with all the powder.  Thursday was great, and I still found some stashes on Saturday. Boot deep powder was to be found!
The best endorsement for Canaan Valley was someone tried to give us free ski vouchers at TL they weren't going to use, and we turned them down and decided to pay to ski at Canaan Valley because of the great conditions and nice trail count.

Skied Thursday and Sunday at CVR.  Thursday was a beautiful pow day.  I too have two passes for Tline, but the kids talked me into going to CVR because of the terrain park was open.  Great job in getting the terrain park up and running for the weekend. Hopefully, you can keep blowing snow under the B lift, so the park can remain open for the rest of the season.

All trails and runs were open this weekend. We liked this shot.

WOW looks like little Colorado, too bad i had to work.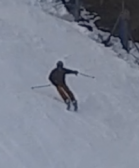 CVR,
Looks like you are back down to 28 trails open. Any chance of more of these being open by Friday? Thanks again for participating in these forums.
Speak truth to powder.
If you'd like to share your own comments, please
log in
to DCSki.