Blue vs. Jack Frost
3
posts from
2
users
Updated 11 years ago

I am visting my brother in Allentown this weekend and wanted to now if anyone had any thoughts on JF versus Blue. Both are the same distance and I have been to Camelback. Elk and Sno are a little too far of a drive for the crew. I like the steeps but
uncrowded
less crowded trails better when with the family. Looks like Blue violates one of my rules—that is beginner and expert terrain off the same lift, but it is a HSQ. The family can all ski blacks. Anyone have any thoughts?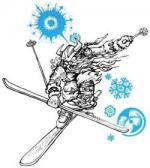 I learned at JF, so i am a little partial. Both will be crowded on weekends. Blue is closer to Philly than JF, so a little bit more of a zoo. In my opinion JF is a little more challenging. These are Pocono ski areas. Try here:
http://www.paskiandride.com/forums/
These guys are all about the Poconos.

Thanks Ullr (or tusen tak in Norwegian)

Already have some good beta from the site. Although those guys make the posters here look like priests and nuns.
Sharpen your edges. And pencils.
If you'd like to share your own comments, please
log in
to DCSki.