Did a little trip to Montage Mountain, PA
2
posts from
2
users
Updated 14 years ago
3,940 views

Now I realize that north central PA isn't know for it's steep and deep. I've never heard of Montage Mountain in any conversations. Whenever I stop at rest areas along major interstates, you don't see a slot for Montage Ski area brochures. The place just isn't on the radar screen of the p-tex inclined.

Normally I wouldn't make the trek that far north to such an unheard of location, but I have a friend I haven't seen in awhile living in Wilkes Barre, PA (poor girl) and she volunteers as Patrol on Montage. So with the promise of catching up on past times and the chance at free skiing, north I headed.

The hillside layout is a little unique. It's base facilities splits the hill in two. It has I believe 18 trails, only a couple go full top to bottom without stopping (neither of which were open yet). As conditions warrented yesterday, you had to slide skate across the base area to work your way onto the lower slopes where the diamonds were located at. The park was on the upper half of the hill. I'm not a jibber so I didn't go explore. The view from the lift showed a few ramps and rails. The layout looked respectable meaning the entourage kids (kids skiing the park but making no attempts at any jumps) had plenty of room to ski around/past the features without having to cross over any launch/landing zones.

On the bottom half of the hill there was a little drop known as White Lightening. My friend had mentioned this run as being a bit steep. Me, being the cynic, just nodded and thought "how steep can an east coast run on some podunk hill really be?" Well…it's steep enough for me to sit down and hack out this trip report. Words that came from my mouth included "impressive" "interesting" "oh man I hope I don't fall" and "steepest thing I have seen in the Mid Atlantic". The approach to White Lightening is almost flat with no hint of anything of interest. However, soon enough you see nothing but horizon. At the top of the headwall you are treated to an impressivly steep breakaway for about 20 yards or so then another even steeper headwall. I would estimate the steepest part of the headwall to be around 45-50 degrees or so for 120 yards. Plenty of distance to pull a series of turns. No tucking and gunning this drop as it's not normally groomed and the moguls have no sense to them. (not like I can ski bumps, but it was just troughed out everywhere). I've skied all of Timberline, Canaan, Round Top, Liberty, Whitetail, Snowshoe, Wisp, Blue Knob and a fair portion of Whitegrass. I honestly don't recall anything as long and steep as White Lightening (maybe the bowl on Blue Knob, but it wasn't fully "in" when I was there). Perhaps my memory is fuzzy and out of balance so I may be mistaken, but it's steep enough I only skied it once. I simply had more fun on the other diamonds.

I sampled my first experience of Patrol/Mountain Safety life there while hanging out with my friend. Their rule is that if you're at the hill skiing, even if it's not your normal duty night, they expect you in uniform carrying a radio. It's perfectly ok to ski with your family/friends but when a call goes out, you show up. Saturday night we had one heart attack in the upper lift shack and one broken nose/arm down on the diamonds. Since I work as a paramedic, the patrollers were more than happy to let me assist them with patient evaluation and I got to watch how people get packaged on sleds/transported down. After the mountain closed on Saturday night, everyone convened at the local Ruby Tuesday's for "choir practice".

I wouldn't make the trip to Montage simply for the skiing. However, if you're in the neighborhood and have some time to kill, it's a quiet sleepy little neighborhood ski bump that hides a run that will pique the interest of even the more seasoned snow sliders.

Steve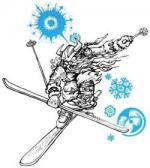 I have only been there one time and my memory is a little fuzzy too, but as a remeber it was indeed steep. I would compare it to lower shays at Snowshoe, but a little longer and a tad steeper. I agree, this one run is not worth a trip, but if you are doing a couple of days at Elk to the north, or Jack Frost to the south, Montage may be worth a short day trip.
Snowcat got your tongue?
If you'd like to share your own comments, please
log in
to DCSki.