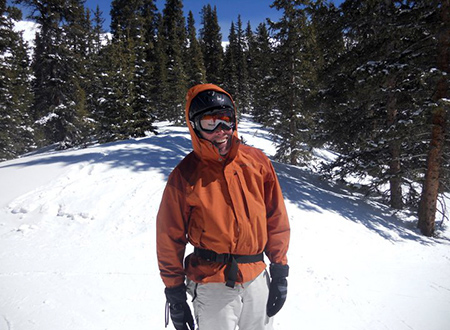 Robbie Allen
Robbie Allen learned to ski on Whitetail's opening day! Since then his travels have taken him to many a ski area from the smallest 150-foot hill to the Swiss Alps to Ski Dubai. His passion is for small local ski areas.
When not skiing Robbie can be found in melted snow, an All American swimmer in his youth he continues to swim today. He has raced in the waters around Manhattan and across the Chesapeake Bay. Also he has completed 4 Ironman triathlons - winning the swim portion in each. When not swimming he is found working on his other goal of running 50 marathons by age 50.
An aspiring writer Robbie he has written for Sprit magazine, Metro Sports, Xtri.com, Trip Advisor.com as well as others. In his day job he is a Project Manager and/or a Naval Reserve Officer. He is married with two kids (The Team) who all ski!
Robbie has written 46 stories for DCSki since 2008.
March 17, 2018

- DCSki Columnist Robbie Allen continues his quest for off the beaten track ski areas, and he recently found another to add to his list: the locally-run Magic Mountain in Vermont. He provides this account of the independent ski area.
February 25, 2018

- DCSki Columnist Robbie Allen visits New Hampshire's Cannon Mountain and describes the classic ski area, likening it to a bigger version of West Virginia's Canaan Valley Resort.
January 28, 2018

- Always on the hunt for mom and pop ski areas, DCSki Columnist Robbie Allen was recently in New Hampshire and visited Pats Peak Ski Area. In this report, he describes the magical night skiing environment there.
December 31, 2017

- After a recent visit to Connecticut, DCSki Columnist Robbie Allen has now skied in 27 states. In his latest installment to the Going Further Afield series, Robbie describes his trip to Mohawk Mountain, which holds a spot in ski history for its groundbreaking work in snowmaking over half a century ago.
April 1, 2017

- In February, DCSki Columnist Robbie Allen decided to tackle five ski areas located around Mount Hood, Oregon. He describes each area in this report, concluding that he would love to have Mount Hood in his backyard.
January 2, 2017

- DCSki Columnist Robbie Allen keeps finding small ski areas across the country that ski big. In his latest installment, Robbie describes a recent trip to Idaho's Lookout Pass Ski Area.
December 3, 2016

- Robbie Allen was in Colorado for the Thanksgiving holiday, and rather than spending Black Friday shopping for deals, he pointed his car towards the snowiest ski area in Colorado: Wolf Creek. He provides this report on the diminutive ski area.
March 6, 2016

- What do you get when you mix a ski area (Stevens Pass in Washington state), an outstanding cause (cancer research), and a bunch of motivated skier and boarders? DCSki Columnist Robbie Allen recently found out, when he participated in a 24-hour ski challenge as part of HOPE on the Slopes. He provides this report.
February 3, 2016

- DCSki Columnist Robbie Allen always seems to be finding off-the-beaten-track ski areas, and during a recent trip to Washington state, he discovered Hurricane Ridge. In this Firsthand Report, Robbie describes the "old school skiing" he found at Hurricane Ridge Ski and Snowboard Area, located right in Olympic National Park.
January 9, 2016

- DCSki Columnist Robbie Allen was looking for a White Christmas, so he packed up his family and headed to Utah. There, he discovered plenty of snow at four ski areas: Snowbird, Deer Valley, Brighton, and Solitude. Robbie provides this Firsthand Report.