In DCSki's Interview Series, we take a look at interesting people who have a connection to the mountains. In June, 2020, Levi Venditti created a YouTube channel to share videos as he explored British Columbia in his camper truck. He now posts videos on a weekly basis, reaching an ever-expanding audience of viewers who live vicariously through his travels. Levi's videos effectively blend together several elements: cooking, exploration, and adventure, all set against the incredible backdrop of the Pacific Northwest.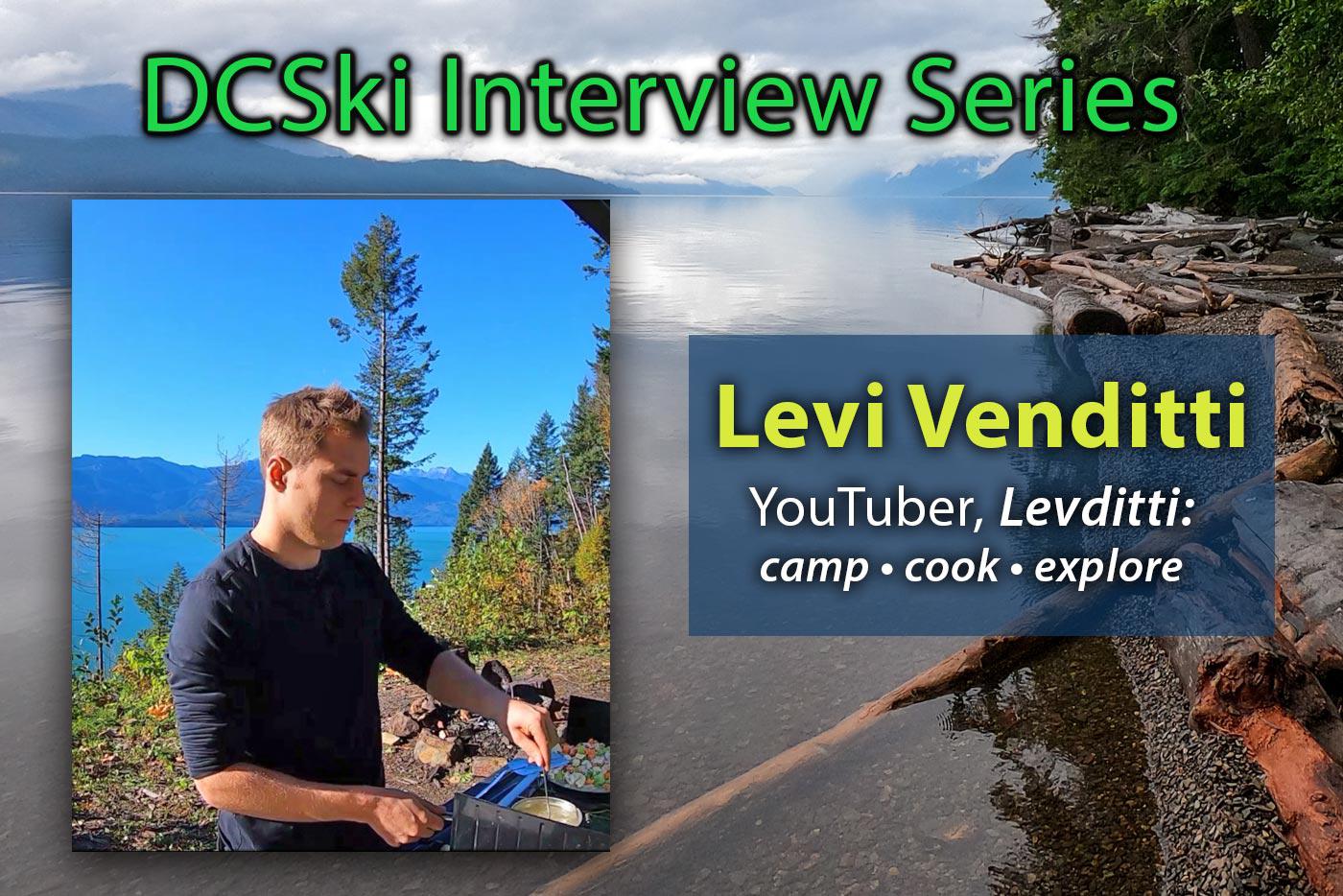 Scott: Stumbling across your videos was a happy accident. YouTube's recommendation algorithm has learned that I like watching travel, hiking, and cooking videos. And your videos blend all of those topics together; your tagline is "camp - cook - explore," which seems like a great combination. You published your first video in June, 2020. What motivated you to share it on YouTube?
Levi: Thanks for checking it out! I had been thinking about starting a YouTube channel for quite a while but was hesitant to commit. I had built my truck camper the summer prior and I loved cooking and exploring so it all just fell into place. Seeing the success of some other channels with similar themes really motivated me to try it out myself as well.
Scott: That first video had a bit of drama — a flat tire that took two days to repair. You somehow managed to stay calm. Is that the biggest hurdle you've faced so far in your adventures?
Levi: I'm a firm believer in "everything always works itself out"… Things have gone pretty smoothly for me so far, a few flat tires (I've since learned to slow down on the gravel roads), one cougar encounter, and lots of burnt food come to mind.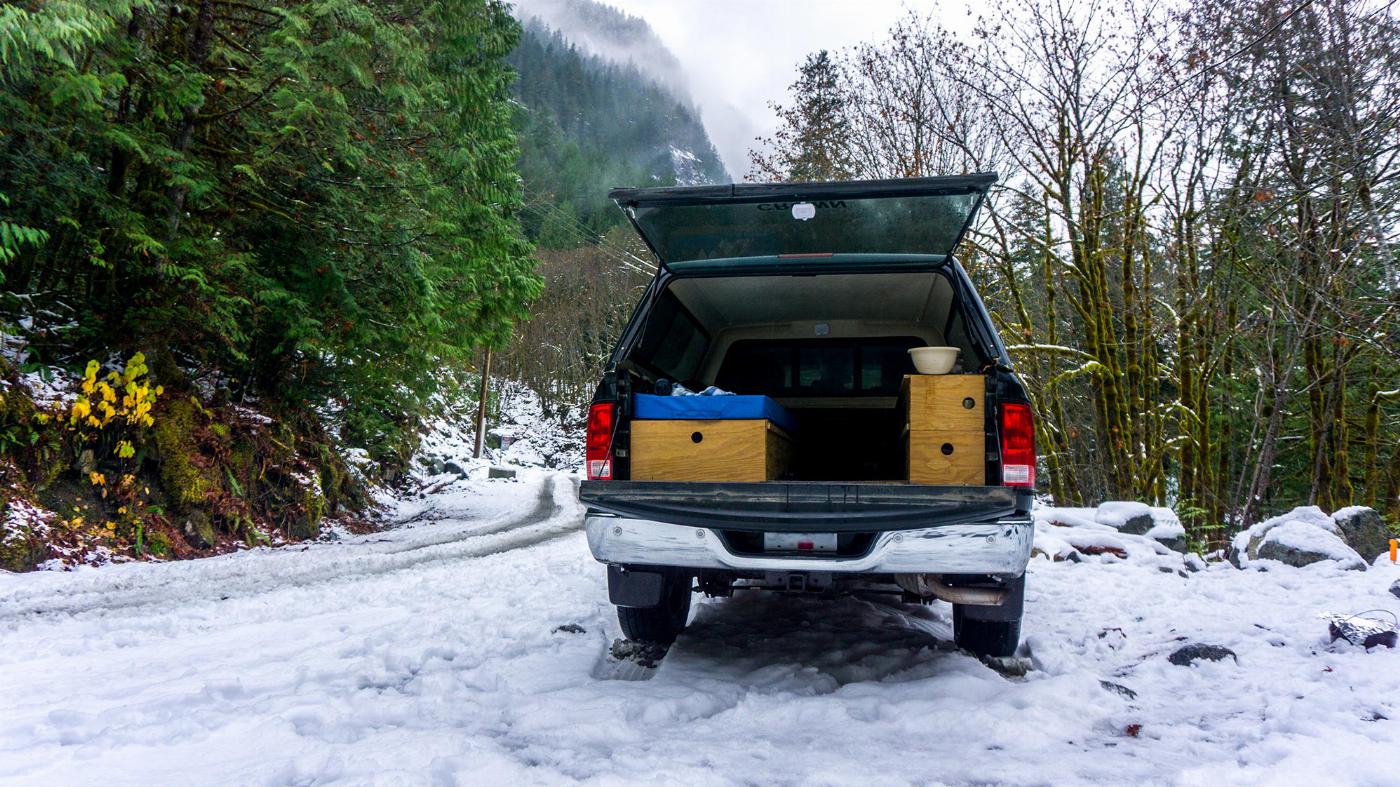 Scott: Since kicking your series off in June, you've published over 40 videos — often several a week. Were you committed to making this a frequent series from the beginning, or have you become more enthusiastic about it after seeing the response from viewers?
Levi: When I started off I was determined to make as many videos as I possibly could just to build up a library. Then seeing that there actually are people out there that enjoy my videos motivated me in a different way, and made me want to spend a little more time on each video to make sure they were the best they could be. Right now I've been posting one video a week and hope to continue that trend!
Scott: What has been your favorite video so far?
Levi: I'm impartial to my newest videos as I try to learn and improve with each one. In my latest video (as of typing this) I was able to combine cooking, camping, fishing, and general exploration and was happy with how it turned out. I'm sure a month from now I'll look back and think very differently…
Scott: There are a lot of truck camping/exploration channels on YouTube, but you differentiate yours by incorporating a cooking theme. It looks like a good portion of your truck's storage space is reserved as a pantry, stocked full of all the ingredients you need to whip up various dishes. And, of course, you cap off your cooking videos with your infamous 4-point reviews, rating deliciousness, practicality, difficulty, and concluding with a final score. How did you decide to incorporate cooking as a central theme in your videos?
Levi: Just like you said, it seemed like a way to differentiate myself, I enjoy cooking and camping so why not combine the two, and push it to the limits by making some of the most impractical things I can come up with!
Scott: There's a sense of experimentation and discovery in your cooking segments — your "explore" tagline doesn't just apply to the mountain trails you explore, but also the dishes you cook. And you're not presenting them as an expert chef; you're just a camper seeing what types of dishes you can pull off in the back of your truck. How do you pick which dishes to try?
Levi: I am by no means an expert, I actually like to use these camping trips as an excuse to try new meals, I cook better for myself when I'm camping than I do at home. And I don't really have a method for picking a dish, sometimes I browse the internet for recipes, sometimes they're meals my mom used to make, and sometimes it's just whatever I'm craving in the moment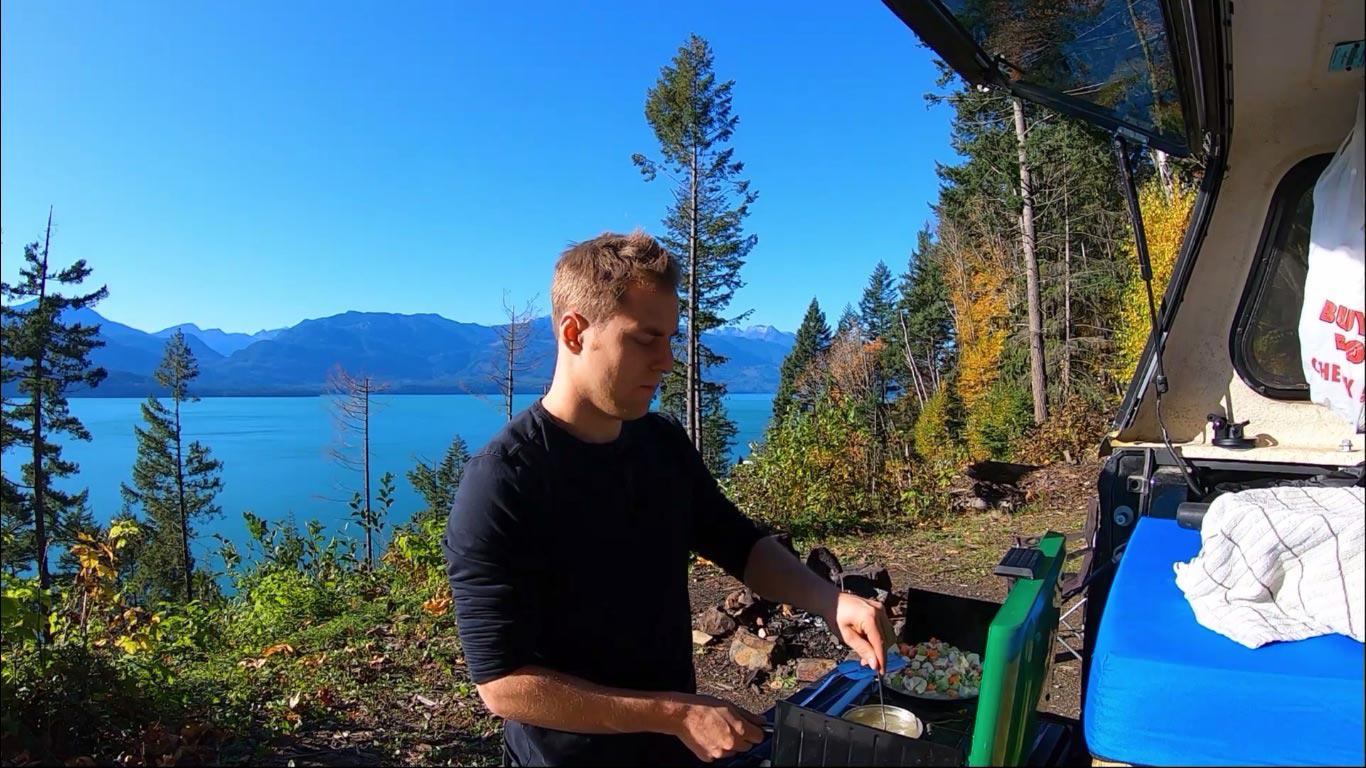 Scott: Do you feel that you will eventually master the Dutch Oven? There's been a comedic element to watching you try to dial it in correctly.
Levi: I am making progress! But it is slow progress, I'm sure there are still many meals to ruin before it's mastered.
Scott: What has been your favorite dish to cook so far?
Levi: There have been many delicious meals, but I think I would say perogies, it was the first time I figured out I could use the middle plywood portion of my camper to roll out dough, you can see real time in the video as I make that discovery, and it led to a string of fun baking attempts after that.
Scott: Did it take awhile to get used to talking to the camera?
Levi: I have yet to get used to talking on camera… not sure I ever will!
Scott: It's rare to see anyone else in your videos — often it's just you, your truck, an empty trailhead, and the incredible backdrop of the Canadian Rockies. How do you pick which locations to go to?
Levi: When I'm looking for somewhere new I use a combination of google maps and the British Columbia backroads mapbooks, I'm usually just looking for lakes, logging roads, and somewhere to park!
Scott: One thing I appreciate about your videos is that you don't over-produce them. You avoid the temptation to layer music over the scenes, except during soaring drone shots where the music adds something. As a consequence, the sounds of nature come through. The audience hears your footsteps as you navigate through the forest, the sigh you make when your shoe lands in mud, or the rumble of your truck as it bounces along an old fire road. They hear the burbling of a nearby stream. It's really quite calming. When you produce your videos, how conscious are you of the overall soundscape?
Levi: I didn't know anything about filmmaking before I started my channel, so if I'm doing anything right it's purely accidental or luck. I appreciate hearing that though and will make sure to keep the naturous aspect in future videos. Sometimes a layer of music can help the flow of the video but I agree that it is nice to just hear the sounds of the wild sometimes as well.
Scott: How long does it take to edit each video?
Levi: I say "uhh" or slur my words a staggering amount, so it takes some time to edit them into something coherent. I find if I give myself two evenings, a couple hours each, I can do my best work, any less and I'm rushing and any more and I'm just getting too picky.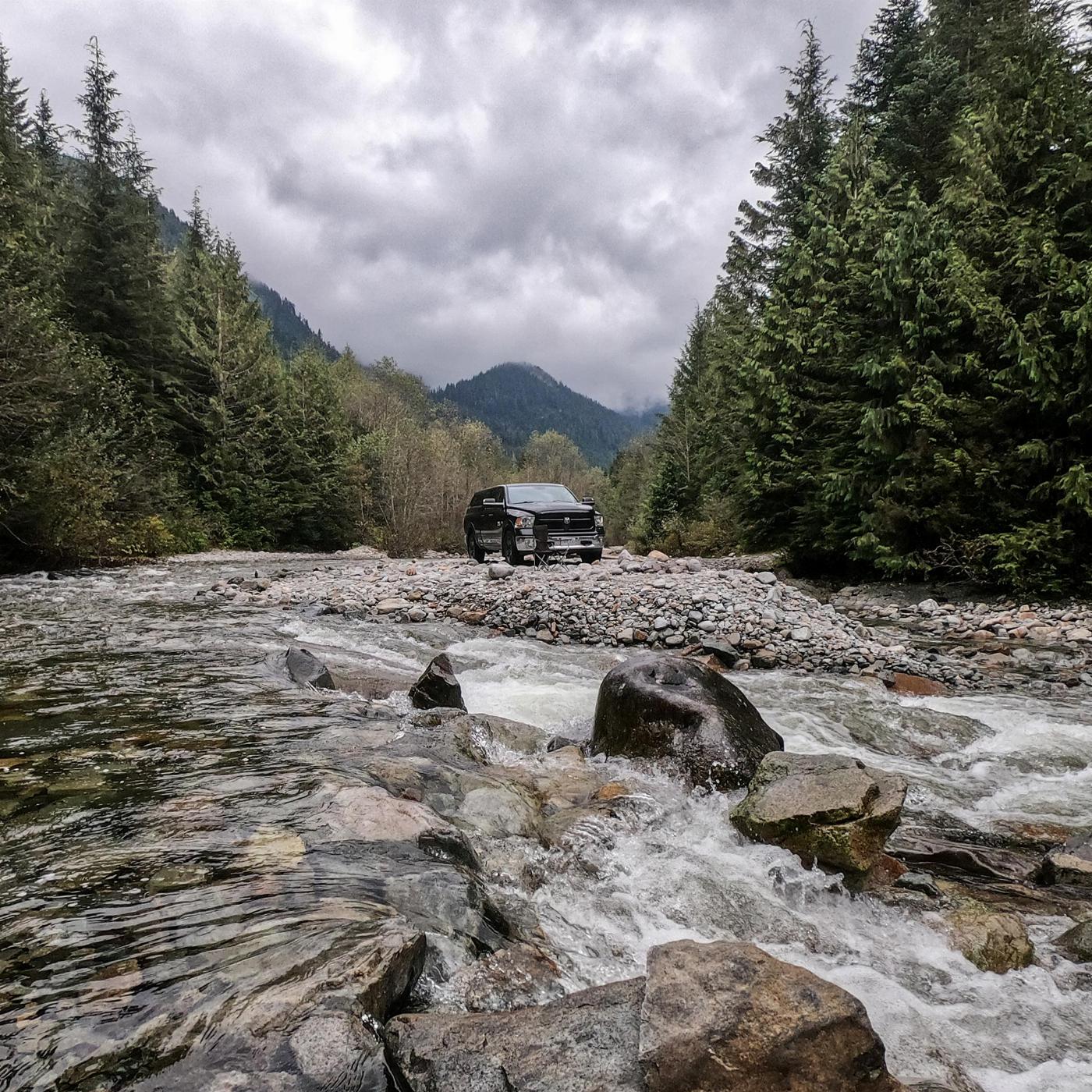 Scott: I've only been camping in Canada once — along the northern shores of Lake Superior. The mosquitoes were so bad that you could barely see through them, and they laughed at my industrial-strength bug spray. I've never pitched a tent so fast in my life. How bad are the mossies in British Columbia? How do you keep them from putting a damper on your adventures?
Levi: Well I don't think I've ever experienced them that bad out here… and sometimes you just have to befriend them and accept that you're going to get bitten a thousand times. One day I'll pick up one of those Thermacells as that is the best deterrent I've seen available.
Scott: Like you, I enjoy going on solo adventures. Some of my (more extroverted) friends are horrified by the concept and can't believe that I do it. Yet, there's something quite liberating about it, right? You wake up when you want to wake up. You go where you want to go. You get to commune completely with nature.
Levi: Exactly, I love going out with friends too of course, but when you're solo you can do anything you feel like, sometimes I don't know where I'm going until I get there, sometimes I end up just sleeping on the side of the road, sometimes I spend hours driving up mangled forestry roads and find an amazing camping spot I never would have found otherwise.
Scott: The hikes you go on are pretty amazing — it seems like there's an endless supply of glacial lakes to discover. And sometimes quite interesting discoveries, like an abandoned shelter or boat. Do you have an all-time favorite hike?
Levi: I decided recently that my all time favourite is the Watersprite Lake hike, not too easy, not too hard, off the beaten path, but still accessible. And one of the best payoffs you'll ever get. It's getting more and more popular every year so I may be finding myself a new favourite soon.
Scott: If an outdoor enthusiast were visiting British Columbia for one week, how would you recommend they spend that week to maximize their visit?
Levi: Definitely make sure you have access to a vehicle, but know it's impossible to see everything in a week so don't spend all your time driving, maybe a Squamish, Whistler, Pemberton trip, a couple days in each, and pray for sunny days.
Scott: We're headed into the cold season. Do you plan on continuing your trips as the mercury dips? What changes will be required to adapt to cold weather camping and cooking?
Levi: I definitely plan on it and have made a couple winter/cold weather camping videos already! I would love to set up some sort of heater in the back of the truck but am still figuring out the best method for that, and I think winter will be over by the time I come up with something… One benefit I've found of winter camping is my ice packs stay cold infinitely longer.
Scott: Sometimes the best satire is subtle — so subtle you're not quite sure it's satire. Which brings me to your video that documented the construction of a dual purpose desk/toilet. The concept made me laugh, and also cringe a bit — but not as much as watching you use a drywall saw to cut through plywood. So, um, how has that concept been working out?
Levi: I have yet to try it out but am still confident it was a great idea! And it's ready to go when the time comes. I've made a handful of questionable videos… that one may top the list.
Scott: While your skills as a back-of-truck chef are impressive (I'll overlook the charred pumpkin bread), I'm guessing that you have another day job. I'll even go out on a limb and bet that it's a technical profession, given your mastery of moment and load calculations showcased in your combination toilet/desk video. (Either that, or you remember high school physics far better than I do.) When you're not going on solo truck camping adventures, what do you do?
Levi: Good observation, in my spare time I'm a structural engineer. It can be a bit stressful of a profession so getting out on the weekends and relaxing in the woods is all the more rewarding for me.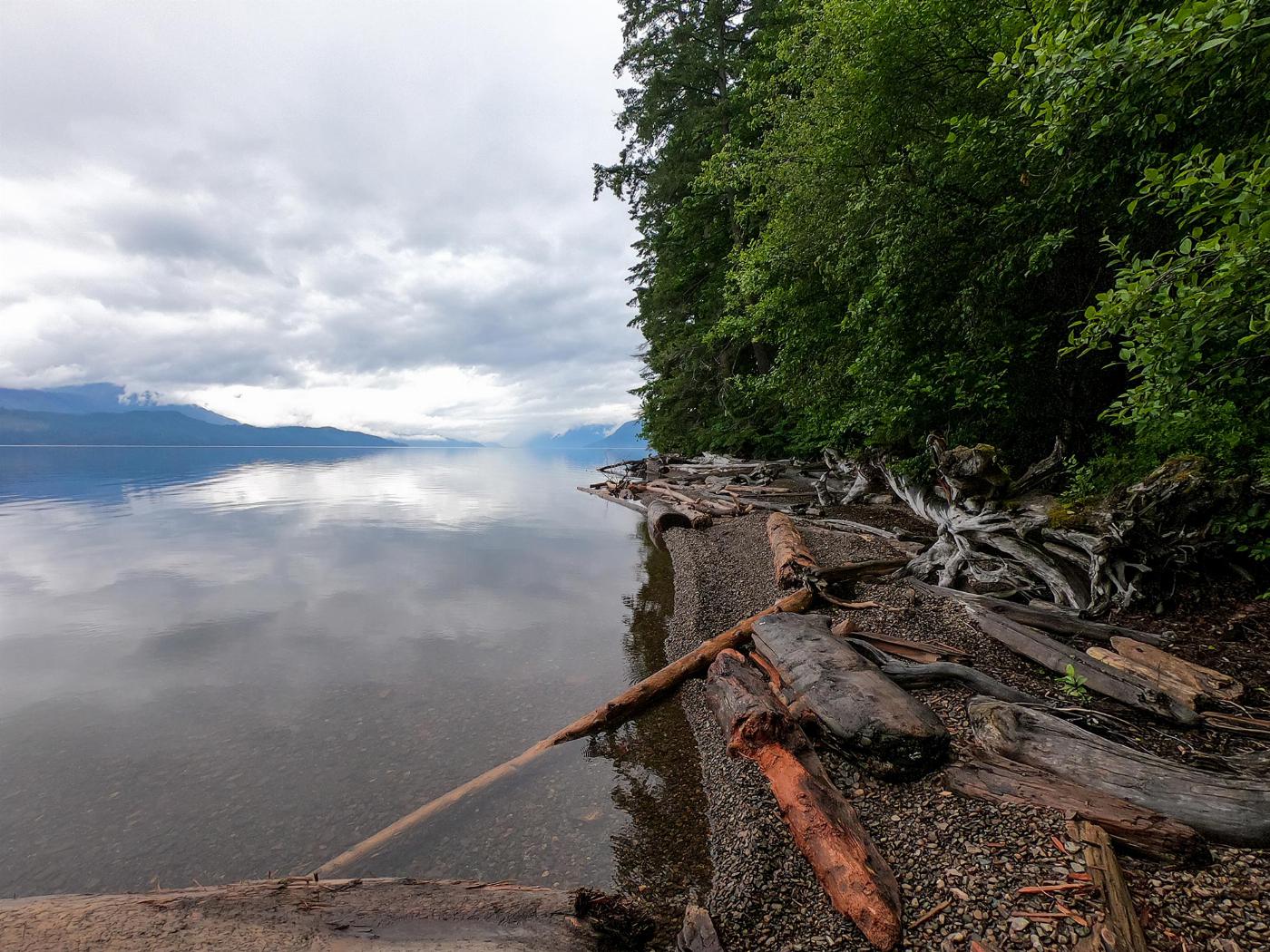 Scott: How often do you get to escape to go on your truck adventures?
Levi: I try to get out at least every other weekend, once I win the lotto I'll be out there full time.
Scott: Have you lived in British Columbia your whole life?
Levi: Yes! I had a brief stint in Alberta but came to my senses and got back to BC as fast as I could.
Scott: Do you envision taking your truck adventures further on the road to visit other parts of the continent? What would be your dream trip?
Levi: I've really been contemplating a full Canada road trip in the truck camper, maybe for a full year. Seeing all of Canada seems like something very few people have done or have the opportunity to do. And if it worked out I'd do the US as well. I've also looked into driving all the way down to South America but apparently there isn't a road that goes all the way!
Scott: I have to ask: are you a skier or snowboarder? You've got to be pretty close to Whistler/Blackcomb, which isn't too shabby of a resort to have as a local hill.
Levi: I grew up as an occasional skier, and switched to snowboarding about a decade ago. Whistler is just down the road and I make sure to make it up there a few times a season!
Scott: How many times each winter do you get to ski/snowboard? What are your favorite ski areas?
Levi: It varies, sometimes a few, sometimes a few dozen. I lived in Kelowna for a couple winters and Big White became my favourite ski hill. But I also love the small town hills like Fernie, Nelson, and Golden.
Scott: I look forward to your future videos and seeing your style continue to evolve. Where would you like your channel to be 6 months from now? 12 months from now?
Levi: Thank you and I look forward to it as well! Even looking back at my older videos now makes me shake my head. I just hope to continue learning more about the outdoors and filmmaking and that I am creating content that I'm happy with and that others enjoy.
Be sure to check out all of Levi's YouTube videos on his YouTube channel.