Shawnee Mountain
Shawnee-on-Delaware, Pennsylvania

(Click here for the official web site for Shawnee Mountain, or scroll below to read DCSki's complete profile...)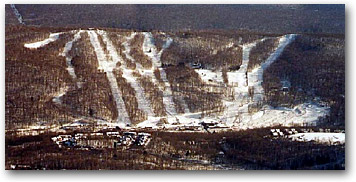 Resort Overview - reported by M. Scott Smith, DCSki Editor
Shawnee Mountain makes snow - a lot of it - and usually claims the earliest Poconos season opening date. The resort is one of the most popular in the Poconos and also has a great reputation as a family resort. As a result of Shawnee's popularity, expect lift lines on holidays and weekends. Shawnee is located near the New Jersey border.
Beginners and intermediates will feel most at home at Shawnee, with plenty of beginner terrain near the base lodge. Shawnee has a strong Ski School offering a number of programs, including many focused towards kids. Shawnee also features a Snow Tubing Park with 6 lanes, serviced by two carpet lifts.
Snowboarders will find two terrain parks at Shawnee. Shawnee was one of the first east coast resorts to cater to snowboarders.
In 2010, Shawnee Mountain installed its first high-speed quad chairlift. In 2011, Shawnee expanded its snow grooming fleet with the purchase of two new Snow Cats.
During the summer and fall, Shawnee Mountain offers several festivals.
Resort Name:

Shawnee Mountain

Vertical Drop:

700 feet

Trails:

23 (25% beginner, 50% intermediate, 25% advanced)

Skiable Acres:

125

Longest Run:

5,100 feet

Lift Capacity:

12,600 per hour

Lifts:

10 (1 high-speed quad, 1 quad, 4 doubles and 4 carpets)

Night Skiing:

Yes, on 95% of terrain

Terrain Park:

Two terrain parks - an Advanced Park and a Beginners Incubator Park.

Halfpipe:

(No halfpipe)

Tubing Park:

6 chutes, 2 carpet lifts, single and 2-person tandem tubes.

Address:

P.O. Box 339, Hollow Road
Shawnee-on-Delaware, PA 18356

Phone Number:

(570) 421-7231 or (800) 233-4218 (snow report)

Latitude:

41.037801

Longitude:

-75.079579

Twitter:

http://twitter.com/skishawnee

Facebook:

http://www.facebook.com/skishawnee

Web Site:

http://www.shawneemt.com/
---
Estimated Distances from Major Cities
| | | |
| --- | --- | --- |
| Baltimore, MD | 3 hours, 40 minutes | 202 miles |
| Washington, DC | 4 hours, 20 minutes | 238 miles |
| Arlington, VA | 4 hours, 30 minutes | 241 miles |
| Richmond, VA | 6 hours, 10 minutes | 350 miles |
| Pittsburgh, PA | 5 hours, 25 minutes | 303 miles |
| Harrisburg, PA | 2 hours, 25 minutes | 131 miles |
| Philadelphia, PA | 2 hours, 5 minutes | 111 miles |
| Charleston, WV | 7 hours, 55 minutes | 492 miles |
| Raleigh, NC | 8 hours, 50 minutes | 527 miles |
| Charlotte, NC | 9 hours, 50 minutes | 605 miles |
To view a full-size trail map for Shawnee Mountain, click on the following thumbnail image. The trail map will open in a new window. Please note that DCSki's trail maps can be out of date; always pick up a copy of the latest trail map at each resort.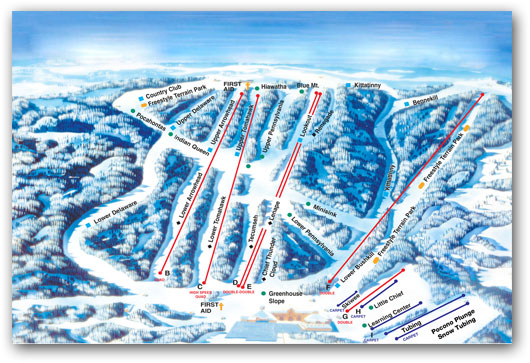 A snow condition report for Shawnee Mountain is shown below. Because condition reports may not be updated regularly, be sure to check the date and timestamp on the report. Before making a trip, we recommend contacting resorts directly for the latest conditions.
Shawnee Mountain, PA

As of 05:34:00 on 2011-03-21

Report data is over 2 days old -- please check back later.
To view additional ski condition reports for areas throughout the Mid-Atlantic region and across the world, visit the DCSki Conditions page.
Shawnee Mountain has an official webcam page here.
The past five articles related to Shawnee Mountain are shown below.
Mid-Atlantic Ski Season Gains Momentum (December 27, 2012)
A shot of cold air and some natural snow has helped launch the 2012-2013 winter season in a big way. Find out the status of Mid-Atlantic ski areas.

What's New for 2011: Shawnee Mountain (November 12, 2011)
Two new Piston Bully Snow Cats are joining Shawnee Mountain's snow grooming fleet this winter.

What's New for 2010: Shawnee Mountain (November 6, 2010)
Shawnee Mountain has installed its first high-speed quad, which will whisk skiers and boarders to the top of the Pennsylvania mountain beginning this winter. The new chairlift is the centerpiece of $5 million in capital improvements made over the summer.

DCSki Introduces New Features to Track Resort "Tweets" (November 15, 2009)
The Twitter microblogging service allows individuals and companies to create and share short text-based updates called "Tweets." Over a dozen ski areas in the mid-Atlantic region have created a presence on Twitter, using Twitter to post announcements and information. DCSki now captures these updates and makes them readily available to skiers and boarders, whether or not they have their own Twitter account.

What's New for 2009: Shawnee Mountain (November 8, 2009)
Shawnee Mountain has added a new Tubing Carpet lift, a new Snow Cat, and expanded its Rental Shop, fortifying its standing as one of the largest ski and snowboard rental facilities in the U.S.
To view more articles related to Shawnee Mountain, click here.
The DCSki Event Schedule currently doesn't have any events listed for Shawnee Mountain. To view events at other resorts, please visit the DCSki Event Schedule.
The following bargains are related to Shawnee Mountain.
(No matching bargains found.)
To view more bargains, click here. Remember, bargains may include exclusions or expirations not noted here. Contact the company offering the bargain to verify details.
Recent Tweets from Shawnee Mountain
Want to share your own comments on Shawnee Mountain with other DCSki readers? Enter your comments below. Feel free to describe the things you like most about Shawnee Mountain, along with any areas you feel could be improved.
Canaan Valley Resort:
Canaan Valley Resort, located outside Davis, West Virginia features 39 slopes for beginner, intermediate, and advanced West Virginia skiing. With a vertical drop of 850 feet and the longest run at 6,000 feet, the experience is as challenging as you want it to be. Night skiing is also offered during holiday and prime ski weekends. The resort features a 150 room lodge and 23 cabins/cottages for your convenience. Additional winter sports include XC skiing, snowshoeing, snow tubing, airboarding and ice skating. An indoor swimming pool, fitness center, whirlpool and saunas are also available after a day on the slopes.
---
Liberty Mountain Resort:
Located about an hour from both the Baltimore and Washington, D.C. areas, Liberty Mountain Resort is the perfect place for a mountain getaway! Whether you are searching for adventure or relaxation, our mountainside amenities are sure to treat you. Our mountain boasts over 100 acres of skiable terrain, including 16 trails, 3 terrain parks, and a large tubing hill. Our Ski and Snowboard Schools offer a wide variety of lessons for both beginners and advanced. Boulder Ridge Snow Tubing features 15 tubing lanes, party rooms, and food and beverage, creating a fun atmosphere for everyone. Take a "snowcation" by lodging in the slopeside Liberty Hotel and dining in one of many eateries, including the popular McKee's Tavern.
---
Seven Springs Resort:
Seven Springs Mountain Resort is the perfect place to escape with your family this winter and reconnect! At Seven Springs, you'll find a mountain of fun - skiing, snowboarding, snow tubing, snowmobiling, snowshoe tours, a luxurious spa, sporting clays, delicious dining, nightlife and more. Enjoy a mountain of fun on 285 acres of slopes and trails including beginner trails, black diamond slopes, mogul runs and five terrain parks. Come up to Seven Springs this winter and make a new memory. What are you waiting for? You really should be here!
---
Whitetail Resort:
Head to Whitetail for some of the best skiing and riding in the mid Atlantic Region! Enjoy nearly 1,000 feet of vertical and the Region's only High Speed Quad Chairlift. Spend less time on the road and more time carving down some expert terrain like Bold Decision or intermediate favorites Limelight and Snow Dancer! Don't worry, there is plenty of fun to be had for all ability levels, and for freestylers be sure to check out Jib Junction Terrain Park (not for the faint of heart)! We even have Park Place 101 for the beginner freestyler! Don't forget about Whitetail Adventure Tubing, fun for all ages!
---
Wintergreen Resort:
Wintergreen Resort is an 11,000-acre, four-season resort located in the Blue Ridge Mountains three hours from Washington, D.C. With accommodations ranging in size from studio condominiums to 9-bedroom homes, your winter escape has all the comforts of home. Enjoy skiing and snowboarding on 26 slopes and snowtubing in Virginia's largest park; Ridgely's Fun Park for young children; ice skating, a zipline; indoor tennis; a spa with indoor pool and hot tubs; and a variety of enticing dining options. Overnight packages offer great value and savings, call 800-266-2444 or book online -
www.wintergreenresort.com
. For more information, call (434) 325-2200.
Copyright © 1994-2013 DCSki, LLC. All rights reserved. You may not reproduce any portion of DCSki, in whole or in part, without the prior written permission of DCSki's Editor. Comments posted on these pages do not necessarily represent the viewpoints of DCSki, LLC or its Editor. Although DCSki, LLC attempts to verify the accuracy of the information it publishes, DCSki, LLC cannot be held responsible for errors or omissions. Verify current conditions, operating schedule, and events directly with a resort prior to making a visit. You may view DCSki's Privacy Policy here.