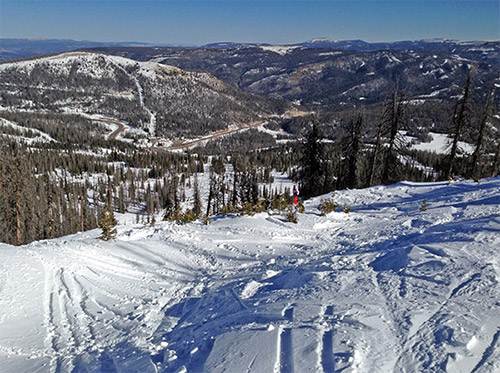 December 8, 2016
- Pennsylvania's Roundtop Mountain Resort has purchased a new winch groomer and relocated its Guest Services desk.

December 4, 2016
- DCSki Columnist Jim Kenney has skied almost every major ski area in the U.S., but he hadn't yet been to Utah's Deer Valley. So he fixed that in March of 2016, visiting the area that is known around the world for its service. He filed this Firsthand Report.

December 4, 2016
- It's been a very busy summer at Whitetail Resort. When guests arrive this winter and walk up the steps towards Whitetail's base lodge, things are going to look very different: the resort is putting the finishing touches on an $8.5 million, 31,000-square foot lodge expansion.

December 3, 2016
- A new bistro, upgraded snowmaking and snow grooming, and enhancements throughout the Lodge will greet guests at Pennsylvania's Seven Springs Mountain Resort this winter.

November 27, 2016
- The Thanksgiving Holiday weekend saw the opening of several ski areas in the Mid-Atlantic region, thanks to a recent stretch of cold temperatures that enabled productive snowmaking.

November 23, 2016
- Thanks to the arrival of wintry temperatures last weekend and the snowmaking it enabled, Seven Springs Mountain Resort announced that it will open for skiing, snowboarding, and snow tubing on Friday, November 25, the day after Thanksgiving.

November 21, 2016
- Wisp has renamed its slopeside hotel the Lodge at Wisp, and is in the midst of a 3-year, $3.7 million renovation. Guests this winter will find many enhancements on the inside and outside of the on-site hotel.

November 20, 2016
- On Saturday, November 19, temperatures in the Washington D.C. area climbed above 70 degrees. Then a cold front swept through. It brought temperatures down to the freezing mark in a matter of hours. At higher elevation areas, it brought snow and snowmaking at some local ski resorts.

November 20, 2016
- Each year, DCSki chronicles some of the newest enhancements at Mid-Atlantic ski resorts. These upgrades typically consist of snowmaking enhancements, renovated lodges, a new fleet of rental skis, or even an occasional chairlift upgrade. But announcing a
new resort
? Well, that's almost unheard of. Until now. Sort of, anyway.
1 comment

November 20, 2016
- In February, 2016, Jim Kenney had his best experience ever at Colorado's Aspen, thanks to a recent dump of 40 inches of snow. Jim provides this Firsthand Report.