Sierra-at-Tahoe, 3/8
5
posts from
4
users
Updated 2 months ago
419 views


Today was fantastic.  Deep, dry, light, temp. 21 deg.  Last night was the tail end of a big wet kiss that the storm gods gave to us.  Finally the temperature dropped, the snowline fell below 8000 ft. and the wind subsided.  Like all of the greatest days, it snuck up on me, expected to be good, but not epic.  The stars aligned.  I pulled in at 9;05 and was sent to the most distant spot in the parking lot.  Huge crowds of guests and huge crowds of instructors in their red jackets and name tags.  I taught here 3 years ago and remembered the likely reason, Intel Ski Day, 500 of the Bay area's hi tech talent, here to have fun, lots of smiling Indian faces and all instructors on deck.  Well, half of them have never seen snow before, 95% are never-ever or very inexperienced skiers.  Vast enthusiasm of course.  Good to see.  Even better, the more adventurous parts of the mountain were deserted.  The groomers left it all untouched.  

Worried, a mere 3 months after the second knee surgery, I made a few cautious turns.  Wow!  This is fun.  A few more turns and it was clear, all the old skills are still there.  Stamina, not yet, but getting there.  This was in Sierra's West Bowl.  It consists of a half dozen long rolling steep blue runs and old growth forest.  The trees are huge, 3+ foot diameter trunks and over 100 feet high.  The 19th century loggers didn't like them for some reason so they're still there.  They are widely spaced and there are no tree wells since the branches begin about 30 feet up.  Sierra and Homewood are considered the 2 best areas in Tahoe for powder in the trees and for wind shelter so that they can operate when other areas are on hold.

Was one of only a few resorts open around Tahoe in late March,1982 when a couple good friends and I decided to go to Sierra Ski Ranch as was known in those days. Couldn't get to Kirkwood as the mountain passes needed a number of days to clear. After an epic tree skiing day from the series of storms that dumped a unbelievable amount of snow in a short period of time we later found out about the avalanche at Alpine Meadows that killed 7 people. This shook the Tahoe community like nothing else and was national news for more than a week when a true miracle happened a survivor had been located. As great as that day was at Sierra I will never forget the tragedy that was unfolding while my friends and I were having one of the best days ever. Many locals including myself skied Alpine later that spring to support the resort and help them recover from the disaster.
http://tahoetopia.com/news/tragic-alpine-meadows-avalanche-march-31-1982 

God bless you Denis.  You are rewriting the TKR recovery record book!  Just be careful and keep inspiring us.  
This is not West Bowl, but only about a half mile away near Castle trail and gives an idea of the marvelous tree skiing Denis is talking about.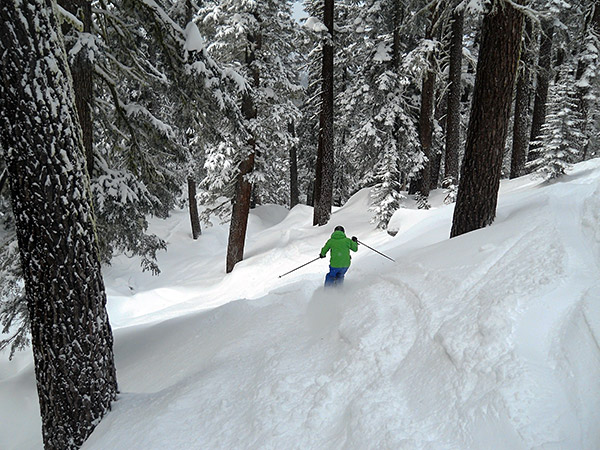 Denis, I can feel your euphoria from being back on the boards so soon after knee surgery.  You remain an inspiration to all.
Keep taking it cautiously as you build up strength.  
MorganB       aka The Colonel

A frightening awesome true story of the amazing power of wild snow, dedicated search and rescue persons, despair and a final burst of happiness.  Also an example of what true love of this amazing sport is all about. Thanks for sharing this story and such intimate details with all of us at DCSki.
MorganB
aka The Colonel
Speak truth to powder.
If you'd like to share your own comments, please
log in
to DCSki.