New INDOOR ski area planned
11
posts from
9
users
Updated 10 years ago
12,358 views

http://www.newsobserver.com/438/story/759976.html
NC company plans indoor skiing
Global warming and temperatures better suited to sunning than skiing may not mean a thing to a new ski area planned west of Asheville.
Canton Wintersports Center at Westmoreland Resorts in Canton promises five slopes ranging from 900 to 3,100 feet in length, six triple chairlifts and a 900-foot vertical drop — all under an 80-acre roof. The project would cost about $700 million.
Indoor skiing: it's not just for Japan and Dubai anymore.
"It'll be a massive indoor ski resort that will have alpine runs for skiers and a double diamond run for adrenaline junkies," owner Steve Westmoreland said in a news release. "For snowboarders, we'll have a half-pipe, a super pipe and a mogul run."
But, wait, there's more.
The resort would also have a winter sports stadium, a 480-foot ice-climbing wall (billed as the world's largest artificial wall) and cross-country skiing "through a submarine tunnel connecting all tourism attractions onsite."
The area could open as soon as 2009.
Apparently, the dome is no fluke. Another indoor ski area — this one costing $1 billion and covering a million square feet — is planned for North Georgia's Dawson County. Mount Pegasus' developers claim that it would be the world's largest ski area under glass.
Does the prospect of year-round skiing under controlled conditions worry neighboring ski areas?
Tony Wadell, general manager at Cataloochee Ski Area just west of Canton, doesn't see it as an immediate threat. "We think if it is going to happen it's a long way down the road," says Wadell, who has been monitoring the development.
And if it is built? The more the merrier, he says.
"I'm of the opinion that the more ski areas we have, the better off we are." He pauses, then adds, "Provided they're run well."

Cool in summer..But they will never replace a REAL ski area!

Seven months after April and we're still getting April Fools jokes.

I've always thought that is skiing was going to survive as anything more than an occasional diversion during the dog days of winter, it had to "follow the population." Since the population was heading south and west though, that makes it quite difficult to do.

What do you think the lift tickets would cost at a place like this though? They should be inexpensive, but how do you fund something this pricey with, say, a 35 dollar lift ticket? Prices increased in skiing as a function of making snow and convenience (better lifts, grooming), now they don't just want to make the snow but the weather, too.

Next up: someone should build a run up a mountain and cover it with a long tube. Maybe in the foothills north of Atlanta?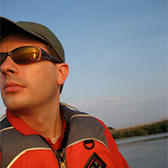 Ski Dubai, an indoor ski area in Dubai, seems to charge about $41 US for a 2-hour lift ticket or $74 for an all-day pass (although I'm not sure how the limited slope could provide entertainment all day long — we're not talking Vail here).

$700 million is a huge amount of money to build something like this, and I would think the operating costs (electricity) would be huge too. There would have to be a lot of people willing to pay top dollar. I don't think it would provide a competitive threat to the "real" ski resorts — rather, it would compete with amusement and water parks, with most business generated during the warm months when it would be the only option for skiing. There's a reason why Ski Dubai is successful: the desert of Dubai isn't exactly littered with "real" ski resorts!

Extreme Engineering (on the Discovery Channel) had an episode on the construction and logistics of Ski Dubai a couple years ago. It was pretty fascinating.

There is one of these half built at the Meadowlands in NJ. It seems to have run into funding issues. With the present credit crunch I don't see the funding for additional sites till it proves a viable operation.

I have been to Dubai and seen the one there. I didn't ski unfortunately. It was pretty cool but it is different market there. Lots of non skiers with lots of cash and free time looking for something new to pass the time.

oh also They are offering snow tubing at Stone Mtn park in Atlanta this year!
http://www.stonemoutianpark.com
I plan on hitting it in January and will send a report.

Anybody hear something about an indoor ski facility in Lynchburg? I'm not sure what it's all about but I saw a teaser for the evening news and they were talking about skiing any time of the year, regardless of weather. Then they mentioned something about Liberty University's ambitious plans. Unfortunately I was watching a Tivo-ed show so I missed the news to see the full story.
EDIT: I found the news story:
Skiing in Lynchburg
It's not indoor skiing. It's skiing on an mountain on an artificial surface.

The Uk already has a number of indoor snowdomes, as does Japan, Dubai is far from the first but it probably is the most spectacular just based on it's location.

I've ridden snowflex. About 10 years ago in Edinburgh they had a dry slope where most of it was old fashioned dendex which sucks but they had one section of slope where they had built a pretty big kicker. The whole run up take off and landing were snow flex. It rides very like wet snow, not bad stuff as I recall. It certainly felt more like the real thing than traditional dendex. The biggest thing is the shock absorption. The old school diamond pattern dry slope was really unforgiving. Fall at any kind of speed and you could get pretty badly banged up. Snow flex was way more forgiving.

that is very cool. I would love to see any resort in the US give that a go. Skiing year round what is not to like.
Speak truth to powder.
If you'd like to share your own comments, please
log in
to DCSki.